Beijing Huaibei International Ski Resort
Brief Introduction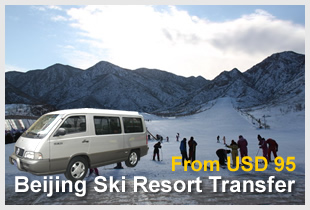 Beijing Huaibei International Ski Resort (北京怀北国际滑雪场)is both the largest and the most beautiful ski resort in Beijing. It is located in the north of
Huairou District
, about 85km north of Beijing city center. With an area of 9.6 sq km, the ski is perched below the picturesque Ming-era Great Wall with 23 watch towers linked to
the Mutianyu Great Wall
, the only ski resort in Beijing surrounded by the Great Wall on its three sides.
The ski resort is also open for spring, summer and autumn activities, a four season resort. Now the area is also the Beijing Huaibei International Vehicle Campsite, a holiday campsite with self-driving travel theme.
In winter, no matter you are a keen skier or non-skier, Beijing Huaibei International Resort is your ideal resort destination to show your ski skill or kill your leisure time by immersing yourself in the amazing views of the Great Wall and white snow over a cup of coffee or tea.
Booking hotline: 010-89696677
Add: No.548, Hefangkou Village, Huaibei Town, Huairou District, Beijing 101408
北京市怀柔区怀北镇河防口村548号 邮编101408
Business hours: Day Ski: 08:30-17:00; Night Ski: 16:30-21:30

A panoramic view of Beijing Huaibei International Ski Resort

The Great Wall hangs over the ski resort.
Reception Center
Arriving at the ski resort, you will first come across its Reception Center where you buy your ski tickets. On its wall is posted the rates both for skiing and ski learning at Ski School.
Please click
Map of Huaibei Ski Resort
for more information.
Ski Rack Rate
Items
Rates
Notes
Skiing
Weekday
Weekend 
National Holiday
1.The rates include a set of skis, ski trail transportation.
2.If you bring your own skis, you are entitled to a 60% discount. 3. RMB300 for skis deposit. 
4.Entrance fee: RMB 20/pp
RMB60/Hour/pp
RMB80/Hour/pp
RMB100/Hour/pp
RMB110/2Hrs/pp
RMB150/2Hrs/pp
RMB160/2Hrs/pp
RMB120/3Hrs/pp
RMB180/3Hrs/pp
RMB200/3Hrs/pp
RMB140/Half Day/pp
RMB200/Half Day/pp
RMB240/Half Day/pp
RMB220/Whole Day/pp
RMB360/Whole Day/pp
RMB390/Whole Day/pp
Ski Clothes Rental
RMB30/set
Snow Tube Rental
RMB60/30minutes/one
Closet Rental
RMB10/one
Gloves Rental
RMB10/pair
snow goggles Rental
RMB20/pair
Helmet Rental
RMB30/one
Business hours: Day Ski: 08:30-17:00; Night Ski: 16:30-21:30
Ski Equipment Rental Service Building
Adjacent to the ski area, the service building looks modern and trendy offers quick and convenient ski equippment service from boots, ski clothes, skis or snowboards and closets to put your clothes.

The main hall of the service building.
Ski Trails
Beijing Huaibei International Ski Resort has a total length of 5,100m ski trails with a drop of 238m. It has 7 ski trails: 1 expert trail, 3 intermediate trails, 4 beginners.

The ski trails in the ski resort.
Ski School
Huaibei International Ski School has over a decade's experience in learning and promoting skiing and snowboarding. It has a strong ski coach team mainly composed of the excellent ski experts selected from all over the country.

Skis Learning Fees
Time/ Party Number
1
Person
2 Persons
3 Persons
4 Persons
5 Persons
6 Persons
7 Persons
8 Persons
9 Persons
10 Persons
2 Hours
RMB300
RMB400
RMB480
RMB560
RMB640
RMB720
RMB800
RMB880
RMB960
RMB1200
3 Hours
RMB450
RMB600
RMB720
RMB840
RMB960
RMB1080
RMB1200
RMB1320
RMB1440
RMB1800
4 Hours
RMB600
RMB700
RMB800
RMB1120
RMB1280
RMB1440
RMB1600
RMB1760
RMB1920
RMB2400
Whole Day
RMB1000
 
 
 
 
 
 
 
 
 
Snowboard Learning Fees
| | | | | |
| --- | --- | --- | --- | --- |
| Tine | 1人 | 2人 | 3人 | 4人 |
| 1 Hour | RMB300 | RMB400 | RMB500 | RMB600 |
| 2 Hours | RMB450 | RMB550 | RMB650 | RMB750 |
Children Skis Learning Fees
| | |
| --- | --- |
| Time | 1人 |
| 1 Hour | RMB160 |
| 2 Hours | RMB320 |
| 3 Hours | RMB480 |
| 4 Hours | RMB640 |
| Whole Day | RMB1000 |
Ski Area Transportation
Beijing Huaibei International Ski Resort has a 2,000m sighseeing chairlift with a mesmerising view of the ski area and the nearby Great Wall. It also has 3 rope tows, 1 ski carpet to interconnect the various trails and one chairlisft for the expert trail.

The magic ski carpet brings you to your ski trail.

The rope tows move you to the higher hill.
Ski Resort Other Activities
For kids, Beijing Huaibei International Ski Resort is a bonus too. It has a snow park for kids to play, who can be under the care of the ski resort staff while their parents do the skiing with relaxation. There are a rich varity of entertainment on snow.
Cafe and Restaurants
Beijing Huaibei International Ski Resort has one western cafe and a large Chinese restaurant inside the ski resort's office building. Its Ski Equipment Rental Service Building also has an indoor and outdoor snack restaurants abutting the ski area, where you can enjoy the view over a cup of coffee or tea.

The indoor snack restaurant offers a good view of the si area.
Ski Resorts Lodging Options
Beijing Huaibei International Ski Resort has a moderate accommdation and it has two Finnish-style wooden houses. The ski resort relies heavily on the 43 star-rated hotels in Huairou District including 2 5-star hotels and 2 4-star hotels.

The Finnish-style wooden house.
Non-Skiers
For adult non-skiers, just buy an entrance ticket and enjoy the snow activities in the ski resort and enjoy the surrounding snow the Great Wall views over your coffee or tea at the cafe or snack restaurants.
Transportation
1)Ski Resort Shuttle Bus: Start at 8:10am from the parking lot adjacent to Oriental Ginza 东方银座停车场内发车 ( Exit B of Dongzhimen Station of Subway Line 2) and back from the Ski Resort at 16:30。 Bus fare: RMB150(weekday), RMB210(weekend).
2)Public Bus: Take Bus No. 936 (branch)/ 936(支)线 at
Dongzhimen Bus Terminal
.
Business hours: Beijing - Huaibei Ski Resort: 7:00 - 19:00; Huaibei Ski Resort - Beijing 5:00 - 17:00.
3)Self-drive: Take the Jingcheng Expressway and exit from Exit 14. Then drive along Huidu Road (会都路), then drive along National Highway No.111 (111 国道) and drive past Yanxi Lake (雁西湖), further move on for 5km in the north and you will get to the ski resort.
Questions & Answers:

Here is
only for Questions and Answers
. ( For anyone who wants to have an enquiry or customized tour, please email us to

. )