Jundushan Ski Resort
Brief Introduction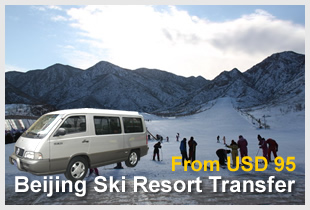 Jundushan Ski Resort (军都山滑雪场) is one of the two ski resorts in
Changping District
with the other beijng
Snow World Ski Resort
, about 40km north of Beijing city center. Jundushan Ski Resort is located on the south slopes of Jundushan Mountain.
Jundushan Ski Resort is located on one of the golden tourist routes in Beijing dotted with some interesting attractions including
Ming Tombs
,
Jiuhua Spa Resort
, Xiaotangshan Hotspring Resort,
Juyongguan Great Wall
and
Badaling Great Wall
.
Jundushan Ski Resort is targeted at both leisure skiing and skiing for business purposes. This ski resort receives many skiers of its own club memeber and middle class.
Booking hotline: 010-60725888
Add: 588 Zhenshun Village, Cuicun Town, Changping District, Beijing 北京市昌平区崔村镇真顺村588号
Business hours: Day Ski: 08:00-18:00 Night Ski:17:00 - 22:00
Reception Center
The ticket office and Reception Center stand by the right side of the main entrance to the ski resort. At the Information Center, you may ask for more information on the ski field and ski prices. Please check
Map of Jundushan Ski Resort
for a panoramic view of the ski field. Entering the gate, you will find the ski rental shop on your right side in the large complex building, which also accommodates shops, restaurants, VIP rooms.

The ticket office and Reception Center stand by the right side of the main entrance
Ski Equipment Rental Service Building
The 5000sq meters Ski Rental Service Building offers one-stop ski rental service renting your boots, ski clothes, skis or snowboar and your closet to store your personal stuff. In the service hall, you can buy necessary skiing equipment or have your ski devices repaired. The Orion Leisure Wooden House offers foot massage treatment for those who suffer from sports injuries. There is a small supermarket for you to choose food and beverage.
There are two VIP rooms - Business VIP Room and Sunshine VIP Room. The 64sq meters Business VIP Room can accommodate 25 people for business talk with a good view of the ski field. The Sunshine VIP Room can hold 16 people to take a break for coffee or tea.

Business VIP Room and Sunshine VIP Room
Ski Trails
There are 5 major ski trails including 2 beginners ( 380m long each), 2 intermediate trails (530m and 380m) and one advanced trail (1200m). There is also one trail for sledding and a large ski area for beginner teaching trail.

The Ski Area at Jundushan Ski Resort
Ski Rental Price List
Items
Timing
Weekday
Weekend
New Years & Spring Festival
Note
Skiing Rates
2 Hours
RMB100/Person
RMB150/Person
RMB160/Person
1.The rates include a set of skis, ski trail transportation.

2. RMB30 deposit for Value Card is charged when renting.
3 Hours
RMB120/Person
RMB180/Person
RMB200/Person
4 Hours
RMB140/Person
RMB200/Person
RMB240/Person
5 Hours
RMB160/Person
RMB240/Person
RMB280/Person
6 Hours
RMB180/Person
RMB280/Person
RMB320/Person
7 Hours
RMB200/Person
RMB320/Person
RMB360/Person
8 Hours
RMB220/Person
RMB360/Person
RMB390/Person
Evening Show
RMB80/Person
RMB80/Person
RMB80/Person
Entrance Ticket
RMB20/Person
RMB20/Person
RMB30/Person
Skiing Suits
RMB30 per suit
Snow Tubes
RMB100/hour/cirle
Extra 30 minutes free of charge
Maintenance of Snow equipment
RMB100-200/set
sharpening, waxing
Closet
RMB10/closet
Ski School
The Jundushan Skiing School is aimed at developing the Chinese skiing activities, promote skiing culture. The coach team is composed of professional athletes and skiing sports masters who have been in the ski circle for many years. Many of them have won the championships or runner-ups in major sports event at home or abroad. All instructors must go through a strict professional training and assessment before given the job of teaching the students.
Skis Learning Fees
( RMB/Per Person )
| | | | | | | | | | | |
| --- | --- | --- | --- | --- | --- | --- | --- | --- | --- | --- |
| Time/ Party Number | 1 Person | 2 Persons | 3 Persons | 4 Persons | 5 Persons | 6 Persons | 7 Persons | 8 Persons | 9 Persons | 10 Persons |
| RMB/2Hours/PP | RMB320 | RMB245 | RMB185 | RMB170 | RMB140 | RMB130 | RMB120 | RMB110 | RMB100 | RMB95 |
| RMB/3Hours/PP | RMB470 | RMB335 | RMB245 | RMB210 | RMB180 | RMB165 | RMB150 | RMB135 | RMB125 | RMB115 |
| RMB/4Hours/PP | RMB620 | RMB425 | RMB305 | RMB260 | RMB225 | RMB200 | RMB180 | RMB160 | RMB150 | RMB135 |
Ski Area Transportation
There are 5 drag lifts, 2 chairlifts and one ski carpet to move the skiers within the ski area. One chair lift line is 2000m long. For non-skiers, you can take the sightseeing chairlift to enjoy the amazing view below or you reach the top of the mountain and have a cup of coffee at the the Aries Coffee Shop on the hilltop.

The ski carpet

The 2000m-long chairlift
Ski Resort Other Activities
Jundushan Ski Resort is an interesting place to play snow, go sledding and enjoy the ski area inside the cozy coffee shop or restaurants.
Cafe and Restaurants
In the Ski Service Building, there is a Fast Dining Area providing fast food such as instant noodles and rice served with meat and vegetables on top. For a formal table meal, you may go to Jundushan Game Restaurant which provides wild food. The Mark's Bar provides Western-style meals such as baked breads, sandwiches, pasta and more. The hilltop coffee shop - the Aries Coffee Shop gives skiers a cozy home when you reach the mountain top.

Fast food Reasturant

The Hilltop cafe shop - the Aries Coffee Shop
Ski Resorts Lodging Options
There are 4 European-style wood villas in the ski resort designed for family or group travel. In the villa area, there is a restaurant called the Hermit House Multifunction Room which offerrs skiers with local farm dishes. It is also a great place to have a meeting there and a great place for friends to meet there. There is a youth hostel called "Qidian Youth Hostel" (奇点青年旅舍) which provides basic accommodation with good service.

Qidian Youth Hostel
Non-Skiers
For kid or adult non-skiers, just buy an entrance ticket and see or participate the snow activities in the ski resort or enjoy the surrounding snow view by taking the 2000m long chairlift or over your coffee or tea at the cafe or snack restaurants.
Transportation
1. Take Bus 345 zhi (345支) at Deshengmen Bus Terminal, then get off at 东关环岛 and change for Bus 21 and get off at Jundushan Ski Resort.
2. Self-drive: Drive along the Badaling Expressway and branch off at Exit 16 (东关环岛), continue to drive for a while, you will see the ski resort.
Questions & Answers:

Here is
only for Questions and Answers
. ( For anyone who wants to have an enquiry or customized tour, please email us to

. )