Mutianyu Great Wall & Tours
The Mutianyu section of Great Wall (慕田峪长城) is located in Huairou district, about 80 km north from downtown Beijing. The Mutianyu Great Wall is less crowded than Badaling Great Wall.
There are three ways to head up and down beside hiking on foot. The first is to go up by the cable car, the second is to use a slideaway (toboggan) and the third is to take a chair lift.
A lot of vendors will greet you on your way down. Look at their products from afar first before you get closer to them. Once you go into a shop you'll have a hard time getting away from the vendor so make sure you like what you see before you start haggling.
Mutianyu Great Wall was first built in Northern Qi (550-577). In Ming Dynasty, General Xu Da constructed the Great Wall on its former base. The Mutianyu Pass was built in 1404. The fortifications and the Great Wall here are featured by many watchtowers on overlapping mountain ranges. The wall, built with slabs of stone, is crenellated on both sides with bricks. The wall provides better protection and ward off attacks with Juyongguan in the west and Gubeikou in the east.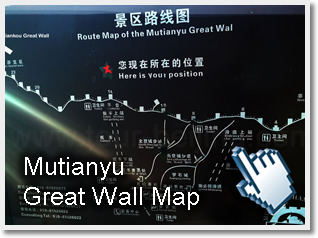 Mutianyu Great Wall works as the northern barrier defending the capital and the imperial tombs. It is a green section of the great wall in Beijing with vegetation, green pines and cypresses covering 90 per cent of the section.
Entrance Fee:
RMB45
Cable car:
RMB 60 (single trip); RMB80 (round trip)
Slideway:
RMB 60 (single trip); RMB80 (round trip)
Opening Hours:
08:00-16:00
Hiking Time:
Two and a half hours
How to get there:
1) Tourists can use the Public Bus No.867 at Dongzhimen to Mutianyu Great
Wall. The Public Bus 867 goes from 07:00am and 08:30 to Mutianyu Great Wall. The bus ticket RMB 16.
2) Visitors use the Bus No.916 at Dongzhimen and get off at Mingzhu Square (Huairou International Conference Center), and change for a mini-bus to Mutianyu Great Wall.
Website:
http://www.mutianyugreatwall.com/mty_3/index_en.asp
For more informaton on Mutianyu Great Wall, please check out
Mutianyu Great Wall Travel Blog
.
Mutianyu Great Wall related day tours and tour packages:
Departure: Daily
Tour Type: A private tour
Duration: Approx.4 hours ( 2 hours on the wall)
Hiking Area: Mutianyu Great Wall Section
Pick-up point and time: Your Hotel around 8:00am or 13:30pm
Finishing point and time: Your Hotel around 12:00am or 5:30pm
Hiking Time: 2 hours
Hiking Level: beginner
Cable car: available (not included)
Service: Entrance fees + lunch + private tour guide & driver + private car / van
Tour Code: BHDT-07
Price: Starting

from US$50 p/p
Attractions: Mutianyu Great Wall and Underground Palace (Ming Tombs)
Tour Type: A private tour
Duration: Approx.8 hours ( 2 hours on the wall)
Pick-up point and time: Your Hotel around 8:00am
Finishing point and time: Your Hotel around 5:00pm
Hiking Time: 2 hours
Walking Level: Beginner
Service: Entrance fees + lunch + private tour guide & driver + private car / van
Tour Code: BXIT-F02A
Price: Starting

from US$ 58 p/p
Attractions: Mutianyu Great Wall, Forbidden City and Tiananmen Square
Tour Type: A private tour
Duration: Approx.8 hours ( 2 hours on the wall)
Pick-up point and time: Your Hotel around 8:00am
Finishing point and time: Your Hotel around 6:00pm
Hiking Time: 2 hours
Walking Level: Beginner
Service: Entrance fees + lunch + private tour guide & driver + private car / van
Tour Code: BXIT-F04A
Price: Starting

from US$ 58 p/p
Attractions: Mutianyu Great Wall & the Schoolhouse
Tour Type: A private tour
Pick-up point and time: Your Hotel around 8:00am
Finishing point and time: Your Hotel around 5:00pm
Service: Entrance fees + lunch + private tour guide & driver + private car / van
Tour Code: BRTP-03
Price: Starting

from US$ 78 p/p
Tour Type: A private tour
Duration: 2 Days
Pick-up point and time: Your Hotel in Beijing around 10:00am
Finishing point and time: Your Hotel around 14:00 Next Day
Great Wall Section: Mutianyu Great Wall
Overnight: One night stay at the Schoolhouse
Hiking Time: Day 1 = 2-3 hrs, Day 2 = No Hiking
Tour Code: BRTP-04
Price: Quote upon request
Questions & Answers:

Here is
only for Questions and Answers
. ( For anyone who wants to have an enquiry or customized tour, please email us to

. )