Testimonials on Tour-Beijing.Com ( TB )
Thanks for your being interested in our Beijing China travel service provided by
www.tour-beijing.com
! Please find below some feedbacks and tour testimonials from our valued clients who have traveled Beijing & other parts of China using our travel service.  
We at Tour Beijing (TB) no longer satisfy our valued customers, We must totally impress them. We are also looking much forward to your feedback to improve our service and help the new travellers as well.
Selected Testimonials
From Felicity Lockyer
Hi Helen,
We just wanted to write to say how impressed we were with Tour Beijing. From the minute we arrived in China your tour company was amazing! Lee is an excellent tour guide, her English is impeccable and her knowledge of Beijing's history was exceptional, there was never any rush and her explanations were very informative and she was always really happy. Samuel in Xi'An was exactly the same and he was an absolute pleasure to have as our guide as well.
I have recommended Beijing tours to several of our friends!
Prior to us coming to China we had a tour in the USA by a company called ( the name of the tour company in US has been omitted here by Tour Beijing ). They were the WORST tour company I have ever dealt with and I have spent the last 20 + years in the hotel industry in Marketing so that is saying something!
Needless to say we were very apprehensive to be dealing with another tour company after our disappointing and awful tour in the USA, imagine our delight to be in the hands of such an impeccably well run company like Tour Beijing J an absolute credit to the Tour industry and we will be back again soon.
Many many thanks for such a wonderful China trip that has left us with amazing memories. Please pass on our thanks to both Lee & Samuel they are an absolute credit to your company.
Felicity Lockyer & Justin Abraham
Kindest Regards,
Felicity Lockyer
Corporate Business & Promotions Officer

13/200 Winton Road, Joondalup WA 6027
October 11, 2012
From Holmfridur and family.
Hello Linda / Tour Beijing

I should have written to you earlier, but I have been very busy after coming home from China.
We had a wonderful trip, everything you organised for us worked 100%, and the guides were full of knowledge, friendly and helpful, so THANK YOU VERY MUCH,.
I plan to let the Icelandic Embassy in China know of your fantastic service, unless you object to that plan.
I send you here 2 pictures, one of the family and one of the kids with our favourite guide, Tina in Guilin. If you could forward this picture to Tina I would be very grateful.

Thank you very much again.

Holmfridur and family.

From Russell Fletcher
Hello Maggie,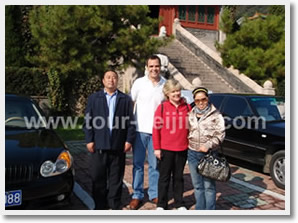 We returned from our holiday last Wednesday and I just wanted to say a big thank you for organising our tours in Beijing last week.
I must say we were very impressed with Beijing overall (although I would not like to drive in Beijing traffick!!) and will definitely be coming back. When we do, we will not hesitate in using your wonderful service again.
I would also like to say what a great guide Winnie was for us last week. I filled in the feed back form but I would like to reiterate that she was excellent. She was extremely pleasant, informative, funny, had a great personality and was great company. My wife and I were so impressed with her. We wish we could have spent more time with her. If all your other guides are as good as her, well, you must have a very good thing going!!!!
Our driver Mr. Dwan, was also great. I take my hat off to him for getting us though the Beijing traffic in one peice. I would be an absolute nervous wreck driving around there. He was cool at all times and certainly knew his way around.
Anyway, that's about all I wanted to say. Thanks again for all your help. I have recommended Tour Beijing  you to a number of people already, so hopefully they use your service.
Please find attached a photo of Winnie, Mr Dwen and us. If you could forward it onto Winnie and Mr Dwen, I would appreciate it.
Thanks again muchly,
Kind regards,
Russell Fletcher
Head Coach of Aquatics, Wesley College
From Tabitha Crawford
Dear Mr. Daniel Li,
After having traveled extensively for over a week in China, visiting vendors and working diligently, our last day in your beautiful country was to be spent in Beijing and we made plans to visit some of your most amazing attractions. Wanting to make the very best use of our time, we employed your company to provide us with a knowledgeable, English-speaking tour guide and we were happily introduced to Nana that morning. Immediately we impressed by her excellent English, her professional and courteous manner, and by her extensive knowledge of the city and its colorful and amazing history.
Nana accompanied us on our tours of the Pearl Market, Great Wall, the Forbidden City and Tiananmen Square and was able to answer our questions without hesitation, providing interesting background information and commentary everywhere we went. Knowing that we had much to see in a very short time, Nana was also expert in moving us from place to place without feeling rushed, and we were able to visit all of the places that we set out to visit in a very short span of time. She was also extremely helpful to us when choosing the very best pearls and negotiating prices.
Finally after a very full day, Nana accompanied us to the airport so that we could depart for home. Nana was once again extremely helpful, directing us to the proper gate and wishing us safe travels. Overall, it was a wonderful day, made possible by Nana's expertise, and we are sincerely grateful to you for allowing us to be the beneficiaries of her knowledge and her friendship. We will definitely recommend Nana's services to others, and hope that we will have another opportunity to work with her again in the future.
Thank you for allowing Nana to be our tour guide- she made our last day in China extremely enjoyable and we left feeling that we had made a new friend in Beijing.
Kindest regards,
Tabitha Crawford
Product Manager
burton + BURTON
706-548-1588
706-549-4620 fax
Letters of Recommendation:
If tour - definitely Tour Beijing - Nanxiaojie
I've found the Tour Beijing and its web-site in the Internet. The Web-site gives such kind of information that you can easily organize your self-guided tour. But the real problem is that the most of chinese people don't understand english (I am not talking about other languages) and you can't explain what you want and understand what they say. So if you are first time in China and want to see as much as you can (I'm talking about cultural heritage) you need, at least, take 5-8 guided tours.
We had a chance to take guided tours from other tour companies and now, comparing with those tours, I can write more or less objective opinion. Tour Beijing - Nanxiaojie - it is QUALITY, quality in everything - service, quick and complete response to all of your questions, knowledge of history, organization of tours, the responsible attitude to their job and to the clients.
Armine K Yerevan,
Armenia
Visited February, 2013
More newly updated tour testimonials:
Total183News No.1Page Total10Pages
FIRST
PREV
NEXT
LAST

Here is
only for Questions and Answers
. ( For anyone who wants to have an enquiry or tour booking, please fill in our
Online Enquiry
. )