Yuyang Ski Resort
Brief Introduction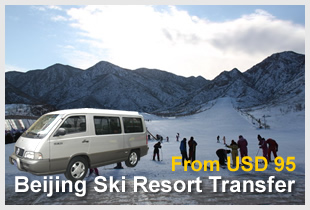 Beijing Yuyang International Ski Resort (北京渔阳国际滑雪场) is popularly known as Yuyang Ski Resort (渔阳滑雪场). "Yuyang" is the old name for the present area covering Pinggu District in Beijing and Ji County in Tianjin. So Yuyang Ski Resort is not far from Tianjjin with its many skiers coming from Tianjin. It is located on the slopes of the scenic Qinglong Mountain in
Pinggu District
, a National AAAA Scenic Spot, about 70km northeast of Beijing city center.
Yuyang Ski Resort is the only ski resort in Pinggu District, a huge ski complex comprising ski area, eco-restautant, meeting rooms, hotel and other snow activities. As its name "International" suggests, Yuyang Ski Resort is built and designed according to the international standard with the merits of ISO9001 and ISO14001. Yuyang Ski Resort was rewarded as the top and most welome ski resort in 2009 amd 2010 by Beijing Tourism Administration.
Yuyang Ski Resort is targeted both at Beijing and Tianjin Market with its core skiers coming from middle class.
Beijing Booking hotline: 010-010-84856362
Tianjin Booking hotline: 022-87580808
Add: No.688, Dawangwu Village, Donggaocun Town, Pinggu District, Beijing 北京市平谷区东高村镇大旺务村688号
Business hours: Whole Day
Information Center & Ticket Offices
By the left side of the entrance to the Yuyang Ski Resort, you will find the Reception Center and Ticket Office housed in a brown building where you may inquire about the ski resort itself. Surely, you would study the map of Yuyang Ski Resort to better understand its trails and other faccilities like cafe, restaurants and lodging.
You are required to first buy your entry ticket and your ski ticket. After having your entrance tickets checked, you will come to the magnificent ski service building to start your dream ski in Beijing.

Reception Center and Tickt Office
Ski Rack Rate
( RMB/per person )
Items
Rates
Notes
Skiing
Weekday
Weekend
National Holiday
1.The rates include a set of skis, ski trail transportation.
2.If you bring your own skis, you are entitled to a 60% discount.
3. RMB300 for skis deposit.
4.Entrance fee: RMB 20/pp
RMB120/2Hrs/pp
RMB180/2Hrs/pp
RMB200/2Hrs/pp
RMB140/3Hrs/pp
RMB220/3Hrs/pp
RMB240/3Hrs/pp
RMB160/4Hrs Day/pp
RMB340/4Hrs/pp
RMB380/4Hrs/pp
RMB240/Whole Day/pp
RMB360/Whole Day/pp
RMB390/Whole Day/pp
Ski Clothes Rental
RMB30/set
Sledding
RMB60/30minutes/one
Closet Rental
RMB10/one
Snow Motorcycle
40/circle
snow goggles Rental
RMB30/pair
Helmet Rental
RMB30/one
Business hours: whole day
Ski Equipment Rental Service Building
Yuyang Ski Resort boasts the largest ski service center building in Beijing with its total construction area of 9,0000sq meters. This huge building is designed for ski rental center where you rent your ski clothes, your skis or snowboard, snow goggles Rental and helmet and a closet to store your personal stuff. The service building also houses the ski school, shops, restaurants and hotel.

The huge two-storey service building

Ski Rental Counters

Closets to store your personal stuff
Ski Trails
Yuyang Ski Resort has 8 ski trails inclduing two 1600m-advanced trails, two 700m-intermediate trails and three 600m-beginners trails. There is also one special trail in an enclosed snow park for snowboarding skiers.

The ski trails in Yuyang Ski Resort
Ski Area Transportation
Yuyang Ski Resort is equipped with 2 double chair lifts, 6 drag lifts and 3 magic carpets to easily move skiers to various trails.

Magic Carpets

2 double chair lifts
Ski School
Yuyang Ski Resort outsources its ski teaching program to a professional ski school called "Rossignol". They offer both standard and tailor-made ski teaching programs. No matter it is your first time to go skiing or you want to brush up your skiing skill, you will find your ideal ski program here. The ski school is insdie the ski service center building.

Rossignol Ski School
Price List for Individual Ski Learning
( RMB/Per Person )
Skis Learning Fees
| | | | | | | |
| --- | --- | --- | --- | --- | --- | --- |
| Time/ Party Number | 1 Person | 2 Persons | 3 Persons | 4 Persons | 5 Persons | 6 Persons |
| 1 Hours | RMB200 | RMB160 | RMB140 | RMB120 | RMB110 | RMB100 |
| 2 Hours | RMB360 | RMB240 | RMB1180 | RMB150 | RMB140 | RMB130 |
| 3 Hours | RMB450 | RMB300 | RMB220 | RMB180 | RMB170 | RMB160 |
Ski Resort Other Activities
Yuyang Ski Resort has a large Children's Paradise integrates fun, education and entertainment. It offers the entertainment facilities like snow motorcycles, sledding and snow playing.

Children's Paradise (snow motorcycles)
Cafe and Restaurants
A 15000sq meters dining hall known as Dawang Greenhouse Restaurant can accommodate 1500 people at the same time. The huge restaurant is set in the beautiful environment dotted with small bridges, flowing water and green trees and flowers as if you were in a green house. It provides local food and cuisines from other provinces like Sichuan, Guangdong, Shanghai, Dalian, Northeast China and Hong Kong.
On the second floor of the ski service building, there is a cafe and a Chinese restaurant. Through the windows you can have a clear view of the ski area over a cup of tea or coffee.

Dawang Greenhouse Restaurant

A Coffee Bar
Ski Resorts Lodging Options
On the second floor of the ski service building,there are 17 standard rooms in the ski hotel. All the rooms are elegantly furnished and well equipped. It is a good place to stay overnight if you are reluctant to leave Yuyang Ski Resort to continue to ski next day.

Yuyang Ski Hotel

A standard room at Yuyang Ski Hotel
Non-Skiers
For kid or adult non-skiers, just buy an entrance ticket and see or participate the snow activities in the snow park of the ski resort or enjoy the surrounding snow view over your coffee or tea at the cafe or snack restaurants.
Transportation
Public Bus
Take No.852 bus at
Dongzhimen Bus Terminal
and get off at Century Plaza (世纪广场)in Pinggu, then take a local taxi to Yuyang Ski Resort (approx.RMB15/per car)
Self-Driving
Drive along airport expressway and branch off to Airport South Line, then get on Jingping Expressway, exit from Exit Pingsanlu (平三路), turn right and follow the road sign pointing to Yuyang Ski Resort.
Questions & Answers:

Here is
only for Questions and Answers
. ( For anyone who wants to have an enquiry or customized tour, please email us to

. )