Harbin Qiqihar Wudalianchi Winter Exploration
7 Day Tour
Tour Review:


 Destinations: Beijing Harbin, Qiqihar and Wudalianchi
Duration: 7 Days
Tour Type: Private Tour
Tour Code: NCT-03
Itinerary & Price Enquiry
Day By Day Itinerary
Day 01
Beijing  

 Harbin (7-8 hour high speed train)
Picked up early in the morning from your hotel in Beijing, you will be guided to board on a 7-8 hour high speed train to the city of Harbin. Arriving at Harbin West Railway Station, you are met by our English speaking tour guide in Harbib at the station exit.
Transferred to our pre-arranged hotel in Harbin. You are at your leisure to take a good rest or explore the city for the remainer of the day.
Meals:
No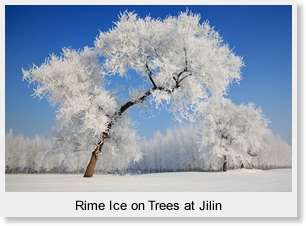 After breakfast, start your tour in Harbin. Your Harbin morning tour includes:
1) Snow Carving Festival in Sun Island
The Sun Island is one of northern China's most scenic spots and is famous throughout the country as a resort. However, in winter, when the whole island is covered with snow, that it is the best time to take part in the famous Snow Carving Festival here.
2) Siberian tigers in the Northeast Tiger Park
You are arranged to have a close look at the tigers on a moving bus as well as having a chance to see the tigers through a special walking corridor. It is a thrill and exciting experience to view these cute big cats.
After Chinese lunch, continue to visit Harbin and your afternoon Harbin tour includes:
1)Sophia Church
It is the largest Eastern Orthodox Church in China as well in the Far East. It has the height of 53.3 meters and has an area of 721 square meters.
2)Zhongyang Dajie ( Central Street ).
Harbin is often dubbed as the Eastern Moscow due to its Russian architecture dooted in the city. The Zhongyang Dajie is the most famous street refecting the foreign styles. It includes many European architectural styled buildings from Renaissance and the baroque to eclecticism.
After dinner, you will have your highlight activity in Harbin - enjoy the Ice and Snow World - an ice fairyland on earth. The ice carvings at the Harbin Ice and Snow World are listed as the world's greatest examples of ice art, the largest ice and snow art exhibition in the world of this kind. People can enjoy the largest and most amazing ice-sculpted masterpieces. After Ice & Snow World, you are transferred back to your hotel in Harbin.
Meals:
Hotel Breakfast, Chinese lunch and dinner
After breakfast, you will be arranged to ski at Harbin Jihua Ski Resort for 2-4 hour (skiing items are to be pay on your own ).
Skiing at Jihua Ski Resort
It is a large ski resort approx. 50km to the southeast of Harbin's city center. Jiihua Ski Resort has become China and Asia's top ski resorts. The resort features 15 different ski slopes, which cover a distance of 30 km in total. It is designed to cater for beginner, medium and advanced-level skiers.
The resort has a ski school, which provides over 100 professional skimeisters. The resort area gets heavy snowfall, with about 150 days of snow every year. It can accommodate 5,000 people at the same time. All the snow activities and skiing are paid on your own. After skiing, you will be transferred back to the city of Harbin.
Meals:
Hotel Breakfast and Chinese dinner
Day 04
Harbin 

 Qiqihar  320km ( 4 Drive Hour )
After breakfast, drive northwest for about 4 hours and get to Zhalong Nature Preserve in Qiqihar. Zhalong Nature Reserve is a a wetland reserve that encompasses the 2,100 km2 marshland, a major migratory route for birds from the Arctic migrating to South East Asia. It boasts the endangered red-crown crane. Actually the reserve has nine of the world's fifteen species of crane.
Bring your binoculars, you will stroll along the snowy lakes and explore the snowy wetland reserve and watch the reserve staffers let the red-crowned cranes flying. Stay overnight at a local hotel.
Meals:
Hotel Breakfast, Chinese lunch and dinner
Day 05
Qiqihar 

Wudalianchi  280km ( 5 Drive Hour )
After breakfast, drive about 280km to reach Wudalianchi Natural Reserve. Wudalian Chi is one of the most beautiful landscapes in China, which is formed by the volcanic explosions. It is a wonderland of hardened lava, volcanic peaks, reed-lined ponds and azure lakes.
In the reserve, your will explore Black Dragon Mountain-the volcanic wonders , and head to the one of the famous mineral springs in the reserve - North Spring. After late Chinese lunch, continue to drive to Wudalianchi Town and check in your hotel.
Meals:
Hotel Breakfast, Chinese lunch and dinner
Day 06
Wudalianchi 

 Harbin  360km ( 6 Drive Hour )
Today continue to visit the Wudalianchi Natural Reserve. You will explore the Longmen Stone Village featuring a wonderful karst landscape and volcanic rocks. Afterwards, continue to visit the Lava Ice Cave.
After Chinese lunch, drive 360km back to Harbin and you are at your leisure to take a good rest or explore the city for the remainer of the day.
Meals:
Hotel Breakfast, Chinese lunch and dinner
Day 07
Harbin  

  Beijing  (7-8 hour high speed train) 
After breakfast, your are free till transferred to Harbin West Station for the 7-8 hour high speed train back to Beijing.  Met and returned to your hotel in Beijing.
Meals:
 Hotel Breakfast,  Chinese lunch and dinner
Inclusion:
1.All transfers and city transportation for your own use
2.Entrance fees and meals as mentioned
3.Private car or van with English speaking guide
4.Two sharing stay at the designated Hotels with daily breakfast
5.Beijing-Shenyang-Jilin-Harbin Highspeed train ( second class tickets)
  and Harbib-Beijing overnight train ( 4-bed cabin) 
6.The above private escorted tour is customizable.
Exclusion:
1. Tips to your tour guide and driver
2. Skiing at Jihua Ski Resort
Reservation Notes
●
Personal online booking information below must be provided or book by email :
Full Name, Nationality, Gender, Names of Travelers, Flight No., Arriving Time and Start Date. You are also welcome to call us at 00 86 10 67160201 ext 1006 or 1007 ( 9:00 am - 6:00 pm Monday through Saturday). Tour Beijing will not refund any losses due to missing or incorrect information.
●
All rates on Tour-Beijing.com are subject to reconfirmation from our trip advisors when an actual booking is being made.
●
Child definition: from Age 3 to 11 Years. Contact our trip advisors for the actual discount for your kids. 12 Years old and above will be charged as Adult Price.
●
All tours & transfers are all based in English Speaking local guides. For other languages, please contact our trip advisors for new quotations
●
Cash or Prepayment ( Paypal, credit card payment or wire transfer ). Both RMB and US$ or other hard currencies are acceptable. Your actual mode of payment will be confirmed by your trip advisor.
●
When your booking is confirmed, you will get a confirmation email or call from us, which includes the confirmed detailed itinerary with prices.
●
The cancellation fee is 10% of the total price if your cancellation is made more than 2 working days prior to the scheduled start of the tour. If cancelled less than 2 days, you will pay 100% of total package price.
●
The schedule can be adjusted by your tour guide due to the actual traffic condition.
●
You are strongly recommended to to book this tour at least three days in advance to secure the land arrangement involved and avoid the risk of being canceled.
Questions & Answers: