Datong Great Wall Tour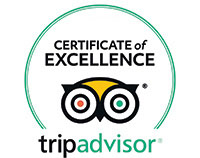 If you have seen the images of the Great Wall near Beijing, you may believe the Great Wall of China is mainly made of majestic bricks and stones. No, much of the Great Wall we see today were built in Ming Dynasty (1368-1644), which is not stone but earth! For the 6700 km Ming Dynasty Great Wall, only over 1000 km section of the Wall is stone. Datong Great Wall is the epitome of the tamped earth wall in the northern China.
About 400km west of Beijing, the ancient Datong was one of the Nine Frontier Important Towns in Ming Dynasty (1368-1644), maintaining the 335km Great Wall within Datong and defending against the Mongol raiders. Datong Great Wall was an important part of the Wall's central section from the Yellow River to the passes leading to Beijing, vital to the defense of both central China and Beijing.
Actually the Great Wall near Datong here doubles and triples like a bit of DNA and Datong lies between two lines – Outer Great Wall and Inner Great Wall.Today you still can see much of the remnants of the ramparts, dilapidated forts, crumbling and overgrown; some sections vanish into gaps of roads, quarries, and reservoirs; some give away to camel's humps or saw-teeth blasted by wind and washed by rain; sometimes no more than a gentle bank a meter or two in height and sometimes nothing at all.
Come to Datong: to find charm, seek fresh air, hunt the Wall and back changed!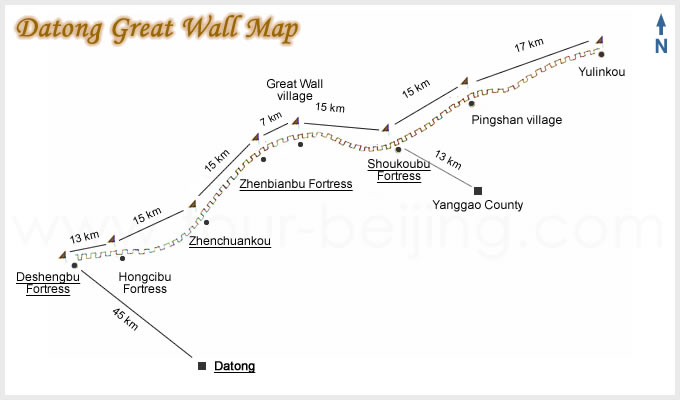 Datong Great Wall Tour
Tour Code: DTP-04
Attractions: Deshengbu Fortress, Tamped Earth Great Wall at Zhenchuankou
Duration: 1 Day
Tour Type: Private Tour
Price:

Click Here
Datong Great Wall Travel Tips
1. The Datong Great Wall Tours above are available from May - October each year.
2. Make sure you are in good shape and ready for 4-5 hour hike per day.
Note: A car always accompanies you not far from the wall you are hiking. If you don't have strong legs, you may use your car to finish your journey along the road paralleling the Wall.
3. Overnight in one of the ancient fortress near the Wall with a tent in summer (July & August) or using a bed in a local villager's house (May, June, Sept and Oct)
Note: We'll prepare a sleeping bag for you or you may bring your own sleeping bag.
4. No bathing or shower for the first night
5. Things to take: sports shoes or hiking boots, sticks, cap, sun-glasses, sunscreen, bottles of water, snacks, pocket knife, lip balm and first aid kit.
6. No toilets on the hiking route. Please always carry toilet paper by yourself.
7. We have two bottles of water for each person per day. 
8. If you need trekking sticks, please let us know in advance. 
9. Wearing pants and long-sleeves even in summer to hike through bushes and saplings.
10. You are responsible for your travel insurrance for your coverage of injury or accident.
11. Be a green and responsible hiker, takeing nothing but photos and leaving nothing but footprint.
Questions & Answers:

Here is
only for Questions and Answers
. ( For anyone who wants to have an enquiry or customized tour, please email us to

. )