Contact Us
Office Hours
9:00am to 6:00pm (UTC+8) Monday - Friday
We have staff on duty on Saterday: 9:00am to 6:00pm
Beijing Time Now (UTC+8)
Travel & Tour Inquiry Center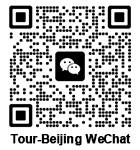 Beijing Call: 67160201 Ext 1006,1007
Chinese cities Call: 010 67160201 Ext 1006,1007
International Call: (+86) 10 67160201 Ext 1006,1007
Fax: (+86) 10 67160150
Email :

Online Tour Custom Forms
If none of our sample tours meets your expectation and you would like to tailor make your Beijing or China tour, just tell us the things you want to see and do, we will customize a tour to fit your specific needs.
Please complete our online
Beijing Custom Tour
or
China Custom Tour
enquiry forms, and you will have our free consultation services. You will receive our proposed itinerary with estimated tour cost within 24 hours.
Office Location and Mailing Address:
Beijing Tours (aka tour-beijing.com) Address:
2001-1-1, Leading International Building, Guangqumen Inner Street,
Dongcheng District, Beijing, P.R.C.


Beijing Tours ( aka Tour-Beijing.com ) Location in Beijing




We listen, We care!

If you find any service discrepancy on the part of Tour Beijing, please don't hesitate to tell us to have your problem addressed immediately!

Click the Complaint Box above to file your complaint.
Fill in the Form below to Summit Your Message
We'll reply you within 1 working day!