Northeast China 7 Day Winter Tour
Tour Review:


 Destinations: Beijing, Shenyang, Changchun, Jilin and Harbin             
Duration: 7 Days
Tour Type: Private Tour
Tour Code: NCT-01
Valid: January and February
Day By Day Itinerary
Day 01
Beijing  

 Shenyang (5-hour high speed train)
Picked up early in the morning from your hotel in Beijing, you will be guided to board on a 5-hour high speed train to Shenyang.  Arriving at Shenyang North Railway Station, you are met by our English speaking tour guide in Shenyang at the station exit. First you will be arranged to have Chinese.  After Chinese lunch, you will start your afternoon tour in Shenyang before checking in at our pre-arranged hotel in Shenyang.  
Your afternoon tour in Shenyang includes:
1) 
Manchu Imperial Palace 
The palace complex represents the highest level art of early Manchu palace architectures and Manchu's unique history and culture in the early stage. It is  a magnificent palace that resembles a smaller Forbidden City in Beijing. 
2) F
ormer Residence of Zhang Zuolin and Zhang Xueliang
Zhang Zuolin (1875–1928) was the warlord of Manchuria from 1916 to 1928. He was killed by a bomb planted by a Japanese Kwantung Army officer on 4 June 1928. Zhang Xueliang  ( 1901 –  2001 ) was the actual ruler of Manchuria and much of northern China after the assassination of his father.
Meals: 
Chinese Lunch
Day 02
Shenyang 

 Jilin (2-hour high speed train )
After breakfast at your hotel in Shenyang,  you continue to visit Shenyang in the morning. Your morning Shenyang tour includes:  
1) North Tomb (Zhaoling Tomb) 
Zhao Ling ( Luminous Tomb )  is the burial site of the founder of Qing Dynasty – Huang Taiji (1592 – 1643).  The tomb's animal statues lead up to a mound where the emperor and his empress were buried. The traditional architectures and ornamentation around tomb  site are magnificent. 
2) Zhongjie Pedestrian Street in Shenyang 
It is a vehicle-free commercial street, 1500 meters long, the earliest shopping street in Shenyang  and the first walking street in China. Now Zhongjie Pedestrian Street is packed with shopping malls, department stores, restaurants. Scattered in the alleys along the street  you can find numerous  free markets offering a great variety of goods.
After Chinese lunch, take a 2-hour high speed train from Shenyang North Railway Station to Jilin City Railway Station. Arriving at Jilin Railway Station, met and transferred to your hotel in Jilin City. You are at your leisure to take a good rest or explore the city for the remainer of the day.
Meals: 
Hotel Breakfast and Chinese Lunch
Day 03
 Jilin 

 CHangchun
 ( 40-minute highspeed train )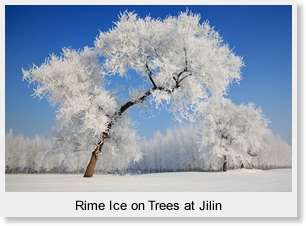 After breakfast, you are picked up at your hotel, and start your morning tour in Jilin City. Your Jilin city morning tour includes:
1) Songhua Lake Songhua Lake is located in north of Jilin City. The total length is above 180 kilometers. The magnificent rime ice on trees along the banks of the Songhua River is the biggest draw in winter.
2) Jilin Catholic Church Standing out from the northen bank of Songhua River, Jilin Catholic Church is a beautiful French designed catholic church. It is lit up really effectively at night and even in the daylight.
3) Meteorite Museum Situated at the south bank of beautiful Songhua River, the museum is the only meteorite museum in China. At 15:02:36 on March 8, 1976, a rare meteorite shower fell in Yongji County, north suburb of Jilin City, Jilin Province, which is world well-known Jilin Meteorite Shower.
4) Jilin Beishan Park Located about 4 kms the northwest of Jilin city, Beishan Park is known as the ideal place for its summer lotus flowers and winter "rime ice trees". It is legendarily regarded as "scared ground for nine dragons"
After Chinese lunch, you will take a 40-minute highspeed train from Jilin City Railway Station to Changchun Railway Station. You are met and transferred to your hotel in Changchun.
You are at your leisure to take a good rest or explore the city for the remainer of the day.
Meals:
Hotel Breakfast and Chinese lunch
Day 04
Changchun

  Harbin  ( One Hour Highspeed Train )
1) Puppet Emperors' Palace
The former Manchukou's Imperial Palace covered an area of 12 hectares, and located in Guangfu Road in the northeast road of Changchun. It was the palace of last emperor, Puyi, who had lived as a puppet emperor between 1932 and 1945. The major building of the puppet palace is a two-storey house with yellow tiles covered on the top, which encompasses Qinmin Building, Jixi Building and Tongde Palace. Those 3 buildings were built with a combination of Chinese and Western patterns, which demonstrate distinctive building style.
2) Eight Ministries of Manchukuo
The Old Eight Departmens(旧八大部) were established in 1936, located near Xinmin Street in the center of Changchun. They consist of 8 institutions of Manchukuo, namely, Department of Security, Department of Legislation, Department of Economy, Department of Transportation, Department of Agriculture, Department of Culture and Education, Department of diplomacy and Department of Health.
3 ) Changchun Culture Square
Changchun Culture Square is located at the crossroad of Jiefang Dajie and Xinmin Dajie. It was inaugurated in August, 1996, the largest leisure square in Changchun with an area of 20.5 hectares. This marvelous square offers a good opportunity to look into the common and real life of the local people in Changchun. In summer, thousands of people will be engaged in all kinds of activities. It is a fine representation of community & culture
After Chinese lunch, you will take the one hour highspeed train from Changchun Railway Station to Harbin West Railway Station. You are met and transferred to your hotel in Harbin.
You are at your leisure to take a good rest or explore the city for the remainer of the day.
Meals:
Hotel Breakfast and Chinese lunch
After breakfast, start your tour in Harbin. Your Harbin morning tour includes:
1) Snow Carving Festival in Sun Island
The Sun Island is one of northern China's most scenic spots and is famous throughout the country as a resort. However, in winter, when the whole island is covered with snow, that it is the best time to take part in the famous Snow Carving Festival here.
2) Siberian tigers in the Northeast Tiger Park
You are arranged to have a close look at the tigers on a moving bus as well as having a chance to see the tigers through a special walking corridor. It is a thrill and exciting experience to view these cute big cats.
After Chinese lunch, continue to visit Harbin and your afternoon Harbin tour includes:
1)Sophia Church
It is the largest Eastern Orthodox Church in China as well in the Far East. It has the height of 53.3 meters and has an area of 721 square meters.
2)Zhongyang Dajie ( Central Street ).
Harbin is often dubbed as the Eastern Moscow due to its Russian architecture dooted in the city. The Zhongyang Dajie is the most famous street refecting the foreign styles. It includes many European architectural styled buildings from Renaissance and the baroque to eclecticism.
After dinner, you will have your highlight activity in Harbin - enjoy the Ice and Snow World - an ice fairyland on earth. The ice carvings at the Harbin Ice and Snow World are listed as the world's greatest examples of ice art, the largest ice and snow art exhibition in the world of this kind. People can enjoy the largest and most amazing ice-sculpted masterpieces. After Ice & Snow World, you are transferred back to your hotel in Harbin.
Meals:
Hotel Breakfast, Chinese lunch and dinner
Day 06
Harbin 

Beijing ( 10-hour overnight train )
After breakfast, you will be arranged to ski at Harbin Jihua Ski Resort for 2-4 hour (skiing items are to be pay on your own ).
Skiing at Jihua Ski Resort
It is a large ski resort approx. 50km to the southeast of Harbin's city center. Jiihua Ski Resort has become China and Asia's top ski resorts. The resort features 15 different ski slopes, which cover a distance of 30 km in total. It is designed to cater for beginner, medium and advanced-level skiers.
The resort has a ski school, which provides over 100 professional skimeisters. The resort area gets heavy snowfall, with about 150 days of snow every year. It can accommodate 5,000 people at the same time. All the snow activities and skiing are paid on your own. After skiing, you will be transferred back to the city of Harbin.
After dinner, you will take the 10-hour overnight train for Beijing. Overnight on train ( 4-bed cabin ).
Meals:
Hotel Breakfast and Dinner
Day 07

Beijing
Arriving at Beijing Railway Station early in the morning. You are met and transferred back to your hotel in Beijing.
Meals:
No
Inclusion:
1.All transfers and city transportation for your own use
2.Entrance fees and meals as mentioned
3.Private car or van with English speaking guide
4.Two sharing stay at the designated Hotels with daily breakfast
5.Beijing-Shenyang-Jilin-Harbin Highspeed train ( second class tickets)
  and Harbib-Beijing overnight train ( 4-bed cabin) 
6.The above private escorted tour is customizable.
Exclusion:
1. Tips to your tour guide and driver
2. Skiing at Jihua Ski Resort
Reservation Notes
●
Personal online booking information below must be provided or book by email :
Full Name, Nationality, Gender, Names of Travelers, Flight No., Arriving Time and Start Date. You are also welcome to call us at 00 86 10 67160201 ext 1006 or 1007 ( 9:00 am - 6:00 pm Monday through Saturday). Tour Beijing will not refund any losses due to missing or incorrect information.
●
All rates on Tour-Beijing.com are subject to reconfirmation from our trip advisors when an actual booking is being made.
●
Child definition: from Age 3 to 11 Years. Contact our trip advisors for the actual discount for your kids. 12 Years old and above will be charged as Adult Price.
●
All tours & transfers are all based in English Speaking local guides. For other languages, please contact our trip advisors for new quotations
●
Cash or Prepayment ( Paypal, credit card payment or wire transfer ). Both RMB and US$ or other hard currencies are acceptable. Your actual mode of payment will be confirmed by your trip advisor.
●
When your booking is confirmed, you will get a confirmation email or call from us, which includes the confirmed detailed itinerary with prices.
●
The cancellation fee is 10% of the total price if your cancellation is made more than 2 working days prior to the scheduled start of the tour. If cancelled less than 2 days, you will pay 100% of total package price.
●
The schedule can be adjusted by your tour guide due to the actual traffic condition.
●
You are strongly recommended to to book this tour at least three days in advance to secure the land arrangement involved and avoid the risk of being canceled.
Questions & Answers: