Top 10 things to do in Xi'an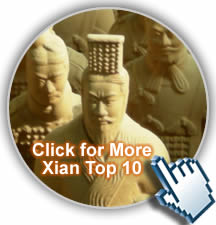 Xi'an is the most selected city on the China city tour list just after Beijing. "Xian" in Chinese literally means "Peace in the West", historically known as "Chang An" ( Perpetual Peace ), an ancient capital city for some of the most important dynasties in Chinese history, including the Zhou, Qin, Han, the Sui, and Tang dynasties.
Many tourists say the city of Xian looks more Chinese than the those metropolitan cities like Beijing, Shanghai. It is a favorite haven for those who are interested in Chinese culture and its people.
If it is your first time to visit Xian, then you may wonder what are the most important things to do in Xian for a short trip of 2-3 days. There is huge information on what to see in Xian, which you may get from either some popular travel books or plentiful quality websites including tripadvisor.com and about.com. As a local travel expert, I'm happy to present you my version of Top 10 Things to Do in Xian for your reference. You are kindly advised to visit Xian per your personal interest. Hope my Top 10 Things to Do in Xi'an will be helpful in planning your Xian trip.
Top 10 Attractions or Things to Do in Xian
Army of Terra-Cotta Warriors
(
How to Visit Terracotta Army
)
To visit Army of Terra Cotta Warriors is the main reason why you are here in Xian. You may have already seen its pictures from China travel books or China tour related travel websites. The
original site was found by a local farmer digging a well in 1974. Now it has turned into the most important attraction in Xian - Terracotta Warriors and Horse Museum. It is located about 50km east of the Xian City. The museum includes Pit 1, Pit 2 and Pit 3 as well the exhibition hall of the chariots and horses. The Pit 1 is the largest of the three. To get there you may take a public bus from Xian Train Station Bus Terminal, or take a taxi or rent a car from a local tour company. Admission Fee: RMB 90
Ticket Selling Hours: 08:30-17:30
How to get there:
Xian Railway Station Bus Terminal: Take tourism bus no.5, bus no.914, 915 ( about one hour )
(the East Square of Xian Railway Station)
Tang Dynasty Music and Dance Show
For most first time visitors, it is a pleasant surprise that you won't find yourselves lonely when night falls in the ancient city of Xian. The major avenues of Xi'an like Xi Dajie, Nan Dajie and Dong Dajie are brightly and beautifully lit lined with luminous neon signs stores. If you are not interested in the street evening shopping, then the Big Goose Pagoda Square and Nanhu Lake are the favorite night hangouts, where the dazzling lights and beautiful scenery will surely shock you! Is this Xian? Yes, it is!
If you prefer a night performance to kill your night time, Tang Dynasty Show is your best choice, which is on the most Xian visitors' top 10 attractions list.
Tang Dynasty Music and Dance Show is an outstanding element of this ancient rich and prosperous society, giving an insight into the peaceful life style of the Tang Dynasty (618 – 907). There are two major venues to put on the performance - Shaanxi Song & Dance Theatre and Tang Dynasty Palace, which both offer two choices - performance including dinner or excluding dinner.
Where and When to See:
1. Shaanxi Song & Dance Theatre
Showing Hours 20:00 - 21:00
No. 165, Wenyi Road, Xi'an (outside the east gate )
2. Tang Dynasty Palace
20:30 - 21:40
No. 75, Chang'an Road, Xi'an (outside the south gate )
Huaqing Hot Spring
People usually visit Huaqing Hot Spring on the way to or back from the Terra Cotta Army since this site is located under the Lishan Mountain just 5 km east of the Terracotta Warriors and Horse Museum. It is famous for both its spring scenery and the romantic love story of Emperor Xuanzong (685-762) and his concubine Yang Guifei in the Tang Dynasty (618-907). If you want to know more about the Chinese history, especially the Tang Dynasty as well enjoy Chinese gardening, this is the right place.
Entrance Fee: RMB 40
Opening Hours: 09:10 to 17:00
Bus Lines: 914 and Tourist Bus 5 at the East Square of Xian Railway Station
Xian City Wall
The main magnet of Xian is the city wall, which is the most complete city wall that has survived in China as well being one of the largest ancient military defensive systems in the world. It was enlarged in Ming Dynasty (1368-1644) from the city wall initially built in Tang Dynasty (618 -907). Now it is 12 meters tall, 12-14 meters wide overing 14 kilometers in length with a deep moat surrounding it. You can walk, even cycle on the wall. Its south gate is the most largest with a suspension bridge. Most of the tourists choose the south gate for sightseeing.
Entrance Fee: RMB 40
Opening Hours: 08:00 to 21:30 (Spring and Summer)
08:00 to 19:00 (Fall and Winter)
Xian Muslim Quarters and the Great Mosque
The Xian Muslim Quarters is just located behind ( north of ) the Drum Tower.
The Xian muslim quarters is a delightful place you will never miss! The famous Great Mosque is located in the Muslim Area. For the tourists coming here, the bazaar in the Muslim area is most attractive with a wide area of stalls selling everything. The streets and walkways are full of life. The shopping is great, very cheap and some unusual items we will seldom see anywhere else in China. The Great Mosque in Xian is one of the oldest, largest and best-preserved Islamic mosques in China. Unlike most mosques in Middle Eastern or Arab countries, the Great Mosque of Xian is completely Chinese in its construction and architectural style, except for some Arabic lettering and decorations.
Entrance Fee: RMB 25
Bus Lines: Take bus no.4, 6, 7, 8, 11, 12, 15, 26, 29, 32, 43, 118 and get off at Drum Tower Station
Bell & Drum Towers
In Chinese history from Ming Dynasty, each city had a bell tower and a drum tower. The bell was sounded at dawn and the drum at dusk each day in ancient time, a means of telling time. Xian was not exception. The Bell Tower and Drum Tower of Xi'an date back to the Ming dynasty (1368-1644). The two are located in the center of the Xian city connecting the four roads from east, south, west and north within the city wall. Atop the Bell Tower you will have a panoramic view of the Xian City; atop the Drum Tower you will have a bird's eye view of the Muslim Quarters.
Entrance Fee: RMB15 (Bell Tower) ; RMB 20 (Drum Tower)
Opening Hours: 09:10 to 17:00
Bus Line: Take bus no.5, 60, 107 or 124 and get off at Drum Tower Station.
Shaanxi Provincial History Musuem
If you love Chinese history, Shaanxi Provincial Museum is a must on your Xian trip. It is one of the four largest museums in China ( the other three are Forbidden City Museum, Shanghai Museum and
Henan Provincial Museum. You need to reserve your ticket though it is free of charge. It is situated 1km away, northwest of the Big Wild Goose Pagoda. It is a giant architectural complex in the Tang-dynasty style. It occupies an area of 70,000 square metres, and the construction area being more than 50,000 square metres. It focuses on the highlights of the Shaanxi culture and depicts the development of the Chinese civilization.
Entrance Ticket: Free
Opening Hours: Tuesday-Sunday:
9:00 to 17:30 (Nov.15 to Mar.15)
8:30 to 18:00 (Mar.16 to Nov.14);
Closed on Mondays
Bus Lines: Get off at Guihhua Road Bus Station by taking bus 5, 19, 24, 26, 27, Tourist Bus No.6, and No. 8.
Big Goose Pagoda
Big Goose Pagoda is one of the oldest structures in China. Originally Big
Goose Pagoda consisted of a brick structure of five storeys and was about 60 meters high. First built in 589A.D.in the Sui Dynasty. Between AD 701 and AD 704 during the reign of the Empress Wu Zetian five more storeys were added to the pagoda making ten in all. Unfortunately it was damaged during World War II and reduced to seven storeys, which is as it remains today. The Big Goose Pagoda is situated in the Da Ci'en Temple, four kilometers south away from the center of the city. It is one of the city's most distinctive and outstanding landmarks, possibly the most beautiful building left in Xian today.
Transport: Bus 5 21 22 23 24 27 30 34 41
Opening time: Daily 9:00am to 5:00pm;
Admission Fee: RMB 25
Forest of Stone Steles
Xi'an Forest of Stone Tablets was originally built in 1087. The Forest of Stone Steles in Xi'an holds a big collection of steles in China. It is a classical courtyard styled structure at the site of former Confucian Temple in Sanxue Street, Xian, close to the south gate of Xi'an City Wall. The museum has an area of over 30,000 square meters. It is one of the centers of ancient Chinese stone-engraving classic. It is also the center of the works of art of noted calligraphers of past dynasties. The numerous standing steles likens a forest, hence the name " Forest of Steles". With a history of over 900 years, it is an art treasure well known at home and abroad.
Transport: bus 23 40 221 222 302 309 402
Open time: Daily 9:00am to 5:30pm;
Admission RMB: 30 per person
Hanyang Tombs (Mausoleum of Western Han Emperor Liu Qi)
It is the forth emperor - Jing Emperor's tomb in Han Dynasty (206 BC–AD 220) which was opened in 2001 and is famous for its rich collecion of the terra-cotta figurines and animals. Actually his tomb is not opened yet. What we see on the exhibition hall are artifacts from his main tomb's surrounding burial sites. Hanyang Tomb is about 20 Km away from Xian airport, 30km north of the downtown Xian. For many tourists, Hanyang Tombs are more like a hidden gem!
Entrance Fee: RMB 90
Underground Palace: RMB 35
Opening Hours: 8:30-17:30
Bus: Tourist Bus 4 and 10
More Top 10 Lists for Unique Things to Do in Xian
More Xian Travel Tips & Attractions
Questions & Answers:

Here is
only for Questions and Answers
. ( For anyone who wants to have an enquiry or customized tour, please email us to

. )