Beijing Airport to Mutianyu Great Wall Layover Tour

Departs and Operates:
Overview:




Tour Type: Exclusive Private Tour
Vehicle: Car or Van
Operates: Daily
Departs: Beijing Capital International Airport
Returns: Beijing Capital International Airport
Tour Code: BLOT-02
Tour Highlights:
Met by our English speaking tour guide at Beijing airport
1.5 Hour transfer from airport to Mutianyu Great Wall
Pass through Shunyi District and Huairou District Beijing
1.5 - 2 hour Great Wall hiking on Mutianyu Great Wall
1.5 hour transfer back to Beijing airport
See off at Beijing airport 2 hours before departure
Tourist Attraction Description:
Mutianyu Great Wall
is located in Huairou district, about 70 km from downtown Beijing.
Mutianyu Great Wall
is less crowded than Badaling Great Wall with picturesque views. Mutianyu Great Wall once worked as the northern barrier defending the capital and the imperial tombs. It is a green section of the great wall in Beijing with vegetation, green pines and cypresses covering 90 per cent of the section.
There are three ways to get onto the Wall when you get to the base of Mutianyu Great Wall. Apart from hiking up on foot, you can choose take cable car or chair lift (Optional ). To get down the wall, you can also take Toboggan slide down ( Optional ).
A lot of vendors will greet you on your way between the parking lot and your hiking trail or the cable car station. Look at their products from afar first before you get closer to them. Once you go into a shop you'll have a hard time getting away from the vendor so make sure you like what you see before you start haggling.
Add on:
You are highly recommended to pay extra to take the cable car or ski lift up to the Great Wall and take the toboggan down. But If you have strong legs, you can easily walk up the Great Wall for half hour.
Photos of This Tour
Mutianyu Great Wall Tour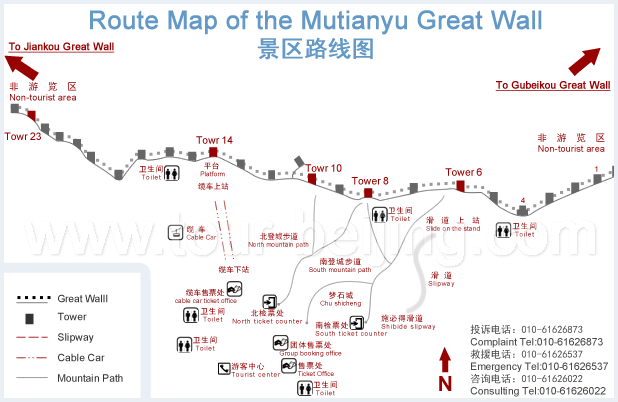 Special Notes:
● This is an exclusive private layover tour. Once your tour is confirmed, that tour will be no longer available to anyone else except for your own traveling party.
● It is a non-shopping private tour and no Hidden Fee!
● Your tour guide will hold a sign in your name and wait for you at the exit at the arrival hall of the airport.
● Rush hours in Beijing can cause serious traffic jam. We try our best to manage the traffic and keep your schedule.
● All tours & transfers are all based in English Speaking local guides. For other languages, please contact our trip advisors for new quotations.
Price without shopping stop
Travelling Party
Tour Cost Per Person
1 person
$199
2 persons
$115
3 - 5  persons
$99
6 - 9  Persons
$89
10 persons and above
$65
Price inclusion:
1.Air conditioned vehicle
2.Entrance fees
3.English Speaking tour guide
4.The above private tour is customized for you, your family or your friends exclusively. No other travelers will join in your group

Price exclusion:
1.Gratuities to drivers and guides
2.Travel insurance for your coverage of injury or accident
3. Meals
4. Cable Car or toboggan
5. Shopping Stops
Reservation Notes
●
Personal online booking information below must be provided or book by email :
Full Name, Nationality, Gender, Names of Travelers, Flight No., Arriving Time and Start Date. You are also welcome to call us at 00 86 10 67160201 ext 1006 or 1007 ( 9:00 am - 6:00 pm Monday through Saturday). Tour Beijing will not refund any losses due to missing or incorrect information.
●
All rates on Tour-Beijing.com are subject to reconfirmation from our trip advisors when an actual booking is being made.
●
Child definition: from Age 3 to 11 Years. Contact our trip advisors for the actual discount for your kids. 12 Years old and above will be charged as Adult Price.
●
All tours & transfers are all based in English Speaking local guides. For other languages, please contact our trip advisors for new quotations
●
Cash or Prepayment ( Paypal, credit card payment or wire transfer ). Both RMB and US$ or other hard currencies are acceptable. Your actual mode of payment will be confirmed by your trip advisor.
●
When your booking is confirmed, you will get a confirmation email or call from us, which includes the confirmed detailed itinerary with prices.
●
The cancellation fee is 10% of the total price if your cancellation is made more than 2 working days prior to the scheduled start of the tour. If cancelled less than 2 days, you will pay 100% of total package price.
●
The schedule can be adjusted by your tour guide due to the actual traffic condition.
●
You are strongly recommended to to book this tour at least three days in advance to secure the land arrangement involved and avoid the risk of being canceled.
Questions & Answers: