Five Pagoda Temple (Wuta Si)
The Five Pagoda Temple is an important Tibetan Buddhist temple, which has been viewed as the symbol of Inner Mongolian now. As there are five small dagbas on the pedestal of the pagoda, it is named Wuta Si, Five Pagoda Temple.
The Pagoda is 16.5 meters high, and consists of three parts: the base, the seat and the top. The vivid carvings and designs on the pagoda are finely made, and it is representative of the architectural achievements that were made in the Qing Dynasty (1644 - 1911).The lower part of the pagoda is inlaid with inscriptions of Diamond Sutra written in Mongolian, Tibetan and Sanskrit. The upper part is a niche holding 1119 small figures of Buddha.
The Mongolian Map on the back screen is the only one labeled in Mongolia so far in the world and it is of great importance to scientific research.
Compared with other pagoda, Five Pagoda Temple in Hohhot is more exquisite in at least two aspects: its special structure, pagoda over pagoda, and the green and yellow colored glazes on the short eaves and tops of pagodas. Those make Five-Pagoda Temple quite special, a treasure of Hohhot city.
The Five-Pagoda Temple has been listed as a national historical site since 1988.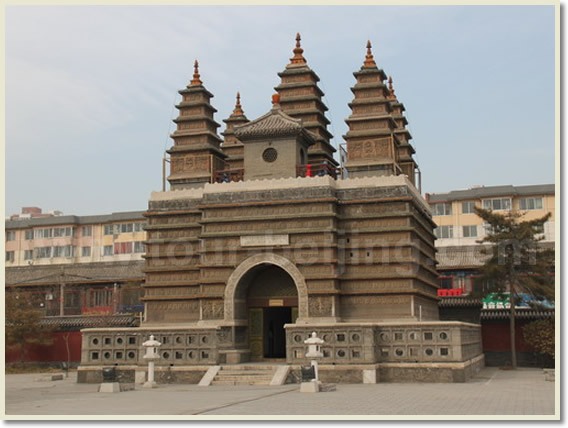 For a fast answer, fill the email-form below and we'll get back to you by e-mail within 24 hours.