Tianjin Sightseeing

The best transportation of going to Tianjin is taking the bullet train if you start your Tianjin trip from Beijing. Most of the attractions in Tianjin are walkable. If you don't have strong legs, you may take taxis which are plentiful in Tianjin and not so costly as in Beijing. So follow me to have a walking tour of Tianjin beginning from
Tianjin Railway Station
.
Most of the drivers from Beijing are reluctant to drive on the streets in Tianjin simply for fear of being lost. The city of Tianjin is built around the sinuous Haihe River. Unlike Beijing based on a clear north-south axis with most of the streest either from North to South or East to West, Tianjin is very unregular with many curved streests. So you are highly recommended to buy a map of Tianjin from the vendors on the South Square of Tianjin Railway Station.
Haihe River (the Haihe Park )
Now you exit from Tianjin Railway Station and come to its south quare. The main entrance of Tianjin Railway Station faces Haihe River. So we start your Tianjin trip with the first attraction in Tianjin - Haihe River. The Haihe River is a key river in North China formed by the convergence of five rivers in Tianjin with its estuary in Tanggu. The navigation of Haihe River has a long history dating back to 1,800 years ago. It gradually turned into a junction for navigation in the Sui Dynasty (581-618). Today the former navigation center is a place for sightseeing and relaxation.
Century Clock Tianjin
After enjoying the beautiful view of the Haihe River, turn right and walk about 100 meters, you will see a huge clock - Century Clock standing across Liberation Bridge. The Century Clock is a landmark of the city. It's on a roundabout. The Century Clock measures almost 40 metres in height and is embellished with relief carvings of the 12 symbols of the Chinese zodiac in bronze.
Liberation Bridge (Jiefang Bridge)
Standing by the Haihe River in front of Tianjin Railway Station, you turn right and can easily see Liberation Bridge. It is just to the south of the Century Clock. The 96.7-meter-long Jiefang Bridge, which was completed in October of 1927, over the Haihe River. The bridge witnessed two main forces of the Chinese People's Liberation Army joining forces during the Beiping-Tianjin Campaign, a crucial step for the city's liberation, on Jan. 15, 1949, hence the name of Liberation Bridge. There are 24 bridges connecting Tianjin's six districts on both sides of the Haihe River.
Binjiang Dao Walking Street (Binjiang Ave)
You cross the Liberation Briddge and follow your nose along Liberation Road to the southwest direction. Not far, you will get to an avenue called "Binjiang Dao - Binjiang Aenue" running from northest to southwest, you turn right and walk along Binjiang Dao to the south west direction. Keeping on walking, you will get to the walking street part of Binjiang Dao. This is the place to shop in Tianjin. Hundreds of retailors stores are assembled on the walking street. It is generally a pleasant experience shopping here due to less traffic and clean environment. The stores here sell almost very kind of stuff, clothing, shoes, jewelry, watches and accessories. The street is teemed with shopping malls, department stores, wholesailors, discout shops, speciality shops and street vendors. Generally speaking, things are a little cheaper here in Tianjin than Beijing.That's why many Beijingers come to Tianjin for shopping during the weekend.
Heping Road
To the end of the Binjiang Dao Walking Street, you turn back and walk to the original entry and turn left on to Heping Road, another crucial walking street in Tianjin runing northwest to southeast. If you feel tired, you can take the polution-free electric vehicles running on the streets for small money.
Nanshi Food Street
After shopping both at Binjiang Dao and Heping Road, you walk to the north of Heping Road, come across Fuan Avenue, turn right and keep on walking along Fuan Avenue. Soon you will meet Rongye Road running from North to South. You turn right and continue to walk along Rongye Road. Keeping on walking, you will get to the famous Nanshi Food Street. The walking from Heping Road to Nanshi Food Street takes about 4o minutes. Actaully Nanshi Food Street is more like a shopping mall than a food street. It is a huge complex built in a tradtional style with an area of 40,000 square meters, teemed with more than 100 restaurants. It is a food paradise where you can taste a thousand different types of food and enjoy the interesting cuisine culture. The most famous local food are Goubuli Steamed Stuffed Bun, Ear-Hole Fried Cake, and Fried Dough Twist (Ma hua).
Drum Tower
After tasting local food and getting recharged, let's go on with our walking in Tianjin. Next stop is Drum Tower, which again takes about 40 minutes' walking. Continue to walk along Rongye Road and don't change any direction towards north and you will get to Gulou Dongjie ( Drum Tower East Road). Turn right, you will see the Drum Tower. To see the Drum Tower, you will first pass a Ming Dynasty style street. The tower was originally built during Ming Dynasty. Although it's called Drum Tower, but it's actually a Bell Tower. The 27 meters high grand tower is elegantly built. The Drum Tower and the surrounding business streets form a sort of reminiscence of Ming Qing Dynasty.
Tianjin Ancient Cultural Street
After immersing yourself in the history, you again turn back and walk along Gulou Dongjie ( Drum Tower East Road) to the east direction. Not very far, you will meet the north-south Culture Street. People come here to enjoy its special architectural styles, see its classic cultural features, take home various folk crafts, and taste the delicious local Tianjin snacks.
A giant archway inscribed with the words "an Old Neighbourhood of Tianjin" stands at the entrance to the street. Walking through the archway, the first shop that comes in sight is the shop of Zhang, the Sculptor of Clay Figurines. There is also some special shop selling the famous New Year pictures of Yangliuqing. Within the street is the "Mazu Palace" (Tianhou Gong), paying tribute to the Goddess of the sea. The temple was originally built in 1326 AD in deference to the heavenly Goddess and in hope of protection for Tianjin's ocean going population.
Wudadao Sightseeing Street
Your final stop is Wudadao. Wudadao is in the down south of Tianjin city center, this time we advice you to take a taxi. Wudadao literally means "5 big avenues" in Chinese. The five main avenues are Machangdao, Munandao, Dalidao, Chongqingdao and Chengdudao. There are totally 22 roads, with a total length of 17 kilometers and an area of 1.28 square kilometers. There are over 2,000 garden-style villas built in 1920s and 30s by different countries. It is recognized globally as the Exposition of Neoteric Architectures. Wudaodao highlights Tianjin as the tangible textbook of Chinese modern history.
The whole sightseeing walking tour takes you about 4 hours. After the tour, take a cab to Tianjin Railway Station and return to Beijing.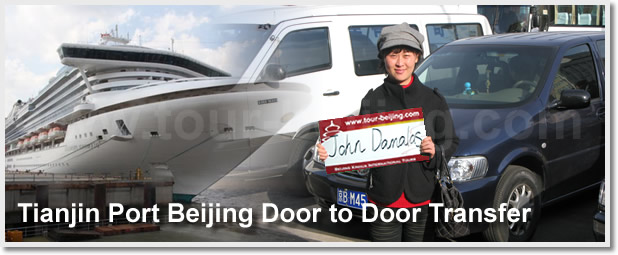 Questions & Answers:

Here is
only for Questions and Answers
. ( For anyone who wants to have an enquiry or customized tour, please email us to

. )