Tianjin Harbour Transfer

As a Tianjin Harbour transfer service provider based in Beijing, today, the October 04, 2010, is an important day when the Diamond Princess again docks at Tianjin. This time, its port of call is the new cruise home port of Tianjin Harbour instead of Xingang Port. Completed on June 26, 2010, it is first time for the new cruise home port of Tianjin Harbour to receive Dianmond Princess.
Today I set out to see the new cruise terminal and supervise our transfer service at Tianjin Harbour as well.
I normally wake up at 7:00am. Last night I set my alarm clock to 4:00am for an early pickup at Tianjin Harbour, 200 kms away from Beijing. The Diamond Princess Cruise is due to disembark from at Tianjin Harbour at 7:30am.
I've had much experience in joining the cruise port pickup team, but I'm still a little excited and expecting it since it is a new home port of Tianjin Harbour. I come downstairs and meet my driver - Mr. Liu at 4:50am - our prearranged time. We get to the nearest Toll Gate on the second Jingjintang Expressway, a place to meet our team and set off all together at 5:15am.
It is still quite dark outside. There are not so much traffic on the second Jingjintang Expressway from Beijing to Tianjin which was completed and opened to the public last year, and have greatly reduced the congested traffic on the Jingjintang Highway. Now it usually takes 2-3 hours from Beijing to Tianjin Harbour or Vice Versa by car.
Red Ball - the rising sun is breaking over Jingjintang Expressway!
At 7:00am, we get to the main building of the new cruise home port of Tianjin Harbour. Tianjin Harbour is located in Tanggu in the new district of New Bihai Disrict under the administration of Tianjin. Tianjin Harbour is about 60kms away from the Tianjin Proper.
We get to the parking lot in front of the Tianjin Harbour Service Building. The huge cruise - Diamond Princess docks behind the building. We are not allowed to enter the dock to see the true face of Diamond Princess. There are more and more buses, cars and vans coming in the parking lot ready to receive the passengers. The huge parking lot is just in front of the Tianjin Harbour Cruise Home Port Service Building.
This is our Tianjin Harbour private transfer team for today.
We also offer Tianjin Harbour Beijing shuttle bus service for passengers disembarking from Diamond Princess.
The disembarkment is set according to their numbers of cabins. Usually the disembarkment takes 2-3 hours. There are many tour guides holding the signs with the names of the people they are going to meet. It is quite interesting to see the signs in different size and color.
The lucky passengers find their tour guides and follow them to the parking area.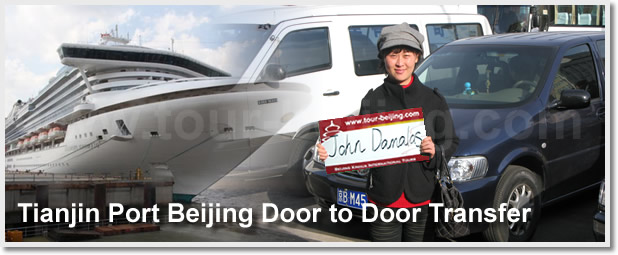 Questions & Answers:

Here is
only for Questions and Answers
. ( For anyone who wants to have an enquiry or customized tour, please email us to

. )