Tianjin International Cruise Home Port
( Map, Address, Pictures, Schedule and Transfer)

Tianjin International Cruise Home Port is the first home port in the northern China. It is located in the the north of Dongjiang Port attached to Tianjin Port, adjoining the largest free trade zone – Dongjiang Port free trade zone.
This home port accommodates international cruise ships like Ocean Princess, Oceania Nautica, Costa Classica, Celebrity Millennium, Crystal Symphony, Volendam, Sapphire Princess and Azamara Quest and Arcadia. Now it is the home port of both for "Costa Cruises" and "Caribbeans", etc. It offers lounge service, luggage handling, ticketing and custom service.
Tianjin Cruise Port is the important port of call on most of the cruise trips to Asia.
The Location of Tianjin Cruise Home Port
Tianjin Cruise Home Port is located at the East Port of Tianjin Port
Add: No.1001, Guanhaidao, Free Trade Zone, Dongjang, Tanggu, Tianjin
Location: About 30km east of Tanggu Railway Station, 70km from the city center of Tianjin and 180km from Beijing
Tel: 022-25605128
The Cruise Terminal Information
The main terminal hall is 60,000 square meters. The overall port is 800 meters in length to offer 3 berths. It can accommodate two large cruise ships and serve 4000 passengers at the same time. It offers lounge service, luggage handling, ticketing and custom service.
The 800-meter-long Tianjin Cruise Port Berth to hold two cruise ships at the same time.
A Cruise Ship Docking at Tianjin Cruise Port
Baggage Claim Area inside the Tianjin Cruise Terminal Building
Go through the customs ( Red: Goods to declare; Green: nothing to declare)
Post Office and Currency Exchange at Tianjin Cruise Port
The Toilet by the side of the Gate 3 for Individual Tourists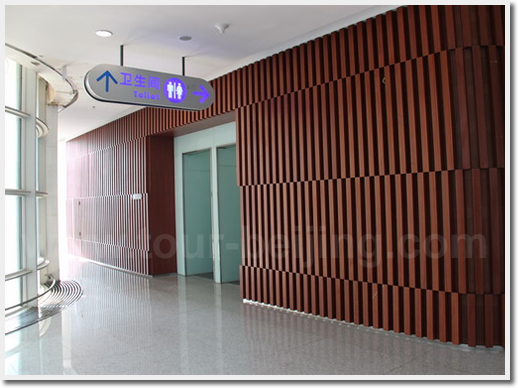 Arrival and Departure Hall inside the Cruise Terminal
Passengers are leaving the arrival hall of Tianjin Cruise Terminal
Exit from Gate 3 ( For individual travelers)
Taking your handbags, you go through the customs. Then you go to claim your luggage at the check luggage area. If you have much luggage and cannot carry or roll them, you may ask the port terminal staff for help.
Actually there are three exits – Exit 1, Exit 2 and Exit 3. Exit 2 is in the middle of the hall for tourist groups while Exit 3 is on the left side of the Exit 2, designed for individual tourists. So make sure you go through the right exit. Basically you need to exit from Exit 3 if you book a transfer through a local travel agency like Tour-Beijing.com or you travel independently; if your transfer is arranged by your liner, you should go through Exit 2.
Passengers are going through the Gate 3 designed for individual travelers
Your tour guide or driver is waiting for you by the Gate 3 or outside the Gate 3
The Exterior of the Gate 3 of Tianjin Cruise Port Building
The Tianjin Cruise Port Terminal Building
Transport at the Cruise Terminal ( Taxis, Private Cars & Coaches )
Local taxis are waiting at the designated area in front of the cruise building.
Hire a private car or van for a comfortable transfer.
Take a shared shuttle bus
Beijing ( Tianjin ) Cruise Schedule 2018 - 2019
Tianjin International Cruise Home Port accommodates international cruise ships like
Ovation of the Sea, Oceania Cruises, Crystal Symphony, Regent Seven Seas Voyager, Silver Shadow, P & O Arcadia, Celebrity Millennium, Holland America Volemdam, Seabourn Sojourn, Princess Cruises, and Royal Caribbean.
which are the most innovative vessels offering passengers a unique way to visit a variety of ports with popular and off the beaten path offshore excursions throughout the Asia Pacific in complete style.
Click
Tianjin Cruise Schedule
for more information.
Beijing (Tianjin) Cruise Port Transfer
If you don't want to go the do-it-yourself route and prefer the hassle-free escorted transfers, here are some options for your Tianjin Cruise Port Beijing Transfers:
Tianjin Cruise Port - Beijing Transfer Map
How to Get to Tianjin Cruise Terminal from Beijing or Vice Versa by Public Transport?
By Road
You may take a taxi directly from Beijing to Tianjin Cruise Port or vice versa. The distance between Beijing downtown Tianjin Cruise Port is about 180km with the driving time approx. 2 hours under the fine weather and good traffic. There is an official taxi stand by the cruise terminal building. For more information on the road trip from Tianjin cruise port to Beijing, check out the link:
Beijing Tianjin expressway road trip
.
Estimated taxi fares for the often used taxi service at Tianjin Cruise Port
Tianjin Cruise Port – Tanggu Railway Station Approx. RMB 60, 30 km
Tianjin cruise Port – Tianjin Railway Station Approx. RMB 180, 70 km
Tianjin Cruise Port - Tianjin Airport Approx. RMB 160, 60 km
Tianjin cruise Port - Tianjin Downtown Approx. RMB 200, 80 km
Tianjin Cruise Port – Beijing downtown Approxi. RMB 600, 200 km
Tianjin Downtown – Tanggu Railway Station Approx.RMB 130, 40 km
-
Tanggu Railway Station
-
Tianjin Binhai International Airport
-
Tianjin Railway Station
-
Beijing International Airport
Remark:
1) Too much luggage is a problem for many of the taxis, because most of them are not very large. Three large pieces of luggage and two carry-ons are probably more than most of the taxis can handle.
2) There are taxis waiting at the harbor (Tianjin Home Port), but they seemed pretty hard-core negotiators.
By Train
You may take the high speed train from Beijing South Railway Station to Tianjin ( depart every 20 minutes ). In Tianjin, you may change for another high speed train for Tanggu. From Tanggu, you take taxi to Tianjin Cruise Port. Alternatively in Tianjin you take taxi directly to the cruise port.
Tanggu Railway Station - Tianjin Cruise Port by taxi: 45 minutes and about 60 yuan
Tianjin Railway Station - Tianjin Cruise Port by taxi: 80 minutes and about 200 yuan
As for the bullet trains running between Beijing and Tianjin, the situation is quite different. There are over 60 daily bullet trains going from Beijing to Tianjin and vice versa!
One train per average 10-15 minutes! The plentiful bullet trains are like inter-city public buses , easy to go and easy to come.
You can buy the train tickets on the spot, making ticket prebooking quite unnecessary given that you should get to the ticket booking offices at the station the early the better. It takes only 30 minutes between Beijing and Tianjin by bullet train.
Beijing South Railway Station
Tianjin Railway Station
Tanggu Railway Station
On the bullet trains, there is plenty of space at each end of every coach for large suitcases and overhead space for smaller bags. So, the amount of luggage you have will not be a problem on the train, as long as you can carry or roll it onto the car yourself though there are steps at either the Tanggu or Tianjin station which makes it quite tough to carry your large suitcases.
Questions & Answers:

Here is
only for Questions and Answers
. ( For anyone who wants to have an enquiry or customized tour, please email us to

. )