Binhai New District, Tianjin
Binhai New District was newly established on Jan 11, 2010. Binhai New District is under the administration of Tianjin Municipality. It is mainly composed of 9 functional districts - Adanced Manufacture Industry Zone, Linkong Industry Zone, Binhai Hi-tech Industrial Development Area, Lingang Industry Zone, Nangang Industry Zone, Haigang Logistics Zone, Binhai Tourism Zoen, Zhongxin Tianjin Eco City and Center Business District as well Tianjin Port.
Binhai New District Government
Add: 35 Xingang Road No.02, Tanggu District, Tianjin
Tel: 022-65309479 66222956 96667
Fax: 022-65309470
Email:
[email protected]
Zip: 300456
Most people are unfamiliar with the new district - Binhai New District in Tianjin. "Tanggu" and "TEDA" are the most popular two words when people think of this area. In history, this area used to be divided into three parts - Tanggu, Hangu and Dagang. TEDA presents Tianjin Economic-Technological Development which was established on December 6, 1984. In global cruising, Xingang Port in Tanggu Tianjin is an important port of call. So many international tourists show increasing interest in this area mainly due to the port of call in Tanggu, Tianjin.
Though in November 2009 Binhai New Area was consolidated into an administrative district, and the former subordinate districts of
Tanggu, Hangu
and
Dagang
were abolished, many local people still habitually use the old terms of "
Tanggu District
", "
Hangu District
" and "
Dagang District
" instead of Binhai New District".
Tanggu Area
Tanggu is the center of Tianjin Binhai New District. Located to the west coast of Bohai Sea, Tanggu area covers an area of 790.2 km with a population of about 500,000. Tanggu is between Dagang District in the south and Hangu District and TEDA in the north. It covers 50km from south to north, and 25km from east to west, and has a coast line of 92.16km. Many rivers from Beijing, like Chaobai, Yongdingxin, Jiyun, Duliujian and Haihe River, all go across Tanggu District before they enter Bohai Sea. Situated in the east of Tanggu District, the Port of Tianjin is the biggest comprehensive trading port of North China. With the annual 250million tons through put, the Port of Tianjin has trading relations with more than 400 ports in over 180 countries and areas all over the world.
Attractions in Tanggu:
1. Bank Square Park by Haihe River 2. Tanggu Market of Exotic (Foreign Goods Market) 3. Dagu Fort (Dagukou Fort) 4. Xingang Port
Hangu Area
Hangu (Tianjin) is located 28 kilometre from Tanggu (Tianjin), 90 kilometers away from Dagang area. It is a district in east Tianjin and a gateway towards Liaoning, Jilin and Heilongjiang provinces. Hangu is blessed with rich land resource as well as abundant seawater and freshwater resources. It also has prosperous biologic resources. The traffic in Hangu is convenient, with Jingshan railway running though it. For tourists, Binhai Aircraft Carrier Theme Park is a must see attraction. Tel: 022 59918888. Add: in Baguatan, Yingkou Township, Hangu.
You can take Bus No.462 from Tianjin Railway Station to Binhai Aircraft Carrier Theme Park.
Dagang Area
Dagang area is located south of Tanggu area at the southeast of Binhai New District municipality area. It has a population of oer 440,000 and occupied 1113.83 km² in size, with a coast line extending about 25 km on the eastern side. Dagang has developed a base of petroleum chemistry with Dagang Oilfield within its border.
Tianjin Economic-Technological Development(TEDA)
Tianjin Economic-Technological Development Area (TEDA) is the main free market zone in Tanggu District in Tianjin, China. It was established in late 1984 and now has more foreign businesses than Shanghai. While technically part of Tianjin, TEDA looks like a separate city and is about 40 minute drie from downtown Tianjin. The completion of the rapid transit system Binhai Mass Transit in 2004 has made the travel time between Tianjin downtown and TEDA much quicker and more convenient.
Nangang Industry Zone
On Sep. 30, 2009, started the construction of Nangang Industrial Zone, an industrial complex that the government plans to attract world leading players in heavy and chemical industry fields. The new industrial zone will be built in three phases and is expected to be completed in 2020. The total investment is estimated to be RMB 800 billion, with industrial value-added hitting RMB 350 billion. The Administrative Commission of Nangang Industrial Zone: 022-25202691 25201352 25202847
Tianjin East Port Free Trade Zone
Tianjian East Port Free Trade Zone is located in the Tianjin East Port area. It cooperates with the port, continuously perfects its clearance environment, expands the function of its Logistics Park and supports enterprises to further develop their international transfer and transit trade, etc. Well-known logistics corporations at both home and abroad come into the Park one after another and develop transfer trade and devanning as well as consolidation business such as American UPS, Danish Maersk, Swiss Prestige, Japanese "K" Line, Singapore YCH. Attraction in Tianjin East Port Trade Zone: Artificial Beach.
Binhai Hi-tech Industrial Development Area
Tianjin Binhai Hi-tech Industrial Development Area (TBHIDA) has become an important science and technology innovation base and high-tech industrialization and talent incubation base. It has been classified as the national innovative park and national intellectual property rights model park, becoming a hot land for investment.
Zhongxin Tianjin Eco City
It is a public housing project by the name of Sinp-Singapore Tianjin Eco-City. Its construction started on 14 October 2009. It was officiated by Ms Grace Fu Hai Yien, Singapore Senior Minister of State for National Development and Education, and Mr He Lifeng, Deputy Secretary of the the Tianjin Communist Party of China (CPC) Municipal Committee and Chairman of the Tianjin Binhai New Area Administrative Committee. It is scheduled for completion in the middle of 2011, and will be developed taking into account the Eco-city's needs and Singapore's years of experience in building public housing.
Tianjin Port
Tianjin Port is located to the west of Bohai Bay and in the estuary of the Haihe River in Binhai New Disrict, Tianjin. Tianjin Port has a total area of 100 Square kilometers. Tianjin Port is mainly composed of 4 big port areas - Tianjin East Port, Tianjin North Port, Tianjin South Port and Haihe River Port. Tianjin North Port is mainly used for shipping container services; Tianjin South Port for bulk cargo and liguid cargo; Haihe River Port for cargo vessels below 5000 tons and Tianjin Port is a new port. The new international cruise terminal will be built at Tianjin East Port.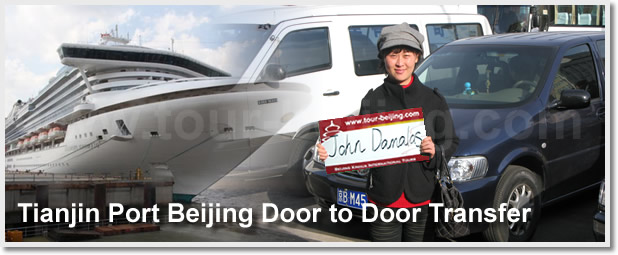 Questions & Answers:

Here is
only for Questions and Answers
. ( For anyone who wants to have an enquiry or customized tour, please email us to

. )