Tianjin Airport

Tianjin Binhai International Airport is located 15 km east of Tianjin, China. over 30 domestic and foreign airline companies are participating in the operational business. The airport connects to 57 cities domestically and internationally with 71 airlines in operation. Tianjin Binhai International Airport is a memeber of Beijing Capital International Airport.
Airport Service: (86) 022-24902012
Airport Fax: (86) 022-24903355
Email:
tjws@cahs.com.cn
Add: Dongli District, Tianjin, China 300300
Location: The airport is located 15 km east of Tianjin city center.
Airport code: TSN; Country Code: 86
Number of Terminal: 1 terminal in operation.
At present Tianjin airport has only one terminal. It is a two-storey building, with departure hall on second floor and arrival hall on the first floor. The domestic airlines the terminal includes Air China (CA), Hainan Airline(HU), Shanghai Airline(FM), Eastern Airline(MU) and Jixiang Airline(HO). International flights are primarily operated by Korean Air and Asiana Airlines to Seoul-Incheon International Airport, All Nippon Airways and Japan Airlines to Nagoya-Chubu Centrair International Airport.
First Floor

Domestic Arrival (Left Side)
International Arrival (Right Side)
Second Floor

Domestic Departure (Left Side)   
International Departure (Right Side)
Tianjin Airport Shuttle Bus
When you get out of the departure hall, go straight, on your left side, you will see the transit buses in front of you. Its only costs you RMB 10 for the shuttle bus ride for the downtown Tianjin. There are several bus lines. One stop is Nanjing Road in Tianjin City. The other is Tianjin Railway Station. The shuttle bus goes from the first flight in the morning to the last flight. If you want to take the shuttle bus from Tianjin railway Station to Tianjin Airport, please keep in mind that the airport shuttle bus station is in the north square of Tianjin Railway Station. All the public buses in the south square don't go to the airport. The shuttle bus is a kind of medium-size coach unlike the shuttle buses in Beijing.
| | |
| --- | --- |
| Shuttle Bus at Tianjin Airport  | Shuttle Bus at Tianjin Railway Station |
| | |
If you have much luggage and your hotel is not close the downtown shuttle bus stop, you are kindly suggested to take a taxi since it will save you more time for a comfortable transfer. It costs you about 60 Yuan from Tianjin city to Tianjin Airport by taxi.
Tianjin Airport - Tanggu Shuttle Bus
Go out of the arrival hall on the first floor, turn right and walk about 100 meters, you will get to a special bus station where you can find the buses to Tanggu. Most of the buses operate hourly from Tianjin Airport to Tanggu.
Tianjin Airport - Beijing Shuttle Bus
Come out from the arrival hall, you will find the signboard showing the shuttle buses runing between Tianjin Airport and Beijing. The long-distance buses run 4-5 times a day. The bus stop in Beijing is Bawangfen.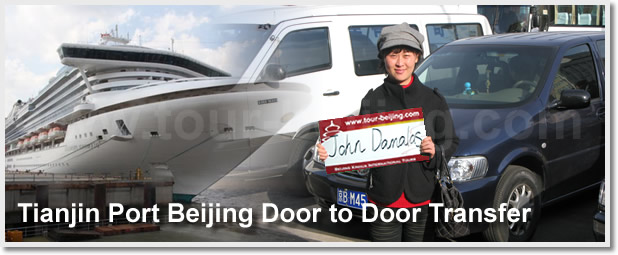 Questions & Answers:

Here is
only for Questions and Answers
. ( For anyone who wants to have an enquiry or customized tour, please email us to

. )