Plan your Shanghai tour? Basically you should include People's Square on your Shanghai's first-time visit list. People's Square is the soul of Shanghai, both physically and spiritually.
Originally the largest in Asia before 1949, now it has become the largest, chic and modern square in Shanghai after over 60 years' development.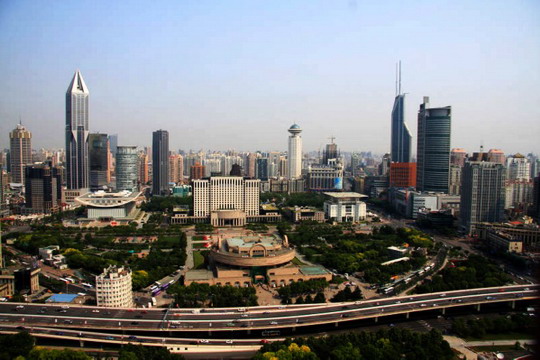 Some Useful Tips
1. Location and How to Get to People's Square Shanghai
People's Square is located in the center of Shanghai. The best way to get to Shanghai People's Square is using the fast and safe metro system. Actually People's Square is the busiest and largest metro station in Shanghai with 3 major subway lines passing through, namely metro line 1, 2 and 8.
So getting to People's Square is a breeze. But keep in mind that there are 20 exits, in and out of People's Square Subway Station. Make sure you do some research as to where to come in and go out. For visiting People's Square, just get off either at Exit 1 or 2 at the People's Square Station of Line 1, Line 2 and Line 8.
2. The Layout of People's  Square
People's Square is sandwiched by the busy streets of Nanjing Road and Yanan Road. People's Avenue bisects the square into two parts,  roughly the northern part and southern part.
The southern part is home to Shanghai Museum, one of the largest museums in China, and the largest underground shopping mall in China. The northern part include some famous buildings and People's Park. These well-known buildings are Shanghai Urban Planning Exhibition Center, the Shanghai Municipal Government Building and Shanghai Urban Planning Exhibition Center.
3. Major Sights in People's Square
There are numerous sites in the square and you'll find yourself hard-pressed to see everything People's Square has to offer. If your heavily schedule doesn't allow you to visit any attractions in the square, it still doesn't deter you from a troll on the square allowing you to feel the modern chic and refined elegance of Shanghai.
By the way, if time permits, you may choose any of the following things to do:
The Southern Square
1) Shanghai Museum
Occupying a construction site of over 28,000 square meters, the museum has four exhibition halls holding bronze ware, calligraphy, paintings, pottery, porcelain, jadeware, stone carvings, Jiaguwen imperial seals and more. Many exhibitions from the Shanghai Museum have been put on show to Hong Kong, Japan and America and other countries.
2) Shanghai Underground Shopping Mall
It is the largest underground shopping mall in China. You may enter the subterranean mall from its entrance in the southeast of the square.
3) Hong Kong Shopping Center
It is also an underground shopping center, which is specialised in products from Hong Kong. Its entrance is located in the northeast of the southern part of the square.
The Northern Square
1) Shanghai Urban Planning Exhibition Center
Covering an area of 3,600 square meters, it is the largest integrative urban planning exhibition center in China. The top is made up of four large connected crust, just like the blooming White Yulan, the city flower of Shanghai. You can take good photos of the square from the Shanghai Urban Exhibition Center Building.
2) The Shanghai Municipal Government Building
It is one of the landmark buildings in Shanghai, home to the offices with the capacity of 2500 people at work for Shanghai Municipal Government.
3) Shanghai Grand Theater
Completed in 1998, the Shanghai Grand Theatre is listed as one of the largest and best-equipped automatic stages in the world. The theatre stages the performances of operas, symphonies, chamber music concerts, , musicals, ballets, spoken dramas and various Chinese operas.
4. Attractions in the vicinity of People's Square
There are some important attractions worth your exploration, which are not far from People's Square.  Walking in the northeast direction, you will get to the pedestrian only shopping street – Nanjing Road.  Champs-élysées to Paris and Oxford street in London are what Nanjing Road to Shanghai. Nanjing Road, billed as "China's First Commercial Street", is the most well known shopping and leisure street in Shanghai.
The leisure stroll along the 1-km pedestrian only street, ending at the Bund is an interesting experience,  people watching, shopping,  drinking and eating. Strolling along the Bund is a must in if you visit Shanghai for the first time. It is the most awesome urban city walk in the world though you may have your own favorites such as Piccadilly in London, Champs-Elysees in Paris, Fifth Avenue in New York and Victoria in Hong Kong.
Head to the south across Yan'an Road and Huaihai Road, you will reach the Xin Tian Di (or spelled "Xintiandi"), a kind of Lan Kwai Fong in Hong Kong and Clarke Quay in Singapore. It is situated at Lane No.181 of Taicang Road Shanghai, the old Shikumen residential area near "Zhonggong yidahuizhi" ( site of the 1st National Congress of the Communist Party).
5. Shanghai Urban Life
There are many chairs and benches in the green lawn dotted square. The locals love to gather here for a family bonding time or to meet up their friends for walk.
Come here early in the morning, you will see people playing Tai Chi, jogging, dancing, etc.  People watching, mixing with the locals, relaxing and enjoying the beautiful surrounding city skyline.
Hassle-free Shanghai Guided Tours
If you don't want to do a self-guided tour and prefer the hassle-free escorted tours, here are some options for guided tours to Shanghai:
Shanghai Tour
Shanghai Day Tour
Shanghai Multi-Day Tour
Shanghai Evening Tour
Shanghai Cruise Port ( Transfer& Excursions )
Shanghai Beijing Tour
Shanghai Xian Tour
Shanghai Car Rental with Driver
Further Readings
---
Top 10 Attractions in Shanghai
Shanghai's Top 10 Iconic Landmarks
Top 10 Markets in Shanghai
Top 10 Shopping Malls in Shanghai
Top 10 Things to Do at night in Shanghai
Best Places for Autumn Leaves in Shanghai
Top 10 Things to Do in Winter in Shanghai
Top 10 Souvenirs in Shanghai
Top 10 Photo Spots in Shanghai
10 Non-Touristy Things to Do in Shanghai
Top Things to Do for Kids in Shanghai
Top family-friendly spots to visit in Shanghai
Top 10 Shanghai Museums
Doing things the local way in Shanghai
Shanghai Cherry Blossom Festival
How to Plan a Trip to Shanghai
Best time to visit Shanghai
How to Visit Shanghai on a Budget
Where to stay in Shanghai
Visit Shanghai in December
How to Visit Shanghai in November
Visit Shanghai in October
How to Visit Shanghai in March
Visit Shanghai in February
Shanghai in January Travel Guide
Shanghai Layout, the city layout of Shanghai
Shanghai Hongqiao Railway Station
Public Transportation at Shanghai Pudong International Airport
Shanghai Hongqiao Airport
Huangpu River Cruis e Ticket Booking (Tickets, Photos and Map)
Shanghai Hop On Hop Off
Ferry from the Bund to Pudong
The highest al fresco dining venue in China
Shopping in Pudong Shanghai
Top 10 Shanghai Classic Vegetarian Restaurants
Beijing Shanghai high speed rail
Ticket Booking for Beijing Shanghai High Speed Rail
Top 10 Shanghai Budget Hotels
Top 10 Shanghai Luxury Hotels
Top 10 Shanghai Boutique Hotels
Tips for Visiting Nanjing Road in Shanghai
The Neon-Colored Nanjing Road
Night walk along Nanjing Road in Shanghai
How to Visit the Bund in Shanghai (Tips, Photos & Map)
The Bund at Night pictures
Foggy Pudong Skyline at Sunrise, Shanghai
The Bund and Small Pool of Rainwater
Early Morning Kite Flyers on the Bund in Shanghai
Historic Buildings on the Bund in Shanghai (the 22 heritage buildings)
Evening View of the Bund and Pudong Skyline Shanghai
How to Visit Yuyuan Garden and Bazaar
The Old World Charm in Shanghai (Tips, Photos & Map)
How to Visit Lujiazui in Pudong
How to Visit Zhujiajiao Water Town
How to Visit Qibao Ancient Town
How to Visit Tianzifang
How to Visit Xintiandi
How to Visit Shanghai World Financial Center
How to Visit Jin Mao Tower in Shanghai
How to Visit Shanghai Tower
Tips for Visiting People's Square, Shanghai
How to Visit Shanghai Auto Museum
Feeling Chinese New Year's Atmosphere in Shanghai
How to Visit Wuzhen Water Town from Hangzhou and Shanghai
Huangpu River in Shanghai VS River Thames in London
Some similarities and differences between Paris and Shanghai
Any questions, just drop a line.