Plan your Shanghai Tour? If you visit London, one thing you must do is to cruise on Thames River. It is same as in Shanghai. It is said that no Shanghai tour is perfect without cruising on Shanghai Huangpu River.
Huangpu River in Shanghai VS River Thames in London tells the similarity of the importance of the two rivers for the two world famous cities.
Cruise Routes
At present, the most popular cruise schedule is the one hour Highlight Cruise.
Starting from the Shiliupu Wharf (十六铺码头), passing by the Bund, Binjiang Avenue, Shangri-la, Oriental Pearl TV Tower, Yangpu River Bridge.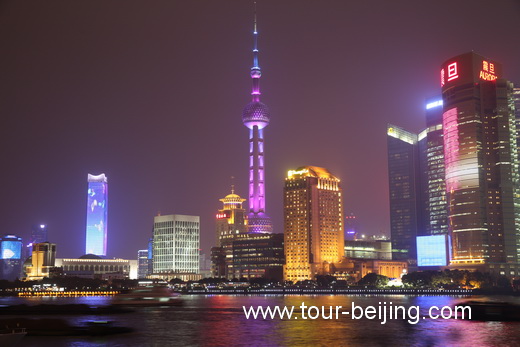 Then "U" turn back to Waibaitu Bridge, the colonial buildings and back to the pier. This is a highlight of the cruise trip on Huangpu River.
You are able to enjoy the mixed view of the concession-era buildings on the west of Huangpu River and the futuristic and trendy skyscrapers on the east.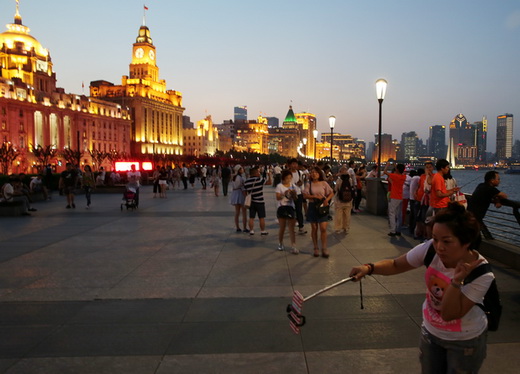 Operating hours: 11:00 – 21:30
Cruising Time: 50 minutes
Cruising Schedule:
11:00, 12:00, 13:00, 14:00, 14:30, 15:00, 15:30, 16:00, 16:30, 17:00, 17:30, 18:00, 18:30, 18:45, 19:00, 19:15, 19:30, 19:45, 20:00, 20:15, 20:30,20:45, 21:00, 21:15. 21:30.
Cruise boats to be used:
Depending on the cruise boat schedule
Prices: RMB 120
Note:
1) Children under 1.3 meters high: free of charge.
Note: One adult only can take one child free of charge
2) Children above 1.3 meters high: charged as an adult.
Cruise Boats
At present, 19 cruise boats of different sizes are available cruising on Huangpu River. The largest cruise ship (Huangpu River Cruise No.01) holds as many as one thousand passengers with the smallest boat carrying 80 people.
Some boats are built with traditional Chinese culture elements; some look much trendy and brilliant. Choose your own favorite boat!
Where is the Cruise Wharf and how to get there?
The cruise pier is located on Shiliupu Wharf No.01 ( also known as Shiliupu Tourism Wharf Area 1), just south of the Bund, and its address is 481 East 2nd Road, Zhongshan Road, Huangpu District, Shanghai (上海市黄浦区中山东二路481号).
The embarking dock is Gate 3, Shiliupu Wharf Tourism Center. There are two embarking areas along the long Shiliupu Wharf. Either areas are all right as long as you come the right dock for your boating.
Take the subway line 2 and get off at Nanjing Dongl Lu (Nanjing East Road), then walk along the Bund to the Shiliupu Wharf. If you have a hop on and hop off ticket, you can easily get to the wharf since the double decker bus route has a stop at Shiliupu Wharf.
Take bus 33, 55, 65, 305, 868, 910, 928 and get off at the bus stop of Shiliupu.
How to book the Huangpu River Cruise Tickets
Basically there should be no problem purchasing your tickets on site if you are not pressed for time. Just try to go there a bit earlier to secure the seats. The Shiliupu Wharf Tourism Center has two ticket booking offices, which are both located on the underground floor.
You are required to take an escalator to the ticket booking counter. Line up and purchase your tickets. It's better to book your cruise tickets before 17:00. You also can buy your tickets online or through ticketing agents.
Night Cruise on Huangpu River
Cruising on Huang River at night is highly recommended with the lit brilliantly skyline of Pudong rife with skyscrapers and the lit Bund with beautiful colonial buildings.
Add-on
How to Visit the Bund in Shanghai
The Historic Buildings on the Bund in Shanghai
Evening View of the Bund and Pudong Skyline Shanghai
How to Visit Lujiazui in Pudong
How to Visit Shanghai World Financial Center
How to Visit Jin Mao Tower in Shanghai
How to Visit Shanghai Tower
Hassle-free Shanghai Guided Tours
If you don't want to go the do-it-yourself bus route and prefer the hassle-free escorted tours, here are some options for guided tours to Shanghai:
Shanghai Tour
Shanghai Day Tour
Shanghai Multi-Day Tour
Shanghai Evening Tour
Shanghai Cruise Port ( Transfer& Excursions )
Shanghai Beijing Tour
Shanghai Xian Tour
Shanghai Car Rental with Driver
Further Readings
---
Top 10 Attractions in Shanghai
Shanghai's Top 10 Iconic Landmarks
Top 10 Markets in Shanghai
Top 10 Shopping Malls in Shanghai
Top 10 Things to Do at night in Shanghai
Best Places for Autumn Leaves in Shanghai
Top 10 Things to Do in Winter in Shanghai
Top 10 Souvenirs in Shanghai
Top 10 Photo Spots in Shanghai
10 Non-Touristy Things to Do in Shanghai
Any questions, just drop a line.