Plan your Beijing tour? A visit to Jingshan Park is not to be missed during your tour in Beijing.
Jingshan Park Location
Jingshan just sits across the north gate to Forbidden City. After finishing your visit to Forbidden City along the south to north official visiting route, you exit from Forbidden City's north gate.
Exiting from the north gate and raising your head, you will find a pavilion with three-layered eaves perched on a hill. The hill is called Jingshan Hill ( Coal Hill or prospect Hill). The Jingshan Hill and its surrounding complex is known as "Jingshan Park".
Jingshan Park add: No.44 Jingshanxi Street, Xicheng District, Beijing 北京西城区景山西街44号(故宫后门对面).
The main road between the north gate area of Forbidden City and the south gate of Jingshan Park is fully blocked. To get across to the south gate to Jingshan Park, you just turn left for 20 meters and take the underground pass.
Entrance Fees
Line up for the tickets: RMB 2 per person (RMB10 per person during Peony Festival April and May).
Opening Hours
06:30-21:00; Closing time :20:30 (Monday – Sunday; April 1 – October 31)
06:30-20:00; Closing time :19:30 (Monday – Sunday; November 1 – March 31, Next year )
How to get to Jingshan Park by bus?
Jingshan Park has three gates. Apart from the southern gate just across Forbidden City, there are two more gates – the East Gate and West Gate. From the west gate, you can walk to Beihai Park.
Arriving at the East Gate: take 111, 124, 210 and get off at Jingshan East Gate Station;
Getting to the South Gate: take Bus 101, 103, 109, 124, 202, 211, 609, 619, 685, Zhuan 1, Zhuan 2 and get off at the Forbidden City Station.
Arriving at the west gate: take 5, 609 and get off at West Banqiao station.
Climb up Jingshan Hill after visiting Forbidden City
After exiting from the northern gate to Forbidden City, enter the south gate to Jingahan Park and follow your nose up the top of the hill and get to the pavilion named Wanchun Pavilion perched high on the hill.
It takes you about 5-10 minutes' walk along a zigzag stone steps up to the summit. Standing on the pavilion, you are able to have a bird's-eye view of Beijing city at a great distance.
Look north to view the Central Axis of Beijing.
Looking down east to view Beijing Business Center (CBD)
Where the last Ming Dynasty Emperor Chongzhen hanged himself.
After enjoying the exciting panoramic view, you don't have to go back the same road. Instead, you follow the throng down eastward to see the place where the last Ming Dynasty Emperor Chongzhen hanged himself.
Since the hanging spot is close to the east gate to Jingshan park, you may exit from the east gate.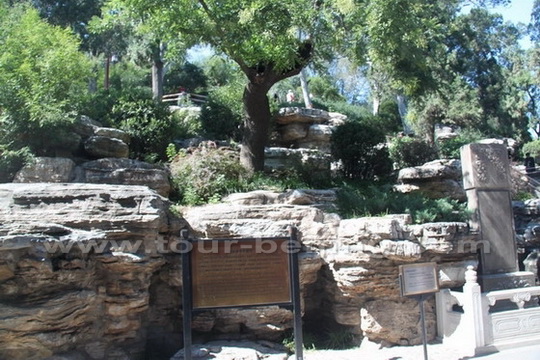 Wanchun Pavilion at the top of Jingshan Park
The Wanchun Pavilion at the top of Jingshan Mountain is also the best night shot in Beijing. Standing at the top, you can have good shoots of the night views of Beijing from four different directions. Of course, you can also beautiful photos of Beijing sunrises and sunsets.
Forbidden City under sunset glow viewed from Wanchun Pavilion on the hilltop in Jingshan Park
Beijing business district CBD night view in the east.
Night view of the north central axis of Beijing.
Looking at the west of Beijing – West Hill, CCTV Tower and White Pagoda.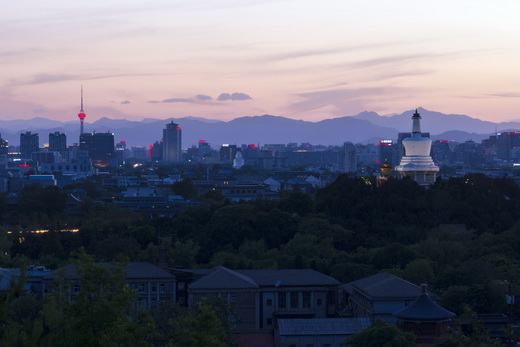 Chinese version of the travel guide:
More travel articles about Jingshan Park
Best Spot for Night Photography Beijing
See the sunrise from the hilltop of Jingshan Park
See the sunset from the hilltop of Jingshan Park
Tip: Hassle-free Beijing Guided Tours
If you don't want to go the do-it-yourself route and prefer the hassle-free escorted tours, here are some options for guided tours to Beijing:
Car Rental in Beijing
Beijing Day Tour
Beijing Tour Packages
Beijing Winter Tour
Great Wall Tour
Beijing Tours
China City Tours
China Tour
Further Readings
---
Tips for Visiting Tiananmen Square
Tips for visiting Summer Palace
Forbidden City Travel Tips – The Palace Museum Travel Tips
Tips for Visiting the Great Wall of China around Beijing
How to Visit Ming Tombs in Beijing
How to visit Beihai Park Beijing
How to visit Shichahai
How to visit Bird's Nest and Water Cube
How to visit CCTV Tower in Beijing
How to Visit National Grand Theatre in Beijing
Top 10 Most Romantic Places in Beijing
How to Enjoy Beijing Nightlife
Top 10 Beijing Souvenirs
Top 10 Tourist Scams Beijing
Any questions, just drop a line.