Plan your Shanghai night tour? Shanghai has a colourful night life, but if you have ever participated, you may feel it is probably one of the most splendid night hangout places in the world!
It offers visitors a great variety of events and activities – extravagant dinners, exotic night snacks, breathtaking shows, romantic bars, lighted streets and futuristic buildings…
1. Walk along the Bund at night
Walking along the river on the promenade and enjoying the sights of the brightly lit street scenes are very enjoyable. Buildings in the Bund are the combination of all kinds of architecture styles.
From the Bund it is a great view of the Pudong Area including Orient Pearl TV Tower, Jin Mao Building, and Shanghai International Convention Center, Shanghai Tower and more trendy skyscrapers.
Check out the following articles for more information:
The Bund at Night pictures
How to Visit the Bund in Shanghai
Evening View of the Bund and Pudong Skyline Shanghai
Huangpu River Cruise Ticket Booking
How to Visit Lujiazui in Pudong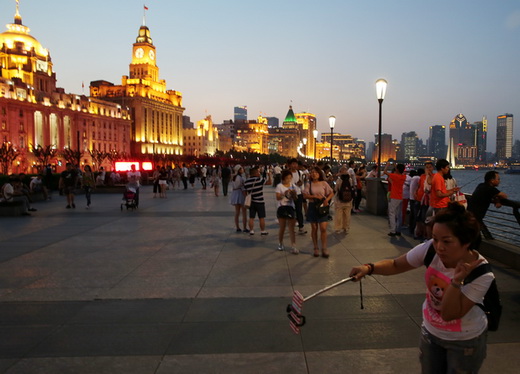 Many restaurants built along the river with a good entire view of the Bund. So eating along the Bund at night is also a joyful thing. How to get there: take Buses No. 868, 921, 37, 55, 33, 123(which travels part of its normal route)…
2. Bird's-eye view Shanghai from Jin Mao Tower
The Jin Mao Tower is located next to Oriental Pearl Tower and Shanghai World Financial Center in the Lujiazui area of the Pudong district in Shanghai. It is composed of offices and the Shanghai Grand Hyatt Hotel. It is one of the centerpieces of the Pudong skyline.
Check out How to visit Jin Mao Tower, Jin Mao Tower in Shanghai for more information.
No Shanghai tour is complete without ascending the 88-floor building, having a panoramic view of Huangpu River, the Bund and the city of Shanghai.
3. Wandering along Nanjing Road
Nanjing Road is a walking street that is always packed with people watching people. It is regarded as the first commercial road in Shanghai.
Check out Tips for Visiting Nanjing Road in Shanghai for more information.

The 5.5-km long Nanjing Road is the most bustling and prosperous street in Shanghai. It was first built in 1851. Now Nanjing Road has turned into the number one site for shopping in the city.
Bus Routes: East Nanjing Road: 37, 65, 66, 108, 123, 135, 220, 251, 305, 306, 307, 314, 317, 330, 868, 910, 928, 929, 940, Tourist Bus Line 8 or Subway Line 2 and get off at East Nanjing Rd. Station.
West Nanjing Road: 36, 57, 76, 128, 148, 206, 304, 323, 451, 738 or Subway Line 2 and get off at West Nanjing Road Station.
4. Cruise on Huangpu River
A Huangpu River Cruise at night is probably the best place to witness the pulse and dynamism of Shanghai. Huangpu River is very quiet during night. Cruising Huangpu River can have a better view of both Lujiazui and the Bund. When the lights are all on, it is gorgeous.
Check Huangpu River Cruise Ticket Booking (buying tickets on site) and Shanghai Huangpu River & Cruising for more information.
Cruising river at night is mysterious and a perfect harvest. Not only the fascinating Bund and Lujiazui but also other attractions are long the river. From Yangpu Bridge to Nanpu Bridge and Lupu Bridge every scene is impressive.
Add: Jinling Dong Lu, the Bund, Shanghai
5. Yuyuan Market at Night
Outside the Yu Garden, Yuyuan Market is a crowded, bustling and touristy market with different snacks and trinkets. A slow pace in the Yuyuan the ancient style garden area at night is the one of the most popular choices.
Check out the following two articles for more information:
How to visit How to Visit Yuyuan Garden and Bazaar
The Old World Charm in Shanghai
Yuyuan Market, Yuyuan Garden and the Old Town Temple are the major parts in this area at night. The night Yuyuan is folk-customized paradise, is an ancient teller, is a dreamland inside people's heart.
How to get there: take Buses No. 11, 126, 926, 66…
6. Hang out at Night at Hengshan Road Bar Street
Hengshan Road is one of the oldest drinking spots in Shanghai, near to the more modern Xujiahui. Walking on Hengshan Road at night or enjoy yourself in the Bars is a good way to relax. Hengshan Road is only 2-kilometer long, but there are many relaxed Western-type bars which offer all the favorite tipples from home and show live sports, from football to rugby to baseball.
There are many buildings of European-style architecture of the 1920's and 1930's on the both sides of Hengshan Road.
Add: Hengshan Road, Shanghai
7. Have a sip at Xintiandi in Shanghai
Xintiandi is most famous for its nightlife when the Western style bars open their doors for business. It has a more active nightlife than Hengshan Road and it is busy in both weekdays and weekends.
Whenever the dark falls down, Xintiandi will be bright and all the lights will start to work. Xintiandi Bar Street is a collection of public house in European style.
Check out How to Visit Xintiandi for more information.
No doubt every westerner that comes to Shanghai will pay at least one visit here, if not more. All these bring people back to the 1920s and 1930s of this city.
Add: 181 Lane, Taicang Road, 123 Lane, Xingye Road, Shanghai How to get there: buses No. 146, 109, 923, or Tunnel 8.
8. Rewind at Tianzifang Street
Tianzifang is an artsy area that has developed from a renovated residential area (old Shanghai shikumen buildings) in the former French Concession area of Shanghai. Now it houses bars, cafes, crafts shops, design studios, galleries and boutiques.
Many local residents still live in the narrow lanes. Just be mindful and respect their privacy.
Check out How to Visit Tianzifang for more information.
How to get there Public Bus:
Bus 24, Bus 96 (from West Jianguo Road); Bus 17, 41, 146 and 786 (from South Shaanxi Road); Bus 869, 968, 932, 786,933 and 36 (from South Chongqing Rod)
Metro: Take Metro Line 9 and get off at Dapuqiao and exit from Exit
9. Watch Shanghai Yue Opera
Yue Opera is one of Chinese major local operas founded around 1906. It is widely welcomed in Zhejiang province, Shanghai, Jiangsu province, Anhui province and other places. Yue Opera is generally considered to be an elegant opera. To enjoy the charm of orient, Yue Opera is a good choice for you. Its voice, its garments, its gestures, and the music background are strongly featured of Chinese profile.
Shanghai Yue Ju (Yue Opera) Theater
Add: No.16, 10th Lane, Fuxing West Road, Shanghai
10. Enjoy Shanghai Acrobatics
Chinese Acrobatics is one of the oldest performing arts in China. It started from Warring States Period. The Acrobatics at Shanghai are not to be missed. They are held each night and last for about 2 hours.
There are two famous Shanghai Acrobatic Theatres. Varieties of exciting programs with countless near-impossible feats of flexibility, strength, endurance, and sheer will-power are performed on stage that will leave you completely astounded.
Shanghai Center Theatre
Add: No. 1376 Nanjing Road (W), Shanghai
Opening Hours: 09:30-22:30 Tel: 021-62798600
Shanghai Circus World
Add: 2266 Gonghe Xinlu, Baoshan District
Shanghai Tel: 021-66300000
Hassle-free Shanghai Guided Tours
If you don't want to go the do-it-yourself bus route and prefer the hassle-free escorted tours, here are some options for guided tours to Shanghai:
Shanghai Tour
Shanghai Day Tour
Shanghai Multi-Day Tour
Shanghai Evening Tour
Shanghai Cruise Port ( Transfer& Excursions )
Shanghai Beijing Tour
Shanghai Xian Tour
Shanghai Car Rental with Driver
Further Readings
---
Top 10 Attractions in Shanghai
Shanghai's Top 10 Iconic Landmarks
Top 10 Markets in Shanghai
Top 10 Shopping Malls in Shanghai
Top 10 Things to Do at night in Shanghai
Best Places for Autumn Leaves in Shanghai
Top 10 Things to Do in Winter in Shanghai
Top 10 Souvenirs in Shanghai
Top 10 Photo Spots in Shanghai
10 Non-Touristy Things to Do in Shanghai
Any questions, just drop a line.