Xian Bike Rental
The city of Xian within the city wall is walkable. So hiring a bike to tour the city is a very good way of visiting Xian. Many hotels in Xian offer
free bike rental or they charge you for a very cheap rate. Xian is a biking friendly city. The road signs are easy to recognize. Most of the roads are flat and safe.
You can also rent bikes at the four gates of the city wall in Xian with the south gate an ideal place to start your biking on the wall. It is only a couple of dollars for the rental, but you have to leave a deposit, about $15 for each bike. If you have small children and are afraid they won't make it all the way around, there are tandem bikes so they can ride with an adult.
The wall has been fully restored, and it is now possible to go all the way around. The entire perimeter is 14 km. It will take you 2-3 hours to complete the entire ride. Very often you have to stop here and there to look at the different watchtowers and gates or just watch daily life unfolding down below. The ride is an easy one, maybe a little bumpy in some parts.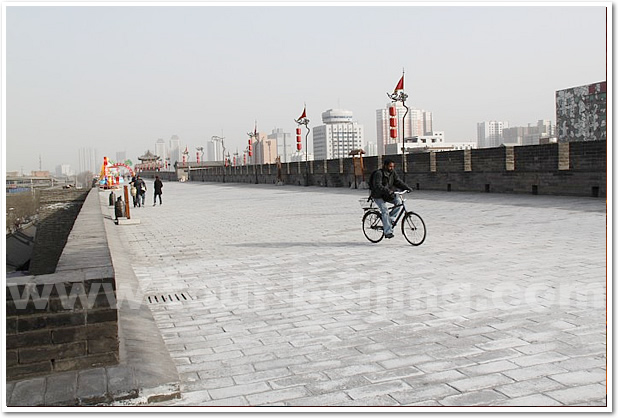 Questions & Answers:

Here is
only for Questions and Answers
. ( For anyone who wants to have an enquiry or customized tour, please email us to

. )