Yunfoshan Ski Resort
Brief Introduction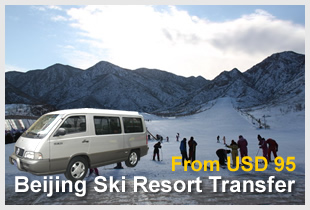 Yunfoshan Ski Resort (云佛山滑雪场) is one of the two ski resorts operated in
Miyun District
of Beijing with the other being
Nanshan Ski Resort
. Yunfoshan Ski Resort is located in Xiwenzhuang Town in Miyun District, about 85km northeast of Beijing city center. On the south bank of Miyun Reservoir, Yunfoshan Ski Resort is set on a beautiful environment surrounded by the mountains on its three sides.
"Yunfoshan" literally means "Cloud Buddha Mountain". Yunfoshan Ski Resort is affiliated to Beijing Yunfoshan Resort (北京云佛山度假村). Beijing Yunfoshan Resort owns and manages one 3-star hotel, Meeting Rooms, Yunfoshan Ski Resort, Fishing, Team Building, Frui Picking and Outdoor Sports.
Some interesting sights are scattered close to the travel route from Beijing downtown to Yunfoshan Ski Resort including
Mutainyu Great Wall
,
Jinshanling Great Wall
,
Yunmengshan Great Wall
,
Chunhuiyuan Hotspring Resort
and
Chateau Changyu AFIP Global Beijing
.
Yunfoshan Ski Resort is mainly targeted at the local skiers with affordable ski rates. It allocates a big portion for Children's playground welcome by skiiing parents.
Beijing Booking hotline: 61008900
Add: Xiwenzhuang Town in Miyun District, Beijing 北京市密云县溪翁庄镇
Business hours: 8:30 - 16:30
Information Center & Ticket Offices
Yunfoshan Ski Resort's information center and ticket office are located by the left side the entrance gate. First buy your entrance tickets, then the ski tickets. Entering the gate, the building on your left is the ski service center and the building on your right side houses one snack restaurant and one coffee bar. Please check the
Map of Yunfoshan Ski Resort
for more information.

Information Center and Ticket Office stand by the left side of the entrance gate.
Ski Rack Rate 
Items
Rates
Notes
Skiing
Timing
Weekday
Weekend 
National Holiday
1.The rates include a set of skis, ski trail transportation.
2.RMB300 for skis deposit.
3. Entrance fee: RMB 20/pp (Weekday & Weekend), RMB 30/pp (National Holiday)

4 Hours
/
RMB190/pp
RMB260/pp
8 Hours
RMB220/pp
RMB220/pp
RMB280/pp
Ski Clothes Rental
RMB40/set
Snow Tube
RMB100/Hour/one
RMB60/30Mins/one
Closet Rental
RMB25/one
Snow Mobile
RMB50/40Mins
Snow Goggles Rental
RMB20/pair
Play Snow
RMB15/pp
Business hours: 08:00 - 17:00
Ski Equipment Rental Service Building
When you enter the ski resort, on your left side you will see the building for the Ski Serice Center for ski rental. Pay your deposit and get your ski clothes, your ski boots and skis, a closet to store your personal stuff.

The Ski Equipment Rental Service Center
Ski Trails
Yunfoshan Ski Resort has 6 trails. One advanced ski trail, 1000m long; two intermdediate ski trails 300-700m long; two beginner trails 300m long and one trail for sledding.

The Ski Areaa at Yunfoshan Ski Resort
Ski Area Transportation
Yunfoshan Ski Resort is euiqpped with 5 drag lifts and two chair lifts ( 2 seats and 4 seats) to move skiers within the ski field. Your ski ticket has included the fee for ski transportation.

Two chair lifts ( 2 seats and 4 seats) for advanced trail

The drag lifts to move skiers to intermdediate and beginner trails
Ski School
Yunfoshan Ski Resort outsources its ski teaching program to a professional ski school called "Rossignol". They offer both standard and tailor-made ski teaching programs. No matter it is your first time to go skiing or you want to brush up your skiing skill, you will find your ideal ski program here. The ski school is insdie the ski service center building.

Rossignol Ski School
Skis Learning Fees
| | | | | |
| --- | --- | --- | --- | --- |
| 1 Person | 2 Persons | 3 Persons | 4 Persons | 5 persons |
| RMB220/1 Hour | RMB320/1 Hour | RMB400/1 Hour | RMB460/1 Hour | RMB520/1 Hour |
Snowboard Learning Fees
| | | |
| --- | --- | --- |
| 1 Person | 2 Persons | 3 Persons |
| RMB240/1 Hour | RMB360/1 Hour | RMB480/1 Hour |
Ski Resort Other Activities
Yunfoshan Ski Resort has a large playground for children. Kids can play snow and participate some interesting snow activities like dog sleigh, snowmobiles, snow tubes, snow bumper cars and so on.

Playground for children

Bumper cars on ice
Cafe and Restaurants
The buidling opposit the ski service center building houses a large snack restaurant. On the corner there is a coffee car called Ice Coffee offering western food and drinks.

A large snack restaurant

Inside the Ice Coffer
Ski Resorts Lodging Options
Yunfoshan Ski Resort doesn't offer any lodging options in the ski resort itself. But you can stay overnight at the hotel in Yunfoshan Resort to which Yunfoshan Ski Resort is affiliated. Yunfoshan Resort has a 388-room hotel.
Non-Skiers
For kid or adult non-skiers, just buy an entrance ticket and see or participate the snow activities in the ice and snow paradise of the ski resort or enjoy the view of the ski area over your coffee or tea at the snack restaurant.
Transportation
Public Bus
Take No.987 Express bus at
Dongzhimen Bus Terminal
and get off at Yunfoshan Ski Resort.
Self-Driving
Drive along Jingcheng Expressway (京承高速)and exit from Exit 16. Then drive north and take on Miguan Road (密关路),follow the sign to Yunfoshan Ski Resort.
Questions & Answers:

Here is
only for Questions and Answers
. ( For anyone who wants to have an enquiry or customized tour, please email us to

. )