Badaling Ski Resort
(Closed in 2017 - 2018)
Brief Introduction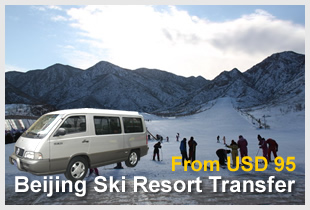 Badaling Ski Resort (八达岭滑雪场) is perched about 2km west of
Badaling Great Wall
, aprrox.80km northeast of Beijing city center. Badaling Ski Resort is set on the most popular travel route in Beijing which is dotted with some interesting sights like Longqing Gorge (
Longqing Gorge Ice Lantern Arts Festival
in winter),
Badaling Great Wall
,
Juyongguan Great Wall
and
Ming Tombs
. Some skiers come to Badaling Ski Resort due to its proximity to
Badaling Great Wall
. These two sites can be combined into a day trip.
Badaling Ski Resort boasts its rich food options provided by the reataurants on the 3rd floor of the main ski service building. Its beautiful ski area is lit up like a fairyland when it's time for night ski. If you are reluctant to leave Badaling Ski Resort, you may stay overnight in one of the cozy and comfortable room in the service building hotel.
Booking hotline: 010-69129922, 69129966
Fax: 010-69129944
Add: 66 Economic Development Zone, Badaling Town, Yanqing County, Beijing 北京市延庆县八达岭镇经济开发区66号
Business hours: Day Ski: 08:30-17:00; Night Ski: 18:00-21:00 (each weekend)
Reception Center
Badaling Ski Resort's Reception Center (adjacent to the ticket office) is located to the left side of the main entrance to the ski area and ski service building. You may inquiry about the ski trails, prices, beverage and food and accommodation. Buying both your entrance ticket and ski ticket and enter the main ski service building.

Reception Center (adjacent to the ticket office)
Ski Rack Rate
Items
Rates
Notes
Skiing
Weekday
Weekend 
National Holiday
1.The rates include a set of skis, ski trail transportation.

2.If you bring your own skis, you are entitled to a 50% discount.

3. RMB300 for skis deposit. 

4.Entrance fee: RMB 20/pp
RMB80/2Hrs/pp
RMB100/2Hrs/pp
RMB120/2Hrs/pp
RMB140/4Hrs/pp
RMB180/4Hrs/pp
RMB200/4Hrs/pp
RMB170/Whole Day/pp
RMB240/Whole Day/pp
RMB270/Whole Day/pp
Ski Clothes Rental
RMB30/set
Snow Tube Rental
RMB60/30minutes/one
Closet Rental
RMB10/one
Gloves Rental
RMB10/pair
Helmet Rental
RMB10/one
Business hours: Day Ski: 08:30-17:00; Night Ski: 18:00-21:00 (each weekend)
Ski Equipment Rental Service Building
Badaling Ski Resort features a 8000 sq meters European-style ski service building ( ski equipment rental for individuals). This large building comprise ski rental, cafe and restaurants, hotel, conference rooms, ski school, shops and working area.

European style ski service building

Skis and clothes rental counters
Ski Trails
There are totally 4 ski trails including one advanced trail 800m with a drop of 160m, one intermediate 600m and two beginners 800m each. On weekend, the ski resort also offers night ski.

There are totally 4 ski trails in Badaling Ski Resort.
Ski School
Badaling Ski Resort has outsourced its ski teaching service to the professional Rossignol Ski School with dozens of experienced ski instructors. The ski school is by the entrance to the main ski service building.

Rossignol Ski School
Skis Learning Fees
Time/ Party Number
1
Person
2 Persons
3-4 Persons
5-6 Persons
7-9 persons
10 - 15 Persons
1 Hours
RMB200/pp
RMB160/pp
RMB140/pp
RMB120/pp
RMB110/pp
RMB100/pp
2 Hours
RMB360/pp
RMB240/pp
RMB180/pp
RMB180/pp
RMB140/pp
RMB130/pp
3 Hours
RMB450/pp
RMB300/pp
RMB220/pp
RMB220/pp
RMB170/pp
RMB160/pp
Ski Area Transportation
For the ski area transportation, a double chair lift for the advanced ski trail, both one magic carpet and drag lift for beginners and intermediate skiers.

Magic Carpet and drag lift
Ski Resort Other Activities
For kids and non-skiers, Beijing Badaling Ski Resort offers other snow activities like dog-sleigh, snow tubes and more.
Cafe and Restaurants
On the 2nd floor of the ski service building, there are one Chinese-style Restaurant, one snack food restaurant and one coffee house. They are all set by the windows through which you can have a bird-eye view of the ski area. The snack restaurant offers a wide varity of food options.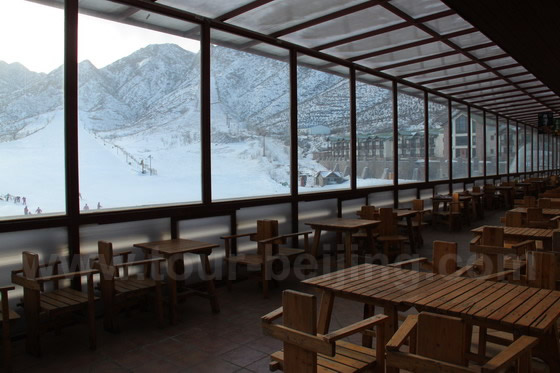 The snack food restaurant with a good vista
Ski Resorts Lodging Options
Badaling Ski Hotel is located on the 2rd and third floors of the ski service building with 37 standard rooms. They are all elegantly furnished and well equipped. It offers free wifi, 24 hour hot water. The hotel also boasts several meeting rooms of varous sizes.

Badaling Ski Hotel

A king-size room at the ski hotel
Non-Skiers
For kid or adult non-skiers, just buy an entrance ticket and see or participate the snow activities in the ski resort or enjoy the surrounding snow view over your coffee or tea at the cafe or snack restaurants on te 2rd floor of the ski service building.
Transportation
1.Take Bus 919 from
Dongzhimen Bus Terminal
: from Beijing the buses leave at 8:00am and 9:00am; back from Badaling Ski Resort the buses leave 3:00pm and 4:00pm 2.Self-drive: Drive along the Badaling Expressway and exit from Exit 50 (Badaling Great Wall), continue to drive through the parking lot attached to Badaling Safari Park, drive straight for 3 km and you will reach Badaling Ski Resort.
Questions & Answers:

Here is
only for Questions and Answers
. ( For anyone who wants to have an enquiry or customized tour, please email us to

. )