Lijiang - Tiger Leaping Gorge - Jade Dragon Snow Mountain 6-Day Trekking Tour

Overview:

Destinations: Lijaing, Tiger Leaping Gorge, Jade Dragon Snow Mountain
Duration: 6 Days
Tour Type: Private Tour
Tour Code: YNPT-02
Price:

from US$420 p/p
Day By Day Itinerary
Sightseeing: Lijiang Old Town
We'll begin our journey to Lijiang, which is the travel highlight of Yunnan. Our local guide will meet us in Lijiang airport. And then we will be transferred to our hotel. The rest time will be free in Lijiang Old Town.
Sightseeing: Shuhe Old Town, Mu Emperor's Palace, Lion Hill,Baisha Village and Mural.
Special Experience: Naxi Orchestral and Show in Dongba Palace in Lijiang Old Town.
Trekking Duration: 1.5 hours Meals: Hotel Breakfast, Chinese lunch and dinner
We'll head for Shuhe Old Town, which is the relic of the Tea-Horse Trading Caravan from bank of Mekong River to India via Tibet. We are planning to walk from LongQuan (Drangon Spring) in Shuhe Old Town to Baisha Village, we will visit the the Naxi family and Baisha Muralin Baisha village. Lunch at "Just Here Restaurant" in Baisha Street.
After lunch drive back to Lijiang and visit the Wangu Pagoda on the top of the Lion Hill, here you will have a wonderful panoramic view of Lijiang Old Town. We will walk down from the Lion Hill to Mu Emperor's Palace which is the local chieftain's former residence.
Attend the Naxi Orchestral and Show in Dongba Palace in the Lijiang Old Town at night.
Overnight at Lijiang Homestead Pavilion
Day 03
Lijiang  

 Qiaotou 
 Halfway Guesthouse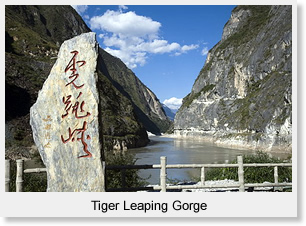 Sightseeing: Qiaotou Town, Nuoyu Village, 28 Turns Trail, the upper Tiger Leaping Gorge, Haba Snow Mountain, Trekking Duration: 7 hours.
At 6:00, drive to Qiaotou Town, it takes 2 hours on the trip. Your hiking trip starts from here, the 28 zigzagging turns will be a real test. From the top of "28 turns" on the high path further uphill to a place of altitude above 3000m, you can have a view of the panorama of the entire Gorge. The go pass Tea Horse Guest House (5 hours) and arrive at Halfway Guesthouse (2500m) to finish today's trekking. The total trekking route is 26 km, and it takes about 6-8 hours. 
Overnight at Halfway Guesthouse
Meals: Hotel Breakfast, Chinese lunch and dinner
Day 04
Halfway Guesthouse 
Tina's-Middle Rapids 
 Walnut Grove
Sightseeing: Walnut Grove, Middle Rapids, Middle Tiger Leaping Gorge
Trekking Duration: 7 hours.
In the early morning, continue hiking to Tina's Inn (2 hours) after another hour walking down the steep cliff to the bank of Jinsha River to the Middle Gorge (Middle Hutiao or Middle Rapids), worship the dangerours shoal of "Starriness", it is the most narrow part of the gorge, where a tiger can easily jump over the Jinsha River. Lunch at the Middle Rapids or where it is more suitable or convenient.
There are 3 roads from the Middle Rapids back up to the Gorge to Walnut Grove. One ends at the left of Woody No.2 (using the main road for tourist coaches, Y15 for "road crossing" fee). Another ends near Teacher Zhang's Guesthouse (through Tianti which takes 2 hours, Y5 "road crossing" fee), take the third which go through ends near Chateau Woody where you see a sign advertising Xia Yin Gu's guide service. Take the third one which goes through Yixiantian but takes 3 hours as the scenery is the most spectacular in the entire Tiger Leaping Gorge. Notice that on this third road close to the rapids there is a very dangerous section of a few dozen meters long called "Tiny Sky" (and you need to pay between Y2-5 depending on the condition to cross that). Note at the rapids itself, there are two places charging "road crossing" fees of 15Y each: one for a small bridge leading to the first road, the other for crossing the wooden plank to the Middle Tiger Leaping Rock.
From Half way Guesthouse to Middle Hutiao or Rapids will take between 3 to 4 hours. Then climb up the gorge to Walnut Grove (Woody's Guesthouse) using either the Tianti or Yixiantian route. Depending on how tired, choose the one to suit on the day. So from Middle Hutiao to Walnut Grove will take 2 or 3 hours and hence the total for the day from Halfway Guesthouse to Walnut Grove will be about 5 to 6 hours 
Overnight at Woody's Guesthouse
Meals: Hotel Breakfast, Chinese lunch and dinner
Day 05
Tiger Leaping Gorge 

 Jade Dragon Snow Mountain 

 Lijiang
Sightseeing: Walnut Grove, Lower Tiger Leaping Gorge, Daju Town Ferry Trekking, Jade Dragon Snow Mountain.
Trekking Duration: 5hours.
After early breakfast at Woody's Guesthouse, we will walk along the road to a Naxi village at the back of Lower Tiiger Leaping Gorge.Then aross the Yangtze River at Daju Ferry.We will continue the trekking to Daju Town.
Lunch at Daju Town, then drive back to Lijiang. On the way visit Jade Dragon Snow Mountain and take the chairlift to visit the Yak Meadow. 
Late afternoon back to Lijiang.
Meals: Hotel Breakfast, Chinese lunch and dinner
Transfer to Lijiang Airport for the returning.
Finish your wonderful trip in Lijiang.
Meals: Hotel Breakfast
Cost: in US$ per person
Travelling Party
Deluxe Class
Standard Class
2-5 persons
$650
$640
6-9 persons
$460
$450
10 & above persons
$430
$420
Single room Supplement
$120
$110
| | | |
| --- | --- | --- |
| City | Deluxe  Hotel | Standard Hotel |
| Lijiang | Guanfang Hotel | Jiannanchun Hotel |
| Tiger Leaping Gorge | Halfway Guesthouse | Halfway Guesthouse |
Price inclusion:
1.All transfers and city transportation for your own use
2.Entrance fees and meals as mentioned
3.Private car or van with English speaking guide
4.Hotels with breakfast
5.The above private escorted tour is customized for you, your family or your friends exclusively. No other travelers will join in your group.
Price exclusion:
Tips to your tour guide and driver
Reservation Notes
●
Personal online booking information below must be provided or book by email :
Full Name, Nationality, Gender, Names of Travelers, Flight No., Arriving Time and Start Date. You are also welcome to call us at 00 86 10 67160201 ext 1006 or 1007 ( 9:00 am - 6:00 pm Monday through Saturday). Tour Beijing will not refund any losses due to missing or incorrect information.
●
All rates on Tour-Beijing.com are subject to reconfirmation from our trip advisors when an actual booking is being made.
●
Child definition: from Age 3 to 11 Years. Contact our trip advisors to check if discount rate is available for your kids. Basically, children under 1.2m in height will get child discount rate, except bus tours.
●
All tours listed on website are all based in English Speaking local guides. For other languages, please contact our trip advisors for new quotations
●
Cash or Prepayment (Paypal, credit card payment, wire transfer, AliPay, WeChat Pay). Both RMB and USD are acceptable. Your actual mode of payment will be confirmed by your trip advisor. Basically, only bus tours (day tour) accept cash payment on the day.
●
When your booking is confirmed, you will get a confirmation email or call from us, which includes the confirmed detailed itinerary with prices.
●
When your booking is confirmed, you will get a confirmation email or call from us, which includes the confirmed detailed itinerary with prices.
●
The cancellation fee: to be confirmed by trip advisor, based on different itineraries and different policies.
●
The schedule can be adjusted by your tour guide due to the actual traffic condition.
●
You are strongly recommended to book this tour at least 35 days in advance to secure the land arrangement involved and avoid the risk of being canceled.
Questions & Answers: