Chengdu Travel Guide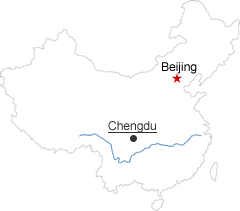 Location:
Chengdu City is situated in the middle reaches of the Minjiang River in the middle of Sichuan Province.
Population:
11,250,000
Area:
12,390 sqaure kilometers
Nationalities:
Han, Hui, Tibet, Mongolia, Miao,Zhuang, Korea
History:
History of Chengdu is noted for a significant incident. During the rulings of the Northern Song Dynasty at around 960A.D, Chengdu saw the birth of paper currency.
As the sun of the Song Dynasty and Ming Dynasty was about to set, two rebel leaders had set up their capitals here. The capitals were known as Dàshu and Dàxi respectively.
It was during the Second World War when things took a sharp turn for Chengdu. In order to escape the hands of Japanese invasion, the Chinese Nationalist government fled to Sichuan Province. This created an influx of academics, businessmen, traders and workers to the city of Chengdu. This eventually resulted in setting up of cultural institutions and important industries in the region. At present, Chengdu is a premier industrial base in China.
Chengdu Climate:
Chengdu enjoys a subtropical monsoon climate characterized by an early spring, hot summer, cool autumn and warm winter. The average annual temperature for the year is 16 degrees C.
The best time to visit is between March and June or between September and November. The hottest season here is during July and August when temperatures can be almost unbearable although Chengdu does have a few nice spots (such as Qingchengshan Mountain) outside the city center where it is possible to get some shade and respite from the heat.
This is also however the rainy season and it is awkward juggling the two types of weather at once! In summer the heat is wet with a high temperature of 35 degrees C and in winter, the average
Transportation:
Airline-There are scheduled flights available at Shuangliu International Airport of Chengdu for cities such as Beijing, Shanghai, Guangzhou, Qingdao, Nanjing, Xi'an, Lanzhou, Urumchi, Lhansa, Guilin, Kunming and Haikou.
Railway-Chengdu is the largest railway junction terminal in Southwest China, so there are trains available at Chengdu Railway Station for 10-odd large cities such as Beijing, Shanghai, Xi'an, Guangzhou and so on.
Highway-Chengdu is the largest highway juchtion in Southwest China, where 6 national highways meet. Moreover, there are tour buses available at all long-distance bus station of Chengdufor scenic area such as Jiuzhai Gully, Huanglong, Emei Mountain, and Dujiang Weir.
Local Specialties:
Bamboo Weavings Lined with Porcelain, Lacquer Wares, Qingcheng Silk Blanket, Shu Brocade, Sichuan Embroidery, Yinsi Art Articles
Local Food:
Chengdu Hotpot, Chengdu Stir-fry (Tie Ban Shao), Chao Shou, Bang Bang Chicken, Guoba Roupian, Ma La Tang
Questions & Answers: