China Ancient Silk Road Exploration 14-Day Tour
Overview:

China Silk Road Exploration Tour
Destinations: Urumqi Turpan Kuqa Aksu Kashgar Hotan
Duration: 14 Days
Tour Type: Private Tour
Tour Code:

CRT-07
Day By Day Itinerary
(
B
-Breakfast,
L
-Lunch,
D
-Dinner )
Arrival in Urumqi, the capital of Xinjiang Uygur Autonomous Region. Met and transferred to your hotel in Urumchi. Free for rest of the day.
Day 02
Urumqi - Turpan by road ( B L )
Visit the Xinjiang Museum in Urumqi. After lunch, drive to Turpan. The city tour in Turpan includes:
1.Jiaohe Ruins - The Jiaohe Ruins is the place of ancient Chinese ruins found in the Yarnaz Valley, 10 km west of the city of Turpan. The city of Jiaohe was the capital of the Anterior Jushi Kingdom, concurrent with the Han Dynasty, Jin Dynasty and Southern and Northern Dynasties in China. It was finally abandoned after its destruction during an invasion by the Mongols led by Genghis Khan in the 13th century.
2.Karez Well - It is a loacal Turfan water system, called karez well in Turfan. It is a qanat system that has been regarded as one of the three greatest water projects of ancient China together with the Du Jiang Yan Irrigation System, and the Grand Canal.
After breakfast, visit the following attractions:
1.Flaming Mountains - The Flaming Mountains are barren, eroded, red sandstone hills in the east of the city of Turfan. The mountain climate is harsh and the temperature is extremely hot in the summer, the hottest site in China.
2.Grape Valley - Situated in the Flaming Mountain 13 km east of Turpan, the Grape Valley is 8km long from north to south and 0.5km wide. This green paradise of 400 hektares is covered with layer upon layer of grapes.
3.Bezeklik Thousand Buddha Caves - Situated at the foot of Flaming Mountains lying 13km east of Turpan city, they are a group of Buddhist cave grottos dating from the 5th to the 9th centuries. There are 77 rock-cut caves at the site. Most have rectangular spaces with rounded arch ceilings often divided into four sections, each with a mural of Buddha.
4.Astana Grave - The Astana Graves are a group of underground tombs about 40 km to the southeast of Turpan. The tombs were the burial sites by the inhabitants of the ancient city of Gaochang, both officials and commoners.
Day 04
Turpan - Kucha by road ( B L )
Drive 660km to Kucha, the famous ancient town of Silk Road. On the way to Kucha, you will enjoy the beautiful landescape of the Tianshan mountain and the northside of Taklamakan Desert, the osais and Gobi. In the evening, stay at your Hotel.
Touring the following attractions in Kuqa:
1. Kizil Thousand-Buddha Caves - Located 67 kilometers west of Kucha County, the Kizil Thousand Buddha Caves is the oldest of its kind in China and the largest ruins of Buddhist culture in Xinjiang, even one century earlier than the famous Mogao Grottoes.There are now 236 numbered grottoes in this cave, which houses nearly 10,000 square meters of mural paintings.
2. Tianshan Grand Canyon - The Tianshan Mystery Canyon is located in the mountain area 72km north of Kuqa. The canyon is characterized by oddly-shaped rocks, craggy pinnacles, rugged cliffs and deep ravines. The width of the canyon changes due to the terrain. While the broadest area is 53 meter wide, the narrowest section is too narrow for one person to go through sideways.
3. Grand Kuqa Mosque - Grand Kuqa Mosque is the second biggest mosque in Xinjiang. It was first originally in the 17th century. After the burnt down it was rebuilt in 1931. The great praying hall can house 1000 prayers. It is supported by 88 pillars, furnished with carved designs and in many colors, a fine example of Uygur architecture.
Stay at your hotel in Kuqa.
Day 06
Kucha - Aksu ( B L )
After breakfast, drive 289km to Aksu. On the way, visit Shenmu Garden. The Magical Wood Garden in Wensu. In the garden you will be amazed at finding the old trees reaching high to the sky. Some of trees are oddly shaped. People say if you come back from the "The Magical Wood Garden in Wensu", you will lose your interest in seeing any more trees in future. Arrival at Aksu, stay at your Hotel.
Day 07
Aksu - Kashgar by road ( B L )
After breakfast, drive 430km to Kashgar. On the way, visit the local workshop linked knives, leather and goods. Stay at your hotel in Kashgar.
Full day tour of Kashgar:
1.Id Kah Mosque - The Id Kah mosque is the largest mosque in China. Every Friday, it accommodates nearly 10,000 worshippers and may hold up to 20,000. The mosque was built by Saqsiz Mirza in ca. 1442.
2.Abakh Khoja Tomb - Abakh Khoja Tomb is the 17th Century family cemetery of the Kashgar area Islamic leader. In China the tomb is quite popular as the Tomb of Xiang Fei, the only Uigur concubine among the 41 wives of Emperor Qianlong in the Qing Dynasty (1644-1911). Abakh Khoja Tomb is famous as a well-preserved Islamic architectural complex not only in Xinjiang, but throughout Central Asia. Xiang Fei's love story entices tourists from home and abroad.
3.Residentail Area on High Platform. The platform is Kashgar's old town. It is located on a natural slope of yellow soil, earthy and huddled with old houses, kept in reservation of part of the former Kashgar town. Most homes are handed down from generation to generation for over 300 to 400 years. The unique homes and antique soil earthenware workshops on soil precipice have become the two tourist attractions.
4.Sunday Bazaar - On Sunday the whole city of Kashgar becomes a big market. Of the many markets in Kashagr, some are comprehensive ones, and some are specialized markets selling local produce, arts and crafts, garments, knives, timber, coal or animals. without visiting Kashgar sunday bazaars, one cannot say he has visited Kashgar.
Day 09
Kashgar - Lake Karakuli - Kashgar ( B L )
Full day round trip to the Lake Karakuli. Karakuri Lake - Karakuri Lake is at the foot of Mount Muztagata, about 190 kilometers from Kashgar. The lake is circled by a series of high mountains, such as Mount Muztagata and Kongur Shan. The snow-covered mountain, green grass and livestock form reflections in the mirror-like water, creating a charming picture of Karakuri Lake. Back to Kashgar.
Day 10
Kashgar - Hotan ( B L D )
Today drive 510km to Hotan. Arrival at Hotan, stay at your Hotel.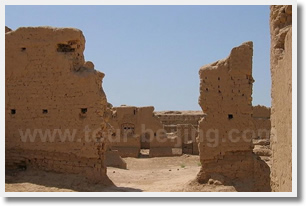 Visit the attractions in Hotan:
1. The Hetian Museum - Situated on Tanai Nan Road at the heart of Hetian city, it exhibits over 400 pieces of cultural relics excavated from the ancient cities of Niya, Mallikurwatur, and Yotkan.
2. Melikawat Ruins - Melikawat Ancient Ruins was Part of the vast ancient kingdom of ancient Hotan, 28 km south of central Hotan.
Day 12
Hotan - Minfeng ( B L D )
Drive 320km to Minfeng. On the way, visit the Silk Village and visit a local bazaar and a local family. Stay at the hotel in Minfeng.
Day 13
Minfeng - Korla by road ( B L )
Drive 693 to Korla through the Taklamakan Desert and enjoy the scenery of sand dune. Stay overnight at the hotel in Korla.
Day 14
Korla - Urumqi by air ( B )
After breakfast, take flight for Urumqi and connect your flight for your next destination.
Price inclusion:
1.All transfers and city transportation for your own use
2.Entrance fees and meals as mentioned
3.Private car or van with English speaking guide
4.Hotels with breakfast both at Urumqi, Turpan, Kuqa, Aksu, Kashigar, Hotan and Korla
5.Korla-Urumqi Air-ticket (economic class)
6.The above private escorted tour is customized for you, your family or your friends exclusively. No other travelers will join in your group.
Price exclusion:
1.Tips to your tour guide and driver
2.Travel insurance for your coverage of injury or accident
Available:
Daily
Notice from TB
1. All rates on Tour-Beijing.com are subject to reconfirmation from our trip advisors when an actual booking is being made.
2. Tours price are net and non-commissionable.
3. Child definition: From Age 3 to 11 Years. 12 Years old and above will be charged as Adult Price.
4. All tours & transfers are all based in English Speaking local guides. For other languages, please contact our trip advisors for new quotations.
Reservation Notes
●
Personal online booking information below must be provided or book by email :
Full Name, Nationality, Gender, Names of Travelers, Flight No., Arriving Time and Start Date. You are also welcome to call us at 00 86 10 67160201 ext 1006 or 1007 ( 9:00 am - 6:00 pm Monday through Saturday). Tour Beijing will not refund any losses due to missing or incorrect information.
●
All rates on Tour-Beijing.com are subject to reconfirmation from our trip advisors when an actual booking is being made.
●
Child definition: from Age 3 to 11 Years. Contact our trip advisors for the actual discount for your kids. 12 Years old and above will be charged as Adult Price.
●
All tours & transfers are all based in English Speaking local guides. For other languages, please contact our trip advisors for new quotations
●
Cash or Prepayment ( Paypal, credit card payment or wire transfer ). Both RMB and US$ or other hard currencies are acceptable. Your actual mode of payment will be confirmed by your trip advisor.
●
When your booking is confirmed, you will get a confirmation email or call from us, which includes the confirmed detailed itinerary with prices.
●
The cancellation fee is 10% of the total price if your cancellation is made more than 2 working days prior to the scheduled start of the tour. If cancelled less than 2 days, you will pay 100% of total package price.
●
The schedule can be adjusted by your tour guide due to the actual traffic condition.
●
You are strongly recommended to to book this tour at least three days in advance to secure the land arrangement involved and avoid the risk of being canceled.
Questions & Answers:

Here is
only for Questions and Answers
. ( For anyone who wants to have an enquiry or customized tour, please email us to

. )