Plan your Inner Mongolia Tour? One thing to keep in mind is that Inner Mongolia is huge in geographic size, three sizes of Japan. So don't cram too much on your travel schedule on your single trip and do consider limiting your trip to one or two regions in Inner Mongolia.
ABC of Hulunbuir Grassland
The northeast Inner Mongolia is home to the mesmerizing Hulunbuir Grassland. It is one of the best preserved grasslands in the world, a paradise of grasslands comprising the classic grasslands, gradually morphing into meadows, and the forest grasslands.
Hulunbuir Grassland is crisscrossed by hundreds of rivers, large and small, which have made this area a mecca for local Mongolian nomads and herders. Hunlunbeier Grasslands are dubbed as the "most unsullied prairie" due to the pollution-free skies and environments.
Golden Horde Mongolian Tribe
Golden Horde Mongolian Tribe (金帐汗蒙古部落 Jinzhanghan Mongolia Tribe) is the only nomadic tribe open to the tourists, a reproduction of the camping tents in Genghis Khan's time. It is located in the heartland of Hulunbuir Grassland, on the banks of Moergele River that is hailed as China's first Qushui (River Bends).
This area is a natural pasture famous home and abroad. Historically, many ancient ethnic groups lived and developed here from generation to generation.
In the 12th and 13th centuries, Genghis Khan and his followers united all the Mongolian tribes here and started to most of Asia and Eastern Europe.
For most travelers, Golden Horde Mongolian Tribe is the destination for their long-expected travel to Hulunbuir Grassland.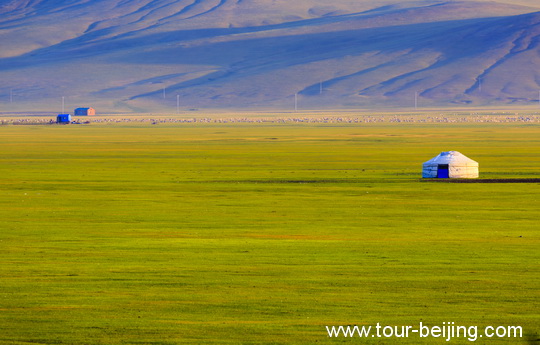 How to get to Golden Horde Mongolian Tribe
So the question of how to visit Hulunbuir Grassland is akin to how to visit Golden Horde Mongolian Tribe.
Golden Horde Mongolian Tribe (Jinzhanghan Mongolia Tribe) is located 38km to the north of Hailar District of Hulunbuir City. There are no direct public buses connecting Hailar (Hulunbuir City) and Golden Horde Mongolian Tribe.
Hiring a local taxi or car from Hailar to the tribe costs you RMB400 or so. Hulunbuir City is the most important transportation hub for bringing travelers to Golden Horde Mongolian Tribe.
Alternatively, you may book a package tour through the tourist desk at your hotel in Hulubuir, joining a group to visit Golden Horde Mongolian Tribe.
How to get to Hailar ( Hulunbuir City)
You take flight, train or even long-distance bus to Hulunbuir City, then change for local buses for Golden Horde Mongolian Tribe.Hulubuir Grassland at Golden Horde Mongolian Tribe.
Hulunbuir Dongshan Airport (HLD) has daily flights to Beijing, Hohhot, Shanghai, Shenyang and more. The airport is only 5km to the city center with airport shuttle buses. You can take a taxi to or from airport for around RMB25.
Hailar Railway Station is about 4km northeast of the downtown Hulunbuir. Hulunbuir Airport is about 5km east of the downtown.
It is quite convenient to travel to Hulunbeier by train with wide train network. Hulubuir City ( Hailar) has trains connecting Beijing, Baotou, Hohhot, Harbin, Dalian, Qiqihaer, Boketu, Moerdaoga, Manzhouli, Jiaergeda and more.
The Hailar Railway Station is in the northwestern part of Hulunbuir City. A taxi ride from the station to a city-center hotel costs about RMB12.
Hailar Long-distance Bus Station is located next to Hailaer Railway Station. Halaier Long-distance Bus Station has the following travel routes: Manzhouli (232km), Harbin(960km), Aershan(370), etc.
Add On
Sunrise Glow over Hulunbuir Grassland
Top 10 Places for Photography in Hulunbuir
How to visit Hulunbuir Grassland
Top 10 Attractions in Hulunbuir
Hulun Lake Travel Tips
World Anti-fascist War Hailar Memorial Park
Road Trip from Ergun to Linjiang Village
Ergun Travel Guide
Aoluguya Travel Guide
Moerdaoga Travel Guide
Shiwei Travel Tips
Wusu Langzi Lake (Tips, Photos & Map)
Dujuan Lake in Aershan National Forest Park
Beihu Park Skyline at Night in Manzhouli
Night View of Manzhouli City
Architecture of Manzhouli
Top 10 Attractions in Manzhouli
Tip: Hassle-free Hulunbuir Guided Tours
If you don't want to go the do-it-yourself route and prefer the hassle-free escorted tours, here are some options for guided tours to Hulunbuir Grassland, Inner Mongolia:
Beijing Hulunbuir Classic Loop 6 Day Tour
Beijing Hulunbeier Folk Culture 4 Day Tour
Beijing Yinchuan Alxa Highlight 7 Day Tour
3 Day Beijing Shangdu (Xanadu) Tour
4-Day Beijing Xilinglo Glassland Shangdu Mongolia Culture Tour
Inner Mongolia Tour
Mid-Inner Mongolia Tour (Hohhot, Baotou, Ordos)
East Inner Mongolia Tour (Xanadu,Wulan Butong, Xilinhot, Chifeng)
Northeast Inner Mongolia Tour (Hulunbuir)
West Inner Mongolia Tour (Alashan "Alxa" League)
Hohhot Tour
Hohhot Highlights & Grassland 3 Day Tour
Hohhot Highlights & Grassland 2 Day Tour
Further Readings
---
Top Places to Visit in Inner Mongolia
Top 10 Attractions in Hohhot
Best Time to Visit Hohhot
Meidaizhao Temple
How to go to Hohhot from Beijing
Top Souvenirs in Hohhot
Hohhot Taxi: Hohhot Taxi Fares, Tips and Phones
Baotou Taxi: Baotou Taxi Fares, Tips and Phones
Ordos Taxi: Ordos taxi Fares, Tips and Phones
What to see in Hohhot, what to do in Hohhot
Top 10 Attractions in Alxa League
Heicheng Historic Site in Ejin Banner (Tips, Photos & Map)
Guai Shu Lin in Ejin Banner, Inner Mongolia (Tips, Photos & Map)
Populus Forest in Ejin Banner (Tips, Photos & Map)
Badain Jaran Desert (Tips, Photos & Map)
Top 10 Attractions in Chifeng
Xanadu Sites Museum
Jinlianchuan Grassland
Wulan Butong Grassland
Asihatu Stone Forest
Gong Geer Grassland
Duolun Travel Guide
Xanadu Travel Guide – Shangdu Travel
How to visit Asihatu Stone Forest
Xi Wuzhumuqin Grassland
Any questions, just drop a line.