Plan your Inner Mongolia tour? 500 km north of Beijing, Ulan Butong is a typical hilly grassland perched on the high lands (Bashang) between the remaining hills of the Greater Xing'an Range and the Yinshan Mountains.
The Ulan Butong Grassland is one of the most ideal destinations for summer vacation and fall foliage. Visitors can enjoy the beauty of the stretch of grasslands as well as riding horses freely on the grassland.
For more information on the grasslands in China, check out my another article 10 Most Beautiful Grasslands in China.
Ulan Butong Grassland has rich variety of plants, countless colorful wild flowers, and limpid lakes, an ideal place for landscape photography tour.
Sunset and Sunrise at Jiangjun Pond
"Jiangjun" literally means "General", named after General Tong Guogang who gave his life here on the battle field during the fight against Galdan Boshugtu Khan in Qing Dynasty ( 1644 – 1911 ).
Qing Emperor Kangxi personally commanded a successful battle against Galdan Boshugtu Khan.
Jiangjun Pond is surrounded by the hills on its four sides, with dense reeds and water weeds, now a good spot for sunset and sunrise shooting.
Sheep, Horse and Oxen at Huagulutai
On the north of Wulan Butong Township (also locally known as Hongshan Army Horse Farm), Huagulutai is a vast and green valley with dense grasslands for the herding of sheep, horses and oxen.
On a summit of the hill overlooking the valley, you have the photogenic opportunity to shoot the cattle on the grassland below your eyes.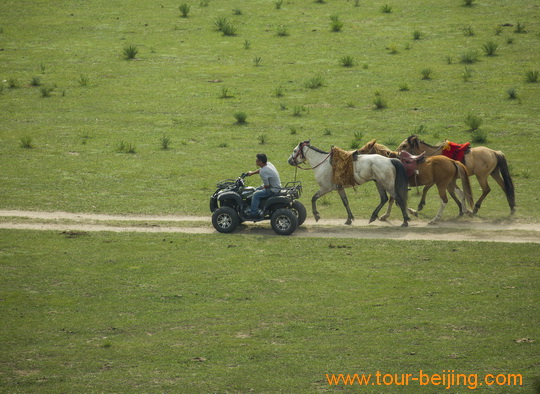 Sheep, Horse and Oxen at Donggou
As its name suggests, "Donggou", the East Gully", is on the east of Wulan Butong Township, also a favorite place for photographers.
Standing on the top of the hill overlooking the gullies circling the hill, you are bestowed with the photogenic opportunities to shooting the sunset and returning sheep or oxen.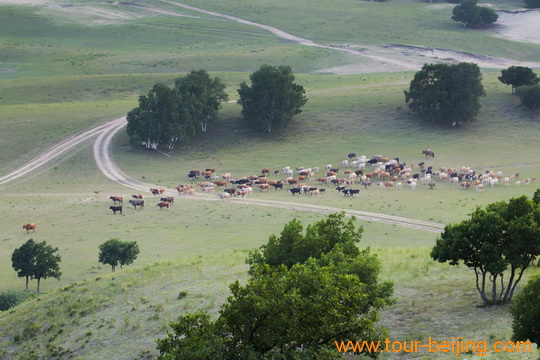 Early Morning Fogs at Wulan Butong Film and TV Studio
Nicknamed as "Grassland Film City", Wulanbutong Film and TV Studio is a well-known film and TV production base both at home and abroad.
It sits on the expansive grassland with curving and undulating hills.
An incomplete estimate shows that in the past 10 years there are over 60 films and TV series produced here. With each film or TV finished, leaves one rock engraved with its name.
Beside its leisure and recreational functions in the absence of non-film-shooting time, this is a popular place for shooting the magical and mesmerizing fog scene.

Early morning it has the big chance to be covered by heavy and white clouds flying like white silk white silk scarves due to its featuring geological formations, a favorite spot for photography enthusiasts.
Birch Trees
Birch trees are a landscaper's prize specimen. They have the attractive qualities such as colored bark, graceful branches and gorgeous fall foliage.
Wulan Butong Grassland is dotted with birch trees growing on the water's edges or in a birch forest, attracting a growing number of photography enthusiasts.
Wild Flowers
Ulan Butong Grassland is also a big warehouse of flowers throughout centuries as there are more than 300 kinds of flowers or herbs with extremely high medicinal value to be found here including the golden-needle flower and canary creeper.
Galloping Horse
Horse are beautiful creatures and one of the most amazing animals to take photographs of. Having beautiful pictures of horses is a dream for every photographer.
Ulan Butong Grassland offers many photogenic opportunities for galloping horse shooting.
Wulan Butong Grassland in Autumn Hues
Wulan Butong Grassland is a mecca for viewing fall colour. The best time for fall foliage starts from early October to mid-October. Just get your eyes and camera ready for a fantastic view of the autumn hues on the hilly grassland.
Follow us to have an autumn virtual tour of Wulan Butong Grassland.
Ulan Butong Grassland in Winter
If you come to Wulan Butong Grassland in winter, you will see a completely different world, a fairytale white wonderland with stunning view!
Tip: Hassle-free Inner Mongolia Guided Tours1
If you don't want to go the do-it-yourself route and prefer the hassle-free escorted tours, here are some options for guided tours to Inner Mongolia:
Inner Mongolia Tour
Mid-Inner Mongolia Tour (Hohhot, Baotou, Ordos)
East Inner Mongolia Tour (Xanadu,Wulan Butong, Xilinhot, Chifeng)
Northeast Inner Mongolia Tour (Hulunbuir)
West Inner Mongolia Tour (Alashan "Alxa" League)
Hohhot Tour
Further Readings
---
Top 10 Attractions in Hohhot
The Best Time to Visit Hohhot
Meidaizhao Temple
How to go to Hohhot from Beijing
Top Souvenirs in Hohhot
Hohhot Taxi: Hohhot Taxi Fares, Tips and Phones
Baotou Taxi: Baotou Taxi Fares, Tips and Phones
Ordos Taxi: Ordos taxi Fares, Tips and Phones
What to see in Hohhot, what to do in Hohhot
Top 10 Attractions in Alxa League
Heicheng Ruins in Ejina Qi, Inner Mongolia
Euphrates Poplar Forests at Ejina Qi
A Glimpse of Badain Jaran Desert
The Quiet Wusu Langzi Lake
Dujuan Lake in Aershan National Forest Park
Beihu Park Skyline at Night in Manzhouli
Architecture of Manzhouli
Sunrise Glow over Hulunbuir Grasslands.
Top 10 Places for Photography in Hulunbuir
Top 10 Attractions in Hulunbuir.
Road Trip from Ergun to Linjiang Village
Hulun Lake Travel Tips
World Anti-fascist War Hailar Memorial Park
Architecture of Manzhouli
Ergun Travel Guide
Aoluguya Travel Guide
Moerdaoga Travel Guide
Shiwei Travel Tips
How to visit Hulunbuir Grassland
Top 10 Attractions in Chifeng
Xanadu Sites Museum
Jinlianchuan Grassland
Wulan Butong Grassland
Asihatu Stone Forest
Gong Geer Grassland
Duolun Travel Guide
Xanadu Travel Guide – Shangdu Travel
How to visit Asihatu Stone Forest
Xi Wuzhumuqin Grassland
Any questions, just drop a line.