Shichahai is often referred as "Houhai", or "Back Lake" by foreign visitors who spend time dribking in its bar area in the evening.
Actually Houhai (back lake) is just part of Shichahai. Shichahai is composed of three lakes – Qianhai (front lake), Houhai (back lake) and Xihai (west lake). Sometime local people also use "Houhai" to refer to Shichahai.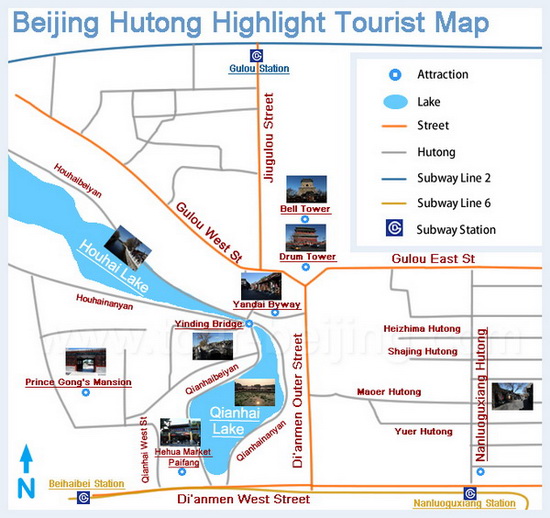 Shichahai literally means "Ten Temple Lake", indicating there used to be ten temples around Shichahai. Today some of the temples are still there, including Guangji Temple, Huitong Temple, Huoshen Temple, Guangfu Guan ( a taoist temple ) and more.
If you are fed up with the gentrification in Beijing; if you lose interest in modern Beijing; if you feel sad about the fact that Beijing is becoming less like Beijing; if you want to see a traditional Beijing; if you try to find a quiet place in the busy Beijing, Come to Shichahai!
Tip 1: ABC of Shichahai
The form of Shichahai Lake dates back to over 800 years ago, a little older than the urban building started here during Yuan Dynasty ( 1279-1368). It was once a part of the old Grand Canal system of the Yuan Dynasty 700 years ago.
Attracted by its beautiful scenery and charming environment, many temples in Beijing were built around Shichahai. Today you still can find some of the temples there making you remember the old days.
For the same reason, many celebrities and public figures, including former royal family members, chose Shichahai as their temporary or permanent living places such as Prince Gong' Mansion, Prince Chun's Palace, the former residence of Song Ching-ling (Ms. Sun Yat-sen), the residence of Guo Moruo.
The featuring urban construction of Hutong system was laid out here during Yuan Dynasty (1279-1368) . Today you still can find many local people still live in these alley courtyards (Siheyuan) gradually formed about 800 years ago.
Bell and Drum Tower near Shichahai used to announce the time and is now a tourist attraction.
Now It is a paradise for the local people – ice skating in winter; enjoy flower and willow trees in spring; boating in summer and enjoy lotus in autumn; drinking, eating and shopping all year around.
Here also the West meets the East. As a fastest-growing spot for late-night drinking, Shichahai is crowed by a skew of fashionable bars. Several dance clubs are in the works, but for now this remains the finest place in the city for a quiet drink.
Tip 2: When to go
Basically Shichahai is open all year around free of charge for a stroll. No matter what season you come here, or what time of the day you come here, you will see a different and charming Shichahai.
If you are a morning person, a serene and peaceful, or rosy ( if a fine day) morning will wait for you at Shichahai area. You have the whole Shichahai for your own enjoyment, now full of the old world charm of the Ming and Qing Grand Canal system and buildings. ( Just read my another article Shichahai in the early morning)
If you are a sunset chaser or cameraman, Shichahai is definitely the right place to add up to your "most gorgeous sunsets" list. ( just read my another article: Sunset Over Houhai Lake in Beijing)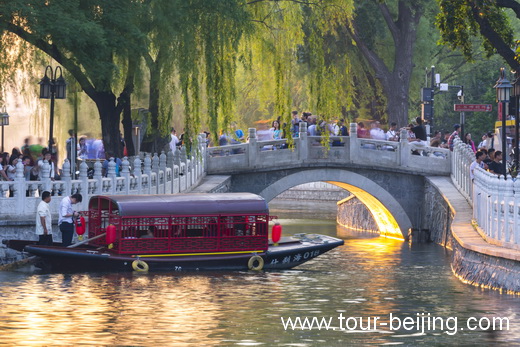 If you like to hang out in the evening, Shichahai is a great place to kill your time, drinking and gossiping. Shichahai is shot through with chic bars and restaurants.
Hiding yourself in one of the bars and escaping the hustle and bustle of the crazy world temporarily. (Just read my another article Shichahai, a nice place to walk at night in Beijing).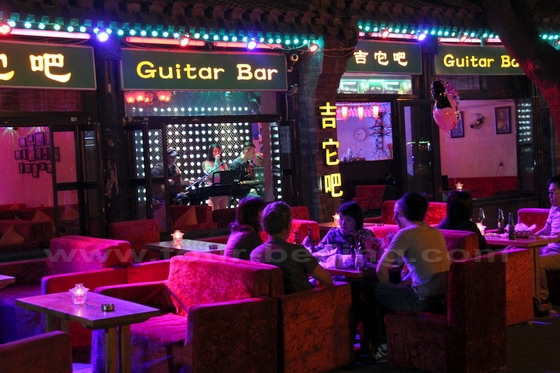 If you would like have a window shopping for a flea-market type of experience, Yandai Xiejie at Shichahai is a perfect place.
Yandai Byway or Old Pipe Street is one of such old commercial streets that showcase Beijing's past. ( Read my another article How to Visit Yandai Xiejie )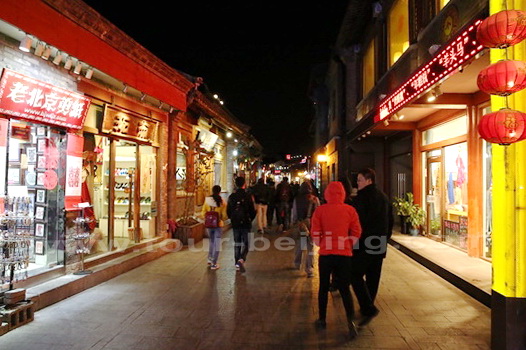 Ice skating is a traditional winter pastime for the local Beijing people.
If you are scheduled to visit Beijing in winter, specifically in the coldest two months from later December through the early February, you may go to Houhai Ice Skating Rink for winter fun in Beijing. ( Just read my another article Houhai Winter Ice Skating Rink)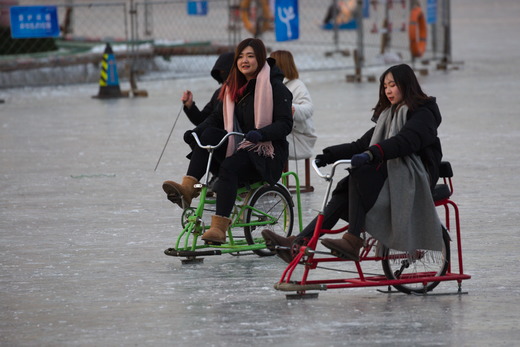 Actually you can come here any time of the day and any season to explore Shichahai.
It is now full of the old world air with its attractive vibe, a lively place rife with people; chic and quaint bars and restaurants; old Beijing snacks and food; old Beijing symbols and special product. ( Just see my another articlet The Old World Charm in Beijing )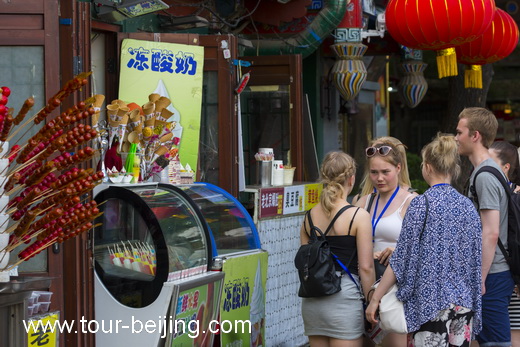 Tip 3: Top things to do in Shichahai
So let's sum up the top things to do and see in Shichahai.
1) Up Beijing Bell and Drum Tower and have bird's-eye view of the surrounding communities of hutongs and siheyuan – existing traditional Beijing.
2) Walk along Yandai Xiejie ( Tobacco Pipe Lean Street ), a quaint 800-year-old hutong located directly north of Yinding Bridge and the south of the Drum Tower. It used to be well-known for selling long-stemmed pipes, hence the name.
3) Standing on the Silver Ingot Bridge ( Yinding Bridge ), a narrow bridge linking Qianhai Lake and Houhai Lake, the hub of Shichhai area with surrounding hutongs, bars and restaurants.
4) Explore some typical hutongs in the Shichahai area such as Da Jinsi Hutong Tao, the most famous hutongs keeping the original layout of Hutong Area.
5) Get on a rickshaw to go through the zigzag and narrow alleys or hutongs.
6) Take a boat cruising on the Shichahai Lake in Qianhai and Houhai of Shichahai. Rent a boat and paddle your way around the lake area to enjoy the sunset on the water.
7) Hang out in the evening, or in the daytime, and kill your time, drinking, reading and gossiping here.
8) Exlore the Prince Gong' Mansion. It was once the private residence of He Shen, a favorite minister of Emperor Qianlong of the Qing Dynasty (1644-1911), it was first built in 1777. In 1851, the mansion was given to Prince Gong by Emperor Xianfeng (1851-1862), hence the name. Now it is one of the most well preserved mansions in Beijing.
9) See the former residence of Mr.Mei Lanfang (1894 – 1961), the internationally famous Beijing Opera master, founder of one of the three greatest acting methods created by Shakespeare Stanislavsky and Meilanfang.
10) Explore the former residence of Soong Ching Ling ( 1890-1981 ), once a garden of one of the Qing Dynasty princes' mansions. She was late Honorary Chairman of the People's Republic of China. She is known as "the Mother of China".
11) Visit the residence of Gu Moruo. Guo Meruo Memorial Hall (1892-1978) was an outstanding Chinese writer, poet, dramatist, historian, archaeologist and palaeographer.
12) In winter, skating on Houhai Lake.
Tip 4: Scams in the Shicahai area
1) Be wary of some unethical rickshaw drivers who rip you off by offering you exorbitant prices since there is no fixed official price for the rickshaw tour, meaning that non-Chinese tourists get quoted inflated prices. Normally RMB 50 per hour. You have to haggle with the rickshaw drivers!
2) Shichahai rickshaws are also restricted in their route access mainly due to the different administrative zones. For instance, rickshaw drivers in Houhai area are not allowed to go to Bell Tower and Drum Tower since Houhai is under administration of Xicheng District while Bell and Drum Tower under Dongcheng District, which sounds a little tricky!
3) Rickshaw drivers are paid a fee for taking tourists to tea houses around Shichahai area. Be wary of tea scam!
Tip 5: How to get there
Take subway line 6 and get off at the station of Beihai North ( 北海北) and exit from Exit B. Then walk along the sidewalk to the east for about 200 meters, you will see crowds of people on your left side and now you are on the entrance to Shichahai area. The entrance has a large archway engraved with the four Chinese characters "荷花市场" ( Lotus Market).
You also can visit Shichahai blended with other attractions on a day tour.
Route 1: Take subway 2 or 5 and get off the station of Lama Temple. First visit Lama Temple. After finishing Lama temple, then come out of the temple, on your right side across the street, you will find a street with an arc.
It is the famous Chengxian Street. Walking west along the street, you will come across Kong Miao (Temple of Confucius) and the neighboring Guozijian (Imperial Academy). Walking along Guozijian Jie west until it meets Andingmennei Dajie. Enter this commercial road, turn left and walk south to Guloudong Dajie, another major thoroughfare.
Turn right (west) and walk to Drum Tower. Returning south to Dianmenwai Dajie ( north of Drum Tower), turning onto Yandai Jie, the first lane on the right. A board on the right tells that makers of long-stem pipes once lined the lane's narrow way. Turn left onto the arched bridge Yinding Qiao that separates Houhai and Qianhai lakes.
Route 2: First visit Beihai Park, then go out of its north gate. Shichahai is just north of Beihai Park's north gate ( Back Gate). Walking along the Qianhai area and hutongs.
Public Bus:
Take public bus No. 5, 60, 107, 108, and No.111 then get off at Drum tower or North Gate of Beihai Park
Business hours of Bar street: 10:30-13:00 and 17:00-21:00
Tip 6: Major attractions near Shichahai
If you are going to visit Shichahai, you are highly recommended to visit the nearby attractions listed below:

Confucian Temple and the Imperial College Museum
Lama Temple
Ditan Park
Beihai Park
Forbidden City
Guided Tours:  Hassle-free Beijing Guided Tours
If you don't want to go the do-it-yourself route and prefer the hassle-free escorted tours, here are some options for guided tours to Beijing:
Car Rental in Beijing
Beijing Day Tour
Beijing Tour Packages
Great Wall Tour
Beijing Winter Tour
Beijing Tours
China City Tours
China Tour
Further Readings
---
Best Time to Visit Beijing
How to plan a trip to Beijing

Top 10 Attractions in Beijing
Top 10 Tourist Scams Beijing
How to Visit Tiananmen Square
How to Visit Forbidden City
How to Visit Temple of Heaven
How to Visit Summer Palace
How to Visit Ming Tombs
How to Visit the Great Wall of China
How to Visit Shichahai
How to Visit Lama Temple
How to Visit Olympic Sites
Top 10 Markets in Beijing
Top 10 Shopping Malls in Beijing
Beijing Shopping
Wangfujing Snack Street
Qianmen Commercial Street
Beijing Huguosi Street
Any questions, just drop a line.