by
Plan your Beijing tour? If you are looking for an old world place in Beijing, Shichahai area north of Beihai Park is a must on your travel plan. Shichahai retains much of its old world charm though with a bit gentrification.
Shichahai was once part of the starting point of the World Cultural Heritage-crowned Grand Canal in Yuan Dynasty 600 years ago.
"Shichahai" literally means "Ten Temple Lakes". There used to be 10 Buddhist temples which surrounded today's three lakes – Qianhai Lake, Houhai Lake ( Back Lake) and West Lake, which are generally known as Shichahai Lakes.
Shichahai is teemed with the former palaces of ministers, temples, well-kept quaint and traditional hutong lanes and siheyuan ( Chinese quadrangles) as well as residences of celebrities in the past.
Shichahai is now full of the old world air with its attractive vibe, a lively place rife with people; chic and quaint bars and restaurants; old Beijing snacks and food; old Beijing symbols and special products; the old world charming of the Ming and Qing buildings, boating on Shichahai lakes and the list of its old world charms is much longer.
Take subway line 6 and get off at the station of Beihai North ( 北海北) and exit from Exit B. Then walk along the sideway to the east for about 200 meters, you will see crowds of people on your left side and now you are on the entrance to Shichahai area. The entrance has a large archway engraved with the four Chinese characters "荷花市场" ( Lotus Market).
The lake you see on your right side is known as Qianhai, or Front Lake, one of the three connected lakes in Shichahai area. The west bank of Qianhai Lake is flanked by rows of bars and restaurants. People go boating on the and flying kites in the sky.
The west lakeshore of Qianhai Lake is flanked by rows of bars and restaurants. When night falls, all the buildings are neon-lit with multi-colors.
Bold enough to have a bite of a scorpion
Try some old Beijing snacks, sugar-coated fruits, yogurt……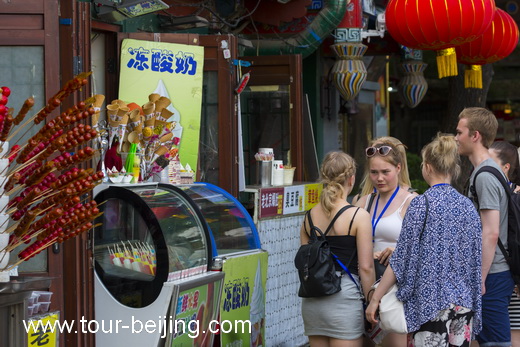 Two girls are walking past a stand selling old Chinese paintings and other local art products.
Waiting in line before a stand for a taste of candyfloss, a kind of local cotton candy in Beijing.
Wandering in the old world lanes in Shichahai.
A street cleaner is driving a cart passing through a 800-year old lane known as Yandai Byway, a well-kept world street that showcases Beijing's past.
Shichahai is shot through with chic bars and restaurants. Hiding yourself in one of the bars and escaping the hustle and bustle of the old world temporarily.
Shichahai is a perfect place to mix with the locals and the Chinese from other parts of China.
Boating on the lakes reminds you of the past. The local boat company uses the paddle boats 7 meters in length and 1.7 meters in width. It is made in line with the old Chinese traditional painting dating to the Song Dynasty 800 years ago.
The sunset glow over Shichahai.
The sunset over Houhai ( Back Lake).
Sunset glow over Silver Ingot Bridge, a bridge linking a narrow channel connecting Qianhai Lake and the Houhai Lake, the hub of Shichhai area with surrounding quiet hutongs.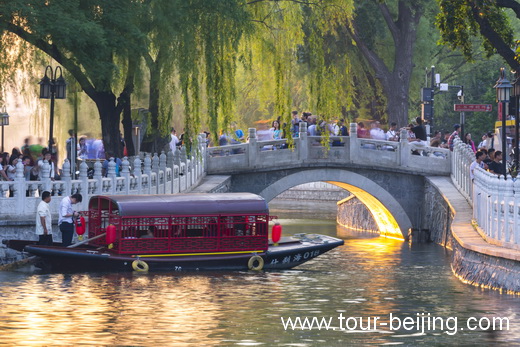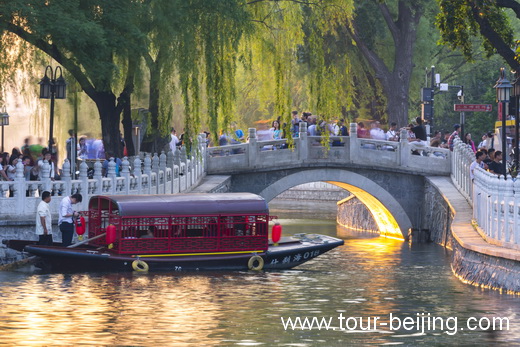 Tip: Hassle-free Beijing Guided Tours
If you don't want to go the do-it-yourself route and prefer the hassle-free escorted tours, here are some options for guided tours to Beijing:
Beijing Highlight Day Tour from US$59 P/P
(Tiananmen + Forbidden City + Mutianyu Great Wall)
Beijing Classic City Tour from US$65 P/P
(Tiananmen + Forbidden City + Temple of Heaven + Summer Palace)
Beijing Excursion Tour from US$59 P/P
(Mutianyu Great Wall + Ming Tomb)
Beijing Hutong Highlight Tour from US$59 P/P
( Hutong + Rickshaw)
Mutianyu Great Wall Half Day Tour from US$55 p/p
Hike from Jiankou to Mutianyu Great Wall Day Tour from US$69 p/p
Mutianyu Great Wall Layover Tour from US$65 p/p
Beijing Highlight Layover Tour from US$75 p/p
Further Readings
---
Best Time to Visit Beijing
How to plan a trip to Beijing
How to visit Shichahai
Houhai Winter Ice Skating Rink
Sunset Over Houhai Lake in Beijing
The night view of Shichahai
Shichahai, a nice place to walk at night in Beijing
Top 10 Attractions in Beijing
How to Visit Forbidden City
How to Visit Temple of Heaven
How to Visit Summer Palace
How to Visit Ming Tombs
How to Visit the Great Wall of China
How to Visit Tiananmen Square
How to Visit Hutongs
How to Visit Olympic Sites
Top 10 Markets in Beijing
Top 10 Shopping Malls in Beijing
Beijing Shopping
Wangfujing Night Snack Street
Qianmen Commercial Street
Beijing Huguosi Street
Any questions, just drop a line.
Tags: Beijing old places, Beijing old residential area, Beijing old world, Old Beijing