Houhai Lake, or Back Lake, is one of the three lakes in Shichahai, Beijing and the other two are Xihai Lake (West Lake) and Qianhai Lake ( Front Lake). Houhai Lake is often referred to as the general name for all the three lakes in Shichahai.
Shichahai still keeps the old world charm – crisscrossed by the narrow hutong lanes, quaint courtyards, and former palaces of ministers, as well as residences of celebrities in Ming and Qing dynasties. Shichahai is now teemed with chic bars, cafes and local yummy restaurants. It has become a must- see vacation location in Beijing.
I cannot remember how many times I've been to Shichahai or Houhai Lake as people habitually call it. But each time it seems I've unfortunately missed the sunset scenes at Houhai Lake, which is said to be breathtaking and gorgeous.
Today, however, I'm lucky enough to catch the sunset over Houhai Lake and Yinding Bridge ( Ingot Bridge ). Yinding Bridge spans the narrow channel linking Houhai Lake and Qianhai Lake.
On the other side of the lake shore of Qianhai Lake, I put up my tripod and set my Canon camera with telephoto-lens to snap the pictures of the bright and splendid Yinding Bridge under the cozy and orange sunshine.
Yinding Bridge was originally built in Ming Dynasty ( 1368 – 1644 ). But the bridge we see today was renovated both in 1984 and 1990. The bridge connects the narrow neck between Back Lake and Front Lake, 8.3 meters long, 7.9 meters wide and 4,35 meters high. It is named as "Ingot Bridge" due to its shape like an upturned ingot.
Its fame comes from the fact that in the past while standing on the bridge people could see the view of the West Hill in Beijing. But now tall buildings are popping up here and there, coupled with frequent smoggy weather, I doubt about the classic scenery known as "See the West Hill from Yinding Bridge".
Nevertheless, what I see through my telephoto-lens is exhilarating! The golden and orange sunrays shine through the one- arch-bridge, creating a mage of a golden crescent; people mill along the bridge with weeping willows glowing with shining sunset. Very often a paddle boat cruises through the golden bridge.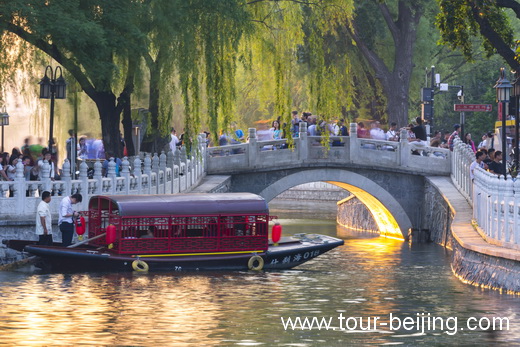 The sooner I finish my shooting of the golden bridge than I collect my camera equipment and walk fast towards the bridge, trying to locating a good point on the bridge to shoot the sunset over Houhai Lake.
The moment I get on the bridge, I find it packed with visitors using their iPhones to snap the photos of the setting sun. Looking like a professional photographer, I am treated with somewhat leniency allowing me getting a good spot soon on the narrow bridge.
I'm excited to see the sunset over Houhai Lake for the first time. The large orange setting sun above the trees and Houhai Lake and the rippling water of the lake is shined with golden lights. People row their boats on the water surface bright with golden rays. Sunset over a lake is always mesmerizing, giving you a lot of imagination.
Tip: Hassle-free Beijing Guided Tours
If you don't want to go the do-it-yourself route and prefer the hassle-free escorted tours, here are some options for Beijing guided tours:
Beijing Day Tour
Beijing Tour Packages
Beijing Winter Tour
Beijing Autumn Tour
Great Wall Tour
Car Rental in Beijing
Beijing Tours
China City Tours
China Tour
Further Readings
---
Best Time to Visit Beijing
How to plan a trip to Beijing
Houhai Winter Ice Skating Rink
The Old World Charm in Beijing
How to visit Shichahai
Sunset Over Houhai Lake in Beijing
The night view of Shichahai
Shichahai, a nice place to walk at night in Beijing
Top 10 Attractions in Beijing
How to Visit Forbidden City
How to Visit Temple of Heaven
How to Visit Summer Palace
How to Visit Ming Tombs
How to Visit the Great Wall of China
How to Visit Tiananmen Square
How to Visit Hutongs
How to Visit Olympic Sites
Top 10 Markets in Beijing
Top 10 Shopping Malls in Beijing
Beijing Shopping
Wangfujing Night Snack Street
Qianmen Commercial Street
Beijing Huguosi Street
Any questions, just drop a line.