The successful Beijing 2008 Olympic Games has left a deep impression on people's mind in the world. For many foreign visitors, the temptation is still great to visit the Bird's Nest (Beijing National Stadium ) and Water Cube (Beijing National Aquatics Centre).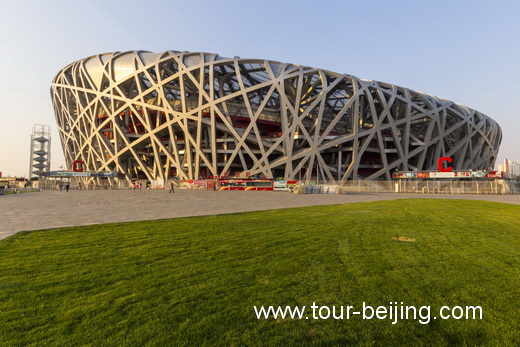 Well, how, when to visit the two fancy Olympic sites? What do you expect from them? Any tips for visiting the two Olympic buildings?
Personally I've been to the Olympic Park for several times. We've rounded up some practical tips helping you plan your own trip to the great architectures in the Olympic Park.
Tip 1: Subway is highly recommended
Both Bird's Nest and Water Cube are easily accessible through subway, cheap and fast. Take Subway Line 10 and get off at Beitucheng Station. Then interchange for Subway Line 8 and get off at the next station to the north – Olympic Sports Center or the second station – Olympic Park ( Olympic Green ). Once you come out from the subway, you are inside the Olympic Park. The park is free to the public.
Check out How to take subway in Beijing for some practical information on the metro system in Beijing.
If you are familiar with Beijing public bus system, taking a bus is also advisable due to its numerous buses available:
Bus 409, 426, 645, 653, 656, 658, 660, 689, 694, 740, 740, 753, 758, 803, 839, 849, 850, 858.
Taxi is not recommended mainly due to the fact it is hard to find a parking lot. So very often your driver has to stop in a parking area a bit far from the Olympic Park and you have to walk a long distance before you get to the park.
Tip 2: An evening tour better than a daytime visit
Of course, during the daytime, you can have a close look at their true faces. But the bird's nest is so much concrete and the water cube looks lifeless. Just too little shade and shelter provided by trees, very hot in summer!
If you come here in the evening, things are a world of difference! The Water Cube displays a different colour pattern each evening, looking like a fantastic magic box.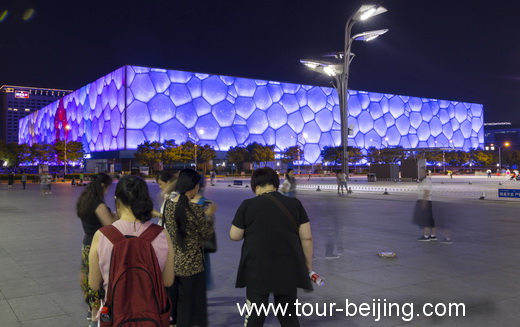 It is said that solar panel inside the nest collects the sun's rays by the daytime and light the bird's nest by night. An illuminated bird's-nest gives you much for thinking!
Tip 3: Outside or inside?
Many people just take some pictures from their outside; some prefer to go inside exploring. Which is better? It all depends.
If you have limited time, or you are not interested in what is going on inside, then just have a glimpse. That's all right. If you are more curious about the inner structures of the two buildings, inside visiting is high recommended if you have sufficient time.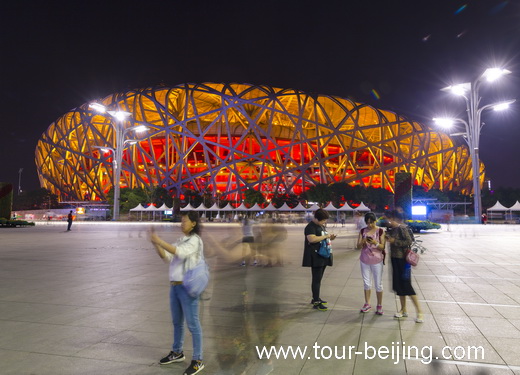 Opening time and Entrance fee for Bird's Nest:
09:00 – 18:0
RMB: 50
Water Cube: RMB30
Water Park: RM 200
Swimming only: RMB 50
Tip 4: Avoid public holiday or weekend
If you are not interested in the people-watching, just avoid coming here on public holiday and weekend. On the tourist season, tickets are hard to get. You have to line up for quite some time before you buy entrance tickets.
At the main entrance to the Olympic sites, there are some convenience stores for you to buy water and snack food.
Tip 5: More than sightseeing
It is estimated that every weekday there are 20,000 to 30,000 daily visitors on coming to Olympic Park. About 5000 people will go inside either Bird's Nest or Water Cube each day!
Most of the income of two buildings comes from the tickets selling and other comprehensive management, which just meets the cost for maintaining the two buildings.
To make the two buildings more lucrative, local government and management company are going to gradually change the two sports building into a leisure centre including eating, playing, entertaining, meetings and conference, hotels and sports events as well.
It is said that a trendy and high-end Olympic Theme Restaurant has been set up in Bird's Nest. In Winter, the bird's nest will be made a ski resort for a winter festival.
The entrance fee for the newly built water amusement parks costs RMB 200 per person. The entrance fee for the water cube still keeps at RMB 30.
Tip 6: More to see and to do in the Olympic Park
The Bird's Nest and Water Cube are just two most important Olympic Buildings in the park. Other Olympic venues including Beijing National Indoor Stadium, the archery range, tennis courts and hockey rink in North Olympic Forest Park.
Tip: Hassle-free Beijing Guided Tours
If you don't want to go the do-it-yourself route and prefer the hassle-free escorted tours, here are some options for guided tours to Beijing:
Car Rental in Beijing
Beijing Day Tour
Beijing Tour Packages
Great Wall Tour
Beijing Winter Tour
Beijing Tours
China City Tours
China Tour
Further Readings
---
How to Plan a Trip to Beijing
Best Time to Visit Beijing

Top 10 Attractions in Beijing
Top 10 Tourist Scams Beijing
How to Visit Tiananmen Square
How to Visit Forbidden City
How to Visit Temple of Heaven
How to Visit Summer Palace
How to Visit Ming Tombs
How to Visit the Great Wall of China
How to Visit Hutongs
How to Visit Olympic Sites
Top 10 Markets in Beijing
Top 10 Shopping Malls in Beijing
Beijing Shopping
Wangfujing Snack Street
Qianmen Commercial Street
Beijing Huguosi Street
Any questions, just drop a line.