by
Dear Travelers
We'd like to have the following travel guide to be always updated for the benefit of new visitors coming to Ming Tombs in Beijing. If anybody having used the piece finds necessary updates, please leave a message or feedback. Thanks!
Before we talk about how to visit Ming Tombs, people are more interested in knowing whether Ming Tombs are worth visiting. Well, as far as I know, people are quite divided on this. Some dislike; some feel they are ok and others say they are a must see. So different people with different cultural and social backgrounds have their own different opinions on the question.
For many visitors, the visiting of Ming Tombs is not as important as that of Forbidden City, Summer Palace and the Great Wall of China. It is not worth a separate trip.
But in my opinion, generally it is quite worth having a glimpse on a combined journey to or back from the Great Wall or Summer Palace since the location of Ming Tombs is quite accessible on the way to the bits of the Great Wall of China – Juyongguan, Badaling and Mutianyu, and not far from Summer Palace.
Of course, their accessibility is not the only reason for being worth visiting. Listed as a UNESCO world cultural heritage, Ming Tombs provide people a kind of real experience. That tells why this place is a popular place for native Chinese, especially those who are attracted by its history.
If you are going to visit the Tombs, then how to visit them? What homework you should do before you come close to them? Maybe the following Ming Tombs travel tips will be useful for you:
Tip # 01: Grab some basic knowledge of the 13 Tombs in Ming Dynasty (1368 – 1644)
Ming Tombs are about 13 tombs in Ming Dynasty where 13 out of 16 emperors in Ming Dynasty were buried successively there. There were totally 16 emperors in Ming Dynasty.
Why 13 emperors were buried there instead of 16? Zhu Yuanzhang, the founder of the Ming Dynasty was buried in the Xiaoling Mausoleum in Nanjing; Zhu Yunwen, the Emperor Jianwen disappeared and Zhu Qiyu, the Emperor Jingtai was buried at Jinshan Hill in the western suburbs of Beijing. All other 13 Ming Emperors were buried in this tomb area, hence the area popularly being called the 13 Ming Tombs.
Of all the 13 Ming Tombs, at present only 3 Ming Tombs are open to the public, namely Dingling, Changling and Zhaoling ( "ling" literally means "Tomb" in Chinese). So before you are going to visit Ming Tombs, you'd better know which of the 3 tombs you should visit, which are located separately quite a distance. The three tombs are also a little different in terms of ticket prices and value.
Of the 3 Ming Tombs opened to the public, only Dingling ( often called Underground Palace) has been excavated. There is down a long staircase into a chamber with some stone thrones and a few large plain red boxes which are the burial caskets in the so called underground palace.
Tip # 02: Of the 3 tombs, which one you should visit?
Because all the 3 tombs are located separately quite a distance, usually you only have time to visit one of the three tombs. So which one? If you have no problem with your knees and feet, and are fairly good at walking, you are advised to visit Dingling – the underground Palace.
You have a long walk from the Dingling Entrance before you get to the Tomb itself, where you walk 8 flights of stairs down. The walk to the tomb can be hard and long during high season, but normally takes about 15 minutes.
If you are wheelchair users or have some difficulty in walking, just forget Dingling, and choose Changling instead. Changling is the largest tomb of all the 13 Ming Tombs.
Changling is the tomb where buried the Third Emperor Zhu Di with his queen Nee Xu. Changling is not excavated. But its grand hall on the ground is worth visiting. The construction of the hall started in 1409 and finished in 1427. As for Zhaoling, you can simply skip it since it is almost renovated.
Tip # 03: Sacred Way is highly recommended
For me, the best part of Ming Tombs tour is the walk down Sacred Way which is lined with large statues that are several hundred years old. These are huge statues of lions, camels, elephants, etc, and they are located on both sides of the walkway.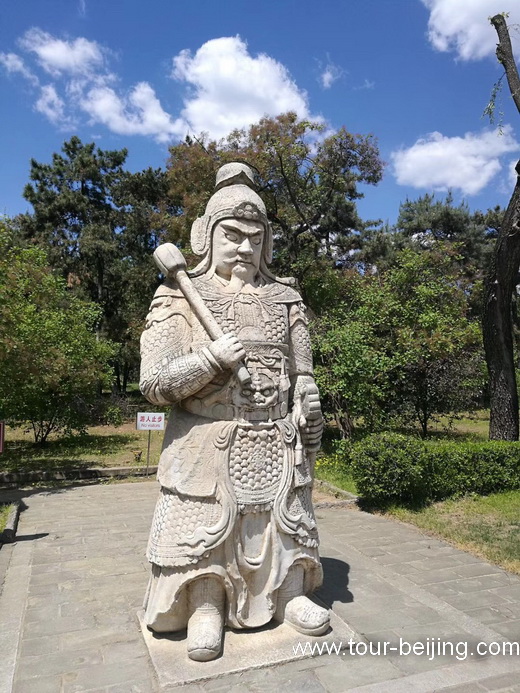 The Sacred Way is part of the Ming Tombs complex. Sacred Way means the road leading to heaven. The Emperor, known as the Son of the Heaven, who descended from Heaven to his country through the Sacred Road, also would return to Heaven through this way.
Tip # 04: How to get there and admission fees
Sacred and Ming Tombs are located in Changping District, about 50km north of Beijing.
Entrance Fees:
Changling Tomb: RMB 30 (November.01 – March. 31); RMB 45 (April. 01 – October. 31) Dingling Tomb: RMB 40 (November.01 – March. 31); RMB 60 (April. 01 – October. 31) Zhaoling Tombe: RMB 20 (November.01 – Machr. 31); RMB 30 (April. 01 – Oct. 31)
Sacred Way: RMB 20/30)
Opening Hours:
Changling Tomb: 08:30 – 17:30 Dingling Tomb: 08:30 – 18:00 Zhaoling Tomb 8:30 – 17:30
Sacred Way: 8:30 – 18:00
Tickets stop selling about half an hour before the tombs are closed.
Tip # 05 Bus 872 Deshengmen Bus Terminal scheduled for Ming Tombs
The Bus 872 starts from Deshengmen Bus Station which is located on the north square of Deshengmen Arrow Tower (德胜们箭楼) lying on the mid-way of the northern second ring road. It is worth getting up earlier to catch an early morning Bus 872 for Ming Tombs.
How to go to Deshengmen Bus Terminal
Several buses can bring you to the Deshengmen Bus Station. But the bus system in Beijing could be daunting even for the local Beijingers. It is advisable to take the Subway Line 2 to reach Deshengmen Bus Station. The the closest subway station to Deshengmen Bus Station is Jishuitan (积水潭) of the loop-type Subway Line 2.
You get off at the station of Jishuitan (积水潭), exit from the Exit A. Then walk along the sidewalk in the east direction for about 450 meters, soon you will see a high tower – the Deshengmen Arrow Tower. Deshengmen Bus Station is just below the northern side of the tower.
The compound of Deshengmen Arrow Tower is within a roundabout. So you have to cross a road to reach the bus station. You have to be careful crossing the road since the road has no traffic light at the time of my writing.
By the way, on your 450-meter walk from the subway station of Jishuitan to the Deshengmen Arrow Tower, you will pass alongside the Deshengmenxi Bus Station (different from Deshengmen Bus Station) and you just ignore it!
You will be also distracted by some privately owned buses or mini-buses operated in the name of official Badaling-bound buses. We strongly suggest you take the official buses within the Deshengmen Bus Station for safety and reasonable price.
Don't be surprised if you find the queue in front of the bus 872, especially on the weekends or national public holidays.
Bus 872 is below the west side of Deshengmen Tower
Bus 872 going between Deshengmen  and  Ming Tombs ( Dingling Tomb and Changling Tomb) : 
First Bus and last bus from Deshengmen to Ming Tombs: 09:15-16:15
First Bus and last bus from  Ming Tombs to Deshengmen: 08:00-15:00
Bus Fare: 8 yuan
The Bus 872 leaves every 10  minutes
The Bus 872 has 15 bus stops,  Dingling (last but two stop) and Changling ( last stop), taking about one hour.
Tip # 06 How to plan your Ming Tombs Tour?
It is better to incorporate your Ming Tombs into a journey covering other tourist attractions also. How to incorporate? Usually Summer Palace can be combined with Ming Tombs trip on a one day tour in Beijing.
The most common is blended with the trip to one of the sections of Great Wall of China – Juyongguan Great Wall, Badaling Great Wall or Mutuanyu Great Wall on an a day trip in Beijing.
Tip # 06: Avoid Public Holiday and Weekend
For local Chinese, Ming Tombs are just as important as Forbidden City and Summer Palace, never missed on their trip to Beijing. On weekend, especially during the public holidays, Ming Tombs can be very crowded!
Take greater precaution when you go down the 8 staircases to the underground palace at Dingling Tomb.
Tip # 07: Bus 879 Between Dingling (Ming Tombs) and Badaling Great Wall
If you'd like to go from Ming Tombs ( Dingling ) and Badaling or vice versa, you can take the Bus 879 listed below:
1) Dingling Tomb ( Ming Tombs) to Badaling Great Wall
Fist Bus:8:00 am
Last Bus: 4:00 pm
Bus Fare: 9 yuan
The Bus 879 leaves every half an hour
The Bus 879 has 25 bus stops from Dingling (Ming Tombs) to Badaling Great Wall ( the last but the third ) taking about one and half hours, about 40km.
1) Badaling to Dingling ( 定陵):
Fist Bus:9:30 am
Last Bus: 5:30 pm
Bus Fare: 9 yuan
The Bus 879 leaves every half an hour
The Bus 879 has 25 bus stops from Badaling to Dingling ( Ming Tombs ), taking about one and half hours from Badaling to Dingling (定陵), the last bus stop ( about 40 km ).
If you'd like to go to directly from Deshengmen to Badaling Great Wall, take the Bus 877 ( see the link: Badaling Bus 877).
Tip # 8: Hassle-free Beijing Guided Tours
If you don't want to go the do-it-yourself route and prefer the hassle-free escorted tours, here are some options for Beijing guided tours:
Beijing Highlight Day Tour from US$59 P/P
(Tiananmen + Forbidden City + Mutianyu Great Wall)
Beijing Classic City Tour from US$65 P/P
(Tiananmen + Forbidden City + Temple of Heaven + Summer Palace)
Beijing Excursion Tour from US$59 P/P
(Mutianyu Great Wall + Ming Tomb)
Beijing Hutong Highlight Tour from US$59 P/P
( Hutong + Rickshaw)
Mutianyu Great Wall Half Day Tour from US$55 p/p
Hike from Jiankou to Mutianyu Great Wall Day Tour from US$69 p/p

Mutianyu Great Wall Layover Tour from US$65 p/p
Beijing Highlight Layover Tour from US$75 p/p
Further Readings
---
Top 10 Attractions in Beijing
How to Visit Forbidden City
How to Visit Temple of Heaven
How to Visit Summer Palace
How to Visit Ming Tombs
How to Visit the Great Wall of China
How to Visit Tiananmen Square
How to Visit Hutongs
How to Visit Olympic Sites
Top 10 Markets in Beijing
Top 10 Shopping Malls in Beijing
Beijing Shopping
Wangfujing Night Snack Street
Qianmen Commercial Street
Beijing Huguosi Street
Any questions, just drop line.
Tags: Go to Ming Tombs by us, How to go to Ming Tombs, Ming Tombs Bus 872