Dear Travelers,
We'd like to have the following quick guide to be always updated for the benefit of new visitors coming to Lama Temple.
If you have any questions or anybody having used the piece finds necessary updates, please leave a message or feedback. Thanks!
———
Plan your Beijing Tour? If you are interested in Chinese Lamaism or Chinese Buddhism, Beijing Lama Temple is not to be missed.
ABC of Lama Temple
Beijing Lamasery Temple is called "Yonghegong" (雍和宫) in Chinese which literally means" Harmony and Peace". "Yonghegong" is a romanization form (pinyin) of the Chinese characters – 雍和宫 (Lama Temple).
Pinyin is quite useful in China, especially on people's names, shop fronts, street names and place names etc. When Chinese people write their own names in English, they use Pinyin. All the bus stops and subway stops for Lama Temple are named "Yonghegong" in English instead of Lama Temple.
For many foreign travelers coming to Beijing, Yonghegong (Lama Temple) is a very important attraction just after Forbidden City and Temple of Heaven in the city center. Yonghegong Lama Temple was originally built as the residence of Emperor Yongzheng when he was still a prince.
After he came to the throne (Emperor Yongzheng), he changed his old residence into a temporary palace called "Yonghegong" in 1725. In 1744, his successor, Emperor Qianlong turned the palace into a lama temple. This Tietan Buddhist Lama Temple is still popularly called Yonghegong.
Built along a central axis from north to south, the Lama Temple's compound is mainly composed of six major halls, which make seven courtyards. The six halls include Yonghe Gate Hall, Yonghegong Hall, Yongyou Hall, Falun Hall, Wanfuge Pavilion and Suicheng Hall.
There are also many side buildings built on the both sides of the central axis. Before you visit the six halls and seven courtyards, you will first see the Memorial archway.
How to get there?
Well, taking the subway is highly recommended. You either take subway line 2 or Line 5 and get off at the stop of "Yonghegong"( Lama Temple), exit from the Exit C.
From the EXIT C of Yonghegong Subway Station, you turn left and walk along the sidewalk flanked by a long red wall, inside which Lama Temple is located. The 400 meters sidewalk is teemed with front stores selling incense, fortune-tellers and so on. Then you will get to the entrance to Lama Temple on your left hand.
Address: 12 Yonghegong Dajie, Dongcheng District, Beijing
On your left side, you will see the entrance to the compound of Lama Temple.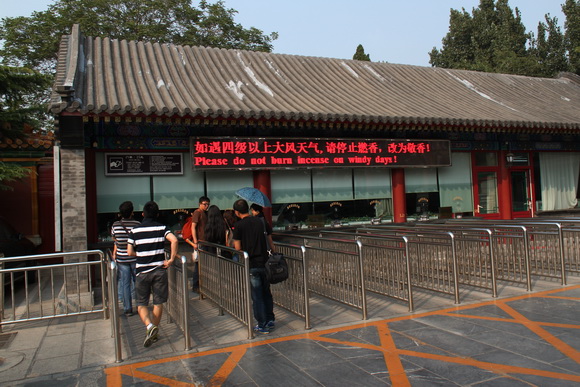 Entrance Fee: CNY 25 per person
Opening Hours: 09:00 – 16:30 ( April – October)
09:00 – 16:00 (November – March)
Note: You don't have to book your ticket in advance. Just get there as early as possible, and line up for buying your ticket on the spot.
By the way, , they have both English-speaking tour guides and English audio-guide for rent. Please contact them while you are going to purchase your entrance ticket at the ticketing booth.
Follow me into Lama Temple (Yonghegong)
Have your ticket collected at the side gate of the archway, you walk north along the imperial carriage pathway where in Qing Dynasty the straight path was used for the carriages of the emperors and their empresses during the Qing Dynasty (1644 – 1911).
Zhaotai Gate 昭泰门
At the northern end of the imperial carriage pathway is the Zhaotai Gate only used for emperors.
Entering Zhaotai Gate, you will be in the second courtyard which has a Drum Tower on the right side and Bell Tower on the left side and more side buildings in the courtyard.
Yonghe Gate 雍和门
To the north of the courtyard is Yonghe Gate. Built in 1694, originally the main gate to the Lama Temple. Now Yonghe Gate is enshrined with the four heavenly kings and the statue of the big belly Meitraya Buddha.
Yonghe Palace 雍和宫
North of the Yonghe Gate is Yonghe Palace. Yonghe Palace is the main palace in the temple.
Inside the palace, there are three bronze Buddhas – Sakyamuni (Present Buddha) in the middle, The Past Buddha on the right and Maitreya ( Future Buddha ) on the left. 18 Arhats are placed on both sides of the Hall.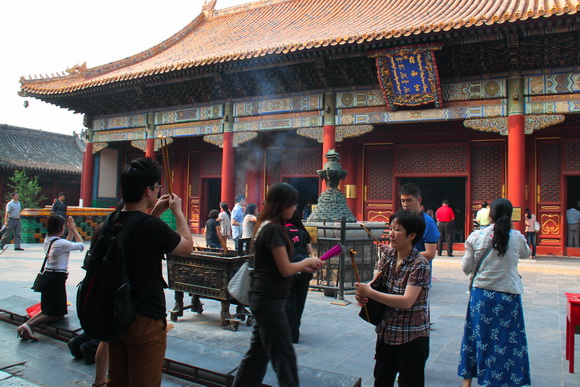 Yongyou Hall 永佑殿
North of Yonghe Palace is Yongyou Hall. The Yongyou Hall was originally the living place of Emperor Yongzheng before he was throned. When he died, his coffin was placed here in the hall.
Now inside the palace, a statue of Amitayus (Longevity Buddha), with Bhaisajyaguru ( Medicine Buddha) to the right and Simhanada (Meaning Wisdom) to the left.
Falun Hall 法轮殿
North of Yongyou Hall is Falun Hall. The hall was named Falun Hall in 1744 when Yonghegong was transformed into a lamasery. The Hall was originally the living place for the Emperor's wives. Its architecture features both Chinese and Tibetans styles.
A large statue of Tsong Kha-pa, the founder of Lamaism is positioned on the altar of the Hall with sacrificial offerings. Behind this statue is an Arhat Hill which has 500 Arhats. Falun Hall is the places lamas chant, read scriptures and hold Buddhist ceremonies.
Wanfu Pavilion 万福阁
North of Falun Hall is Wanfu Pavilion (The Pavilion of Pavilion of Ten Thousand Happiness). Wanfu Pavilion is the highest building in the temple.
It was built between 1748 and 1750. Now it enshrines the Meitreya Buddha. The statue is 18 meters above ground and 8 meters under ground and carved from a single trunk of white sandal wood. In August 1999, it was in Guinness book of records.
Sui Cheng Building 绥成殿
The last hall is called Sui Cheng Building. Originally built in 1744, the hall now enshrines the White Tara, the Green Tara and the founders of Gelugpa sect of Lamaism in different periods.
Kids are happy to turn around the prayer wheels.
Major attractions near Lama Temple
If you are going to visit Lama Temple, you are highly recommended to visit the nearby attractions listed below:

Confucian Temple and the Imperial College Museum
Shichahai ( Houhai )
Ditan Park
Add on
Top 10 Buddhist Temples in Beijing
Top 10 Mosques in Beijing
How to Visit Lama Temple in Beijijng
Catholic Mass Times Beijing
Top 10 Religious Sites in Beijing
Beijing Religion Tour
Tip: Hassle-free Beijing Guided Tours
If you don't want to go the do-it-yourself route and prefer the hassle-free escorted tours, here are some options for guided tours to Beijing:
Car Rental in Beijing
Beijing Day Tour
Beijing Tour Packages
Great Wall Tour
Beijing Winter Tour
Beijing Tours
China City Tours
China Tour
Further Readings
---
How to Plan a Trip to Beijing
Best Time to Visit Beijing
Top 10 Attractions in Beijing
Top 10 Tourist Scams Beijing
How to Visit Tiananmen Square
How to Visit Forbidden City
How to Visit Temple of Heaven
How to Visit Summer Palace
How to Visit Ming Tombs
How to Visit the Great Wall of China
How to Visit Hutongs
How to Visit Olympic Sites
Top 10 Markets in Beijing
Top 10 Shopping Malls in Beijing
Beijing Shopping
Wangfujing Snack Street
Qianmen Commercial Street
Beijing Huguosi Street
Any questions, just drop a line.
Chinese version of the travel guide: