by
Plan your Beijing tour? Overshadowed by its neighbour – Forbidden City ( Palace Museum ), Beihai Park is very often neglected by many visitors. Often dubbed as Winter Palace by westerners, Beihai Park  is the oldest imperial garden in the world as well as one of the largest in China.
"Beihai" literally means "north sea". In the past, the royal families pompously called all the lakes "sea" in connection with the imperial court.
Beihai Park used to be part of the imperial garden called "Xiyuan" in Qing Dynasty meaning "West Garden" due to its location just outside Forbidden City on its west.
Originally built in 1166 in the sixth year of the Reign of Jin Dading during Jin Dynasty (1115–1234 ) , the huge park was repaired and rebuilt in the successive dynasties including Yuan, Ming and Qing dynasties (1125 – 1644). It was first opened to the public in 1925.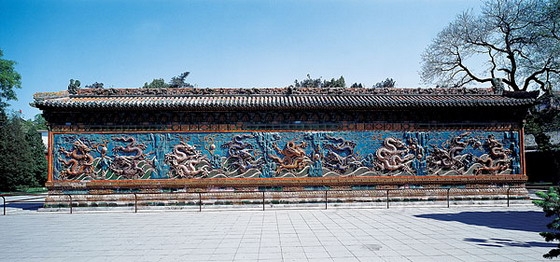 The building of Beihai Park was the result of many emperors'dream of finding a secret potion that was the elixir of life by resembling the three magic mountains called Penglai, Yingzhou and Fangzhang on the sea where the gods who lived there were believed to have a secret potion for immortal life. So Beihai Park was laid out in the form of one pool and three "mountains".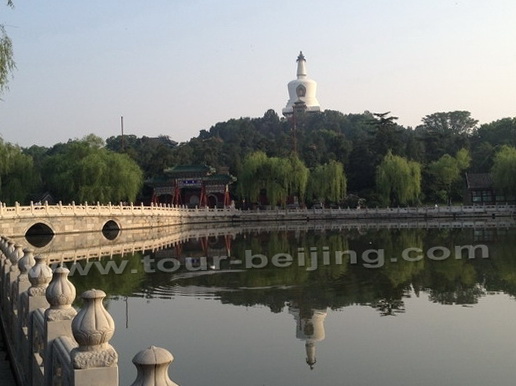 It was said that Cixi Dowager often stayed in a palace between Nanhai and Zhonghai, and had meals or entertained foreign friends or her favorite officials in Jingxin House on the north shore of Beihai Park.
Now Beihai Park is open to the public. But Zhonghai and Nanhai combined called "Zhonghanhai", is where the top Chinese officials work and live.
Beihai Park is well known for its beautiful gardens, the maze in the stone cave, temples and pavilions. Atop the Jade Island in Beihai Park, the White Dagoba becomes an important landmark of the city. Beihai Park is worth being listed on your first time trip to Beijing if time permits. Then how to visit it?
Tip # 01: Have a basic knowledge of its layout
Beihai Park is located just 10 minutes' walk to the northeast of
Forbidden City
in the center of Beijing. Half of the park is taken up by water.
It adjoins Zhongnanhai (Zhonghai and Nanhai) on the south, Shichahai area on the north and the Jingshan (Coal Hill) on the east. The major attractions in the former imperial park mainly fall on five parts – Qiongdao ( Jade Isle ), East Shore and North Shore, Circular City and Arboretum. It has 4 main gates – the south gate, west gate, east gate and north gate  ( also known as back gate).
Main Attractions in the park:
1)Circular City
2)Haopujian Garden
3)Qionghua Isle (Jade Island)
4)Quiet Heart (Jingxin) Studio
5)Nine Dragon Screen
6)Five Dragon Pavilions
Tip # 02: Enter the Park though the right gate
So there are mainly 4 entrance gates, which one you should use? This all depends on your Travel Schedule. Its North Gate is also known as Back Gate. Below is my suggested travel plan including Beihai Park:
1) Tiananmen Square – Forbidden City – (South Main Gate) Beihai Park – Beihai Park (Exit from North Gate) – Houhai (Shichahai) – Drum Tower   Lama Temple
2) Tiananmen Square – Forbidden City – Jingshan Park – (East Gate) Beihai Park – Beihai Park (Exit from North Gate) – Houhai (Shichahai)
3) Lama Temple – Shichahai – Beihai Park (north gate) – Qiongdao – Circular City – (Exit South Main Gate) Beihai Park
4) (South Main gate) Beihai Park – Qiongdao – (Exit from north gate) Beihai Park – Houhai ( Shichahai )
Tip # 03: Best time to go in a day
In a day, morning is the best time to visit Beihai Park. As you know, Beijing is at its best in the mornings. There is a relaxing feel around the place.You will see many people doing morning exercises, singing, dancing. Some old men practice with their swords; others write on the ground with big brushes!
Stroll around Beihai Park in the morning and get an immersive look into the lives of ordinary People in Beijing. You are also welcome to join them singing, dancing and exercising , as local Beijing people.
Tip # 04: Best Time to go in a year
People like the park all year round. In winter, it becomes one of the biggest skating rinks in the Beijing. In summer, the park is a popular retreat and a getaway away from heat in summer.
In spring, Beihai Park is immersed in the sea of flowers. In autumn, enjoy the beautiful scenery of Beihai Lake and Qionghua Island with blue sky.
Tip # 05: Have a bite at Beihai Fangshan Restaurant
The famous Beijing Fangshan Restaurant is located on Qingdao Isle in the park. Entering the East Gate and step on the Qingdao Isle and turn right along the corridor, you will find the world famous restautant offeing court food.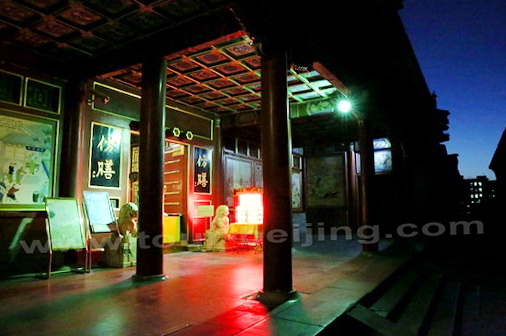 "Fang" means imitation, "Shan" means "meals for the Emperor".
Sales Dept.:(010)64011879 64011889 64042573 Office: (010)64043481|
Fax: (010)64041184
Tip # 06: How to get there
North Gate (Back Gate: take Subway Line 6 ; Take bus No.13, 42, 107, 111, 118, 612, 701 ;
East Gate: take No.5 and get off at West Banqiao station
South Gate and West Gate: take 5, 101, 103, 109, 124, 128, Zhuan 1, Zhuan 2 and get off at Beihai Station
Blend your visit to Forbidden City or Jinshan Park with the tour of Beihai park: Enter at the south entrance of the Forbidden City and then exit at the north gate. Turn left and head towards Beihai park in about 10 minutes.
Tip # 07: Entrance fees and opening time
Opening Time
6:30 am to 8:30 pm: April, May, September, and Octorber
6:30 am to 10:00 pm: June, July, and August
6:30 am to 8:00 pm: January, February, March, November and December
Entrance Ticket
(General Entry for the Park)
RMB 5 (Jan, Feb, Mar, Nov and Dec )
RMB 10 (April – October)

Beihai Park Through Ticket
( including inside pay sights: Qionghua Islet and Circular City) :
RMB 20 ( April – October ); RMB 15 ( Jan, Feb, Mar, Nov and Dec );
Boating Service
The Taiye Pool in Beihai Park, whose water comes from Yuquan Mountain, is clean and suitable for boating and enjoying the cool air. It is a rare natural water body for boating in Beijing city.
Cartoon battery boat: RMB 160 / hour (Deposit: RMB 500)
Rowing boat: RMB 40 / person for half an hour; 60 yuan per person per hour
Big gaily decorated Boat: One-way Ferry RMB 20 /person
Ferry Boat: 10 yuan/person; 15 yuan/round trip
Further Readings
---
Top 10 Attractions in Beijing
How to Visit Forbidden City
How to Visit Temple of Heaven
How to Visit Summer Palace
How to Visit Ming Tombs
How to Visit the Great Wall of China
How to Visit Tiananmen Square
How to Visit Hutongs
How to Visit Olympic Sites
Top 10 Markets in Beijing
Top 10 Shopping Malls in Beijing
Beijing Shopping
Wangfujing Night Snack Street
Qianmen Commercial Street
Beijing Huguosi Street
Wacth the Sunset in Beihai Park
Night View of Beihai Park
Any questions, just  drop a line.