The earliest settlements in China's capital can be traced as far back as 1100 BC. As one of the eight ancient capital cities in China, Beijing was designated as the ancient capital city for 8 dynasties during a span of over 800 years. Not much ancient city architecture left of Beijing's history prior to 1406 when the Yongle Emperor of Ming Dynasty (1368 – 1644) began to build the Forbidden City in a large scale.
After that time, much of Beijing's splendid heritage and culture can still be found in the well-preserved architectural landmarks. Each city's iconic landmarks change with the times. Beijing's top iconic landmarks feature China's classical and traditional architectures, modern and postmodernist ones. Here are ten that shouldn't be missed on your Beijing tour.
1. Hall of Super Harmony at Forbidden City 1406
Built in 1406 to 1420, the Forbidden City was the imperial palace for Ming and Qing dynasties ( 1420 – 1911) for over 500 years. The complex comprises 980 buildings with 8707 rooms with an area of 72 acres. Listed as a UNESCO site in 1987.
The Forbidden City epitomizes the traditional China palatial architecture, which has had great influences on the culture and architectural developments in East Asia. The original Hall of Super Harmony was built in 1406 and was destroyed seven times by fires during the Qing Dynasty and last re-built in 1695–1697. For more information, check out How to visit the Forbidden City.
2. Tiananmen Tower 1417
Built in 1417, Tiananmen Tower ( Gate of Heavenly Peace ) was an important gate to enter the Forbidden City. Now it is a famous monument on the northern edge of Tiananmen Square in Beijing, a national symbol of China.
The gate building is 66 meters long and 37 meters wide and 32 meters high with imperial roof decorations. The tower itself is accessible with an entrance fee 20 yuan for a panoramic view of Tiananmen Square. But you are free to walk through the archway under the tower leading to the Forbidden City.
Two giant stone lions stand in front of the gate, supposed to protect against evil spirits in China culture. Two decorative stone columns known as Huabiao also stand in front of the tower building. Check out How to visit Tiananmen Square.
3. Prayer Hall at Temple of Heaven 1420
Built 1420, The Temple of Heaven was an Imperial Sacrificial Altar in Beijing during Ming and Qing dynasties. It was a complex of religious buildings where the emperors in Ming and Qing dynasties for annual ceremonies for prayer to Heaven for good harvest.
The Hall of Prayer for Good Harvest is an important landmark and symbol in Beijing. It is one of the three main buildings in Temple of Heaven. It is a massive circular building, 36 meters in perimeter, 38 meters tall, built on three layers of marble stone base.
It was the place the Emperor prayed for good harvest. The building is a total wooden structure without a single nail, a masterpiece of China architecture and a UNESCO site in 1998. Check out How to Visit Temple of Heaven.
4. Great Hall of the People 1959
The Great Hall of the People is located on the western edge of Tiananmen Square. It is used for legislative similar to the parliament in the west as well as for ceremonial activities by the PRC and the Communist Party of China.
It is the meeting place for the national session of the Chinese People's Political Consultative Conference (CPPCC), and the National Congress of the Communist Party of China.
Built in 1959 in 10 months by volunteers, it was one of the "Ten Great Constructions" of that time completed for the 10th Anniversary of the PRC. The building covers 171,800 square meters of floor space, it is 356 meters long and 206.5 meter wide. At the eaves of the main gate hangs the national emblem of the PRC.
5. Bird's Net ( National Stadium ) 2008
The Beijing National Stadium, also known as Bird's Nest, is the legacy of the successful 2008 Summer Olympics and Paralympics, which has left a deep impression on people's mind around the world.
It is a stunning landmark building featuring the world's largest steel structure with 26km of unwrapped steel used. innovative structure was designed by Herzog & De Meuron Architekten, Arup Sport and the China Architecture Design and Research Group, and has been nicknamed the "bird's nest" due to the web of twisting steel sections that form the roof. It can house 91,000 visitors. Check out How to visit Bird's Nest and Water Cube.
6. CCTV Headquarters 2008
The new China Central Television ( CCTV ) is designed by Arup and constructed by Rem Koolhaas and Ole Scheeren of OMA. It started to build in 2004 and was operational in 2008.
The main building of CCTV Headquarters is a 44-story skyscraper 234 meters high located on East Third Ring Road in Beijing's Central Business Center area. It is not a traditional building, but a loop of six horizontal and vertical sections.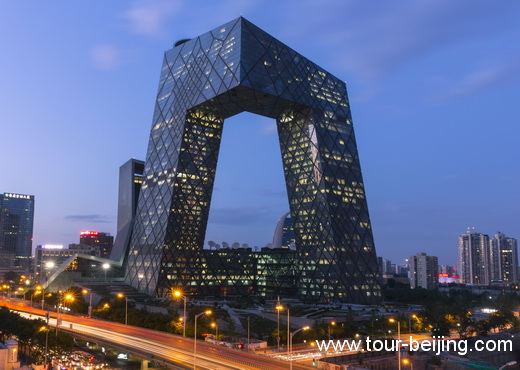 As a graceful and sturdy sculpture-style edifice, the planned new CCTV building doesn't not only represent the new image of Beijing, but also express, in the language of architecture, the importance and the cultural nature of the TV industry. Check out CCTV Headquarters Building for more information.
7. National Center of Performing Arts 2007
Located on the west of the Great Hall of the People, it was designed by French architect Paul Andreu. Construction started in December 2001 and the inaugural concert was held in December 2007.
The total cost for its construction is said to be over RMB 3 billion. The theatre has total 5473 seats with each seat costing about half million!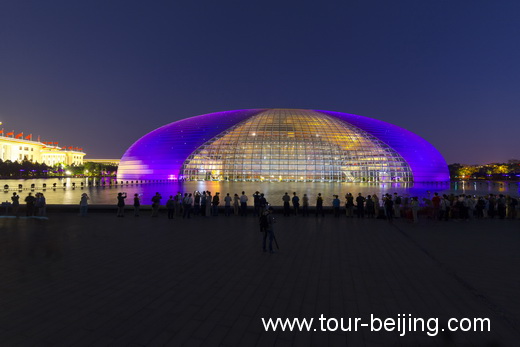 The exterior of the theatre is a titanium accented glass dome that is completely surrounded by a man-made lake. It just likes like an egg cut half.
Inside there are 4 major performing halls: The Opera Hall in the middle is used for operas, ballet, and dances with seats 2416; the Music Hall in the east side accommodates 2,017 seats; The Theater Hall in the west side is functioned for Chinese traditional plays and the Beijing opera. with 1040 seats.
Ticketing selling hours
The box office of the National Centre for the Performing Arts is located at the north entrance of centre. It is open between 9:30 a.m. to 7:30 p.m. every day. Entrance Ticket for Visiting only: 30 yuan per person. Check out How to Visit National Grand Theatre in Beijing for more information.
8. China World Trade Center Tower III 2010
China World Trade Center Tower III is 330 meters high, the 3rd tallest skyscraper in Beijing with 81 floors, 4 underground floors, and 30 elevators. It is located in vicinity of Beijing Business District, close to China World Hotel and Dabeiyao. It is the third phase of development of the China World Trade.
The building was completed in 2010. It is a huge complex designed for office and hotel space,with retail at its base. The building also houses a 278-room 5-star hotel. The China World Trade Center complex is located in Beijing's Central Business District at the junction of the East Third Ring Road and Jianguomen Outer Street ( the east part of Chang'an Avenue).
9. Galaxy SOHO Beijing 2012
Galaxy SOHO Beijing is a multidimensional miracle in the world among other iconic landmarks in Beijing. Galaxy SOHO has changed the city skyline a bit.
Built 2009-2012, the Galaxy SOHO Beijing is located on the southwest of Chaoyang Bridge over the East Second Ring Road with a total construction area of 330,000 square meters including office floors of 166,000 square meters and retail floors of 86,000 square meters.
Galaxy SOHO is developed by SOHO and designed by Zaha Hadid Architects. It is a new type of office and entertainment complex devoid of corners or abrupt transitions. It is an re-invention of the classical courtyards that produce immersive and enveloping experiences at the heart of Beijing.
The four tower-shape buildings are connected dynamically by many bridge with attractive appearance that gives much imagination. People will get immersed excitedly in the 360-degree architecture in the world.
10. China Zun 2019
Designed by architecture firm Farrells, China Zun is 528 meters high, ranking the 9th in the world, the 5th in China and the 1st in Beijing among all the completed skyscrapers in the world.
The skyscraper was commissioned in July 2013, and finished in 2019. It is located in Beijing CBD core area, adjacent to the CCTV building. It is known as one of the China's top ten contemporary buildings. Its architectural inspiration comes from the traditional Chinese ritual vessel "Zun", which means "the heaven is round and the earth is round".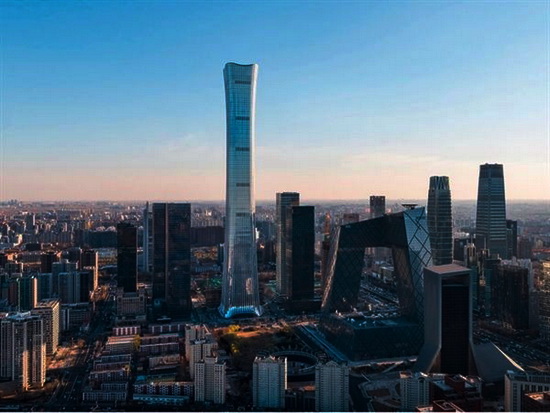 Tip: Hassle-free Beijing Guided Tours
If you don't want to go the do-it-yourself route and prefer the hassle-free escorted tours, here are some options for guided tours to Beijing:
Beijing Autumn Tour
Car Rental in Beijing
Beijing Day Tour
Beijing Tour Packages
Great Wall Tour
Beijing Winter Tour
Beijing Tour
China City Tours
China Tour
Further Readings
---
Best Time to Visit Beijing
How to plan a trip to Beijing
Top 10 Attractions in Beijing
Top 10 Tourist Scams Beijing
How to Visit Forbidden City
How to Visit Temple of Heaven
How to Visit Summer Palace
How to Visit Ming Tombs
How to Visit the Great Wall of China
How to Visit Tiananmen Square
How to Visit Hutongs
How to Visit Olympic Sites
Top 10 Markets in Beijing
Top 10 Shopping Malls in Beijing
Beijing Shopping
Wangfujing Night Snack Street
Qianmen Commercial Street
Beijing Huguosi Street
Any questions, just drop a line.