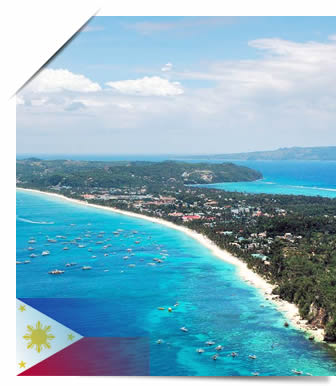 Create My China Trip
If you are looking to inquire about a particular China tour in your mind, just submit a quick enquiry, we can offer you an itinerary with prices for your reference. We offer a free enquiry service.
Philippines in Seasons


Hot Dry Season(Summer): March - May
Rainy Season: June - November
Cold & Dry Season: December - February

China in Four Seasons


Spring: March - May
Summer: June - August
Autumn: Sepember - November
Winter: December - February

China in Spring
Spring in China is a season of recovery, commonly warm with a little rain. Spring can also be delightful with the average temperatures roughly the same as in autumn, at about 10° C - 22° C.
China in Summer
Summer in China can be extremely hot with temperatures well above 22° C. You can go to summer resorts in some northern cities of China. Summer is also the rainy season, so travelers should not forget umbrellas, light raincoats and rubber shoes.
China in Autumn
Autumn is a season which is suitable to visit any city of China. Normally, the most comfortable season of the year in China is early autumn (September to early October). During that period, temperatures are reasonable throughout China at about 10° C - 22° C with a limited amount of rain. Autumn is a harvest season. The sky is bright and clear. Your eyes are filled with the most beautiful view of the natural world.
China in Winter
Winter can be incredibly cold especially in the north but off-season travel can also offer its rewards. For example, the Harbin Winter Ice Lantern Festival is a charming event. The southern China in winter is not that cold.
Tips:
Whenever you decide to travel to China try to avoid 1-3 May (Labor holidays) or 1-7 October (National Day) when hard-working Chinese get a one week holiday; University Holidays: Summer holiday (June-September) and Winter holiday (January-February). It is extremely crowded everywhere, especially in some hot destinations in China.
Tip 1: Take a Chinese Phrasebook
There is such a wide varity of Mandarin phrasebooks on the market. You may choose a useful Chinese phrasebook for Chinese travelers. If you meet any difficulty on your trip without any English speaking people around, you can turn to your Chinese phrasebook for help.
Tip 2: Bring some cash on hand
Cash is widely used in China though credit cards have become more and more popular. Some restaurants and stores don't accept credit cards. If you travel to some remote area, you will find paying cash is the only way of local payment.
Tip 3: Take Hand Sanitizer & Wet Wiper
It is very useful to have hand sanitizers and wet wipers on hand to clean your hands after dining, going to toilet or traveling in some crowded public places. It is advisable to carry alcohol pads to clean the ones in the restaurants.
Tip 4: Prepare for a Electrical Converter and Adapter Plugs
China uses generally 220V, 50HZ, AC (Hong Kong is 200V; Taiwan is 110V). A standard socket in China has two pins on the upper part and earthed three pins on the lower part. You may buy a portable plug adaptor at your home country or here in China. Some of your hotels in China offer free use of plug adaptors.
Tip 5: Do not Drink the Tap Water in China
Some hotels provide bottled water for free, use that even for brushing your teeth. Buy bottled water, or boil your own using the electric water heater found in every hotel room.
Tip 6: Bring Toilet Paper
Always bring tolet paper with you since most of the restrooms in China don't offer toilet paper except hotels.
Tip 7: Prepare for a photocopy of China Tourist Visa
Always prepare for a photocopy of your China tourist visa in case you lose your passport.
Tip 8: Always Carry one of the Hotel's Business Cards
Most hotels in China provide business cards (contact cards on the front desk). Please always take it for an easy return to the hotel.
Tip 9: Don't Forget to Ask for a Local Tourist Map from your Hotel
Most hotels in China provide free tourist maps. These maps are basically more informative than the maps in your China guidebook. But usually your hotel doesn't put them on the hotel front, you have to ask for it!
Visa application fees (peso/per)
| | | | | |
| --- | --- | --- | --- | --- |
| Time of Entries | Single Entry | Double Entries | 6 months-multiple Entries | 12 months-Multiple Entries |
| Philippines Passport | 1400 | 2100 | 2800 | 4200 |
| U.S.A Passport | 6500 | 6500 | 6500 | 6500 |
| Foreign Passport | 1700 | 2550 | 3400 | 5100 |
Places to apply for a visa
Address:
2nd & 3rd Floor,
the World Center,
330 Sen. Gil J. Puyat Avenue,
Makati City,
Metro Manila,
Republic of the Philippines.
Visa Office Hours:
09:00 am to 11:00 am (Monday to Friday, Except for Legal Festivals and Holidays )
Other Office Hours:
08:30 am to 12:00 am, 2:00 pm to 5:00 pm (Monday to Friday, Except for Legal Festivals and Holidays )
Contact Us:
Visa Section:
Fax. 0063-2-8482386
Inquiry: 0063-2-8482395 (Work Day 08:30 am - 10:30 am)
Email:
visasection_ph@sina.com
The following airlines provide frequent flights to Beijing:

5 Star Hotel
the 5 star hotels in China will offer you a good night stay with full range of moden room facilities. But the hotel rates are also very expensive usually ranging from USD100 to USD500 per room per night.
4 Star Hotel
You will feel very comfortable for most of the 4-star hotels in China. but some 4 star hotels are far below your expectation and you would like to stay in a clean and cozy three star hotel.
3 Star Hotel
There is a big difference between the quality among the three star hotels in China. The three star hotel rating is decided by the local governments with strong local protectionism. Some of the three star hotels are clean and comfortable; some are just rundown and shabby. Most of the three star hotels have no websites which make it quite difficult to book online.
2 Star Hotel
Strangely enough, 2 star hotels have comfortable facilities comparable to some 3-stars. But the problem for many 2 star hotels is that very few staffers can speak English. So if you are able to manage it, you may get some good rates.
One Star or Youth Hostel
Youth hostes are getting very popular in China. Low rates with simple and basic facilities. The rooms are clean and safe too. The staffers are always helpful and resourceful. Most of the staffers at youth hostels can speak English.
Upon departure, note that Chinese law stipulates that antiques dating from 1795 to 1949 be accompanied by an official certificate stating their provenance and that antiques dating prior to 1795 may not be legally exported.
Tel:+86-10-65321872
Tel:+86-10-65322451
Fax:+86-10-65323761
Consular Section:
Office Hours: 8:30 am -5:30 pm
Mondays to Fridays
Fax No. +86-10-65321921
Email:
philippineembassy@yahoo.com
24-hour Assistance-to-Nationals Hotline:+86-13911180495
For other inquiries during holidays and weekends, please call +8613811120334
For RMB (CNY) and PHP exchange rate, please visit CoinMill.com -
The Currency Converter
Electricity in Philippines is 220 Volts, alternating at 60 cycles per second. If you travel to Beijing and other parts of China, you will need a voltage converter and a plug adapter.
Internet
: Most hotel rooms will offer an internet connection for your laptop. Beijing airport, Starbucks, SPR and a number of other coffee restaurants provide free wi-fi. If you don't have a laptop, inexpensive internet bars are scattered around the city.
Post Offices: Airmail letters to Philippines should take between four days and a week to reach their destinations. Mark envelopes "air mai.par avion". Stamps are sold at the post office counters: there are no machines.
Telephone
: China's country code is 86 and Beijing code is 010.
Call a fixed phone
If you are going to call a fixed phone in a particular city in China, please dial the exit number of your home country + 0086 (China's country code) + city code ( Beijing's code) + phone number. Take dialing tour-beijing.com: 0086 – 10 – 67160201.
Call a cell phone
If you are going to call a mobile phone in a particular city in China, please dial the exit number of your home country + 0086 (Chinese country code) + cell phone number. Take dialing tour-beijing.com emergency cell phone 0086 - 13520598855

1 kilometers = 0.62 mile
1 meter = 1.09 yards
1 centimeter = 0.39 inch
1 kilogram = 2.2 pounds
1 gram = 0.035 ounce
1 liter = 0.76 pint
0C = 32 F
The PSB Office in Beijing
Tel: 010-84020101
Add: No.02, Andingmen Dong Dajie, Beijing
Subway: next to the subway station of Yonghegong (Lama Temple)
Bayley & Jackson Beijing Medical Center
7 Ritan Dong Lu, Chaoyang District, Beijing 100020
Tel: (8610) 8562-9998
Website:
http://www.bjhealthcare.com/
Beijing United Family Hospital and Clinics
2 Jiang Tai Lu, Chaoyang District, Beijing 100016
Emergency: (8610) 59277120
Tel: (8610) 59277000
Website:
http://www.unitedfamilyhospitals.com/
Beijing United Family Clinic in Shunyi District, Beijing
Pinnacle Plaza #818, Tian Zhu
Shunyi District, Beijing 101312
Tel: (8610) 8046-1102
GlobalDoctor, Ltd.
Clinics staffed by English-speaking doctors within the VIP wards of government-run hospitals in Chengdu, Nanjing, and Beijing.
24 Hour rescue hotline: (8610) 58151188
Fax: (8610) 58151128
International SOS
Operates modern medical and dental clinics; provides medical evacuation and medical escort services in Beijing, Nanjing, Tianjin and Shekou, with multilingual coordinators and doctors on duty.
24hr Alarm Centers in Beijing and Shanghai
Tel: (8610) 64629100
Website:
www.internationalsos.com/en/asia-pacific_china.htm
Peking Union Medical Hospital
1 Shui Fu Yuan, Dong Cheng Distict, Beijing 100730
24 Hour Emergency: (8610) 6529-5284
Registration: (8610) 6529-6114
Information: (8610) 6529-7292
Vista Clinic
B29 Beijing Kerry Center, No.1 Guanghua Road, Chao Yang District, Beijing 100020
Tel: 010-85296618
Fax: 010-85296615
Website
http://www.vista-china.net/
China-Japan Friendship Hospital
Tel: 84205566
Add: Yinghuayuan Dong Jie, Chaoyang District, Beijing
Beijing United Family Hospital and Clinics:
Tel: 59277000
Add: B1, St. Regis Hotel, 21, Jianguomenwai Dajie, Chaoyang District, Beijing
Ambulance: 120 or 999
We have over 100 predesigned China tour packages in 10 categories covering major destinations in China as well as China tailor made tours per your request.
Questions & Answers: