ABC of Bipenggou Scenic Area
Plan your Chengdu tour? It is worthwhile to have a side trip to Bipenggou, aka Bipeng Valley or 毕棚沟 in Chinese. Bipenggou (毕棚沟) is a high altitude valley between 2000m and 5000m, 4 km wide and 45 km long.
It has become an ecotourism resort, or officially known as Bipeng Valley Scenic Resort. It is located in Piaotou Township, Li County ( 理县)on the northern face of Siguniang Mountain, about 234 km to the northwest of Chengdu.
In Bipenggou Scenic Area, you will see  virgin forests, plateau lakes, snow-capped mountains, all year round glaciers, alpine meadows, limpid streams and waterfalls. It is a piece of pure land with zero air pollution index. You may come here any time of the year : snow skiing in winter; greenery in spring; flowering in summer and golden colors in autumn.
Best Time to Visit Bipenggou
Autumn is my favorite time to visit Bipenggou Scenic Area, a time to see the valley blanketed with autumn golden hues, a natural palette, like a fairyland on earth.
If you are in Chengdu, you are highly advised to make a day trip to Bipenggou from Mid-September through the end of October.
How to Get to Bipeng Valley and Stay
There are three daily buses going from Chadianzi Bus Station in Chengdu to Li County ( 7:10am; 8:10am; 9:00am ) and bus fare 58-62 yuan. 
In Li County, then you try to share a local bus going to Bipenggou ( about 20 yuan per person ).  If you would like to stay overnight in Bipenggou, you may stay at Bipenggou Hotel (Tel: 0837 – 6828666 ) , not far from the entrance to Bipenggou Scenic Area. But you still need to walk about 10 minutes to get to the Tourist Center for a shuttle bus going up to the valley.
Entrance Tickets
Buying your entrance ticket ( 80 yuan ) and shuttle ticket ( 60 yuan) at the Tourist Service Center. Opening hours: 07:00 am – 5:00 pm.
Line up at the tourist service center for taking a shuttle bus up to Shanghaizi 上海子 ( 28km from the tourist center) in the middle of the valley. Sightseeing around Shanghaizi, then you may take an electric car up to Moon Bay (月亮湾), 4 km from Shanghaizi, almost the end of the valley open to the public.
How to Visit Bipenggou
Alternatively you can hike up from Shanghaizi to Moon Bay (4km). After sightseeing around Moon Bay, you either take an electric car back to Shanghaizi or walk down the valley to Shanghaizi ( 4km ). From Shanghaizi, you take the shuttle bus back to the tourist service center to end your trip to Bipenggou.
Bipengou is freezing in the early morning, put on enough warm clothes, and be prepared for the temperature change in the morning and evening. The most visited area from Shanghaizi to Moon Bay is located at the sea-level of about 3000m. So get ready for your trip and prevent altitude sickness.
On October 21, we visit Bipenggou Scenic Area. Below are some of the pictures taken during this fantastic trip.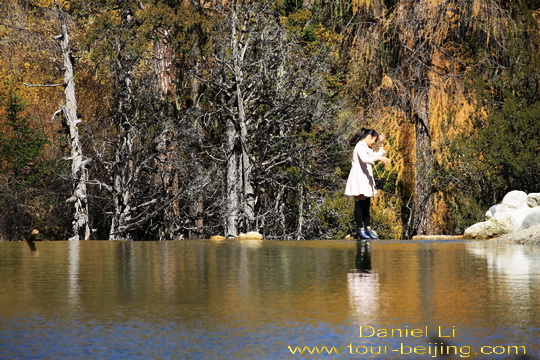 Hassle-free Chengdu & Sichuan Guided Tours
If you don't want to go the do-it-yourself route and prefer the hassle-free escorted tours, here are some options for Chengdu and Sichuan guided tours:
Chengdu tour
Chengdu Car Rental with Driver
Create My Chengdu Trip
Jiuzhaigou Tour
Sichuan Tour
Further Readings
---
Top 10 Attractions in Chengdu
Best Time to Visit Chengdu
Chengdu Airport
Railway stations in Chengdu
Chengdu Taxi
Chengdu Research Base of Giant Panda Breeding
How to visit Wuhou Shrine
How to visit Du Fu Thatched Cottage
How to visit Jinsha Site Museum
How to Visit Tomb of Wangjian
How to Visit Wangjiang Tower Park
How to Visit Qingyang Taoist Temple
How to Visit Jinli Street
How to visit Kuan Alley and Zhai Alley
How to visit Qintai Road, Qintai Street Chengdu
How to visit Shaoling Road Bar Street
How to Visit Jiuyanqiao Bar Street
The Old Teahouse in Pengzhen Town, Chengdu
Bipenggou, Bipeng Valley (Tips, Photos & Map)
Best time to visit Jiuzhaigou
Best Places to Visit Autumn Leaves in Sichuan
Top 10 Places to Visit in Sichuan
Ruoergai Grassland, my first trip to Ruoergai Grassland
Drive from Hanzhong to Ya'an
Ya'an Night View
Most Beautiful Sky Road in China
Moxi Old Town ( Tips, Photos & Map)
Hailuogou Glacier Camp No.04 (Tips,Photos & Map)
Hailuogou Glacier Camp No.03 (Tips, Photos & Map)
Kangding (Tips, Photos & Map)
Drive from Kangding to Xinduqiao
Drive from Xinduqiao to Danba
Jiarong Tibetan Blockhouses
Jiarong Tibetan Ancient Watchtowers
Drive from Xinduqiao to Yajiang
Drive from Yajiang to Litang
Drive from Litang to Daocheng
Drive from Litang to Batang
Drive from Batang to Mangkang
Drive from Mangkang to Deqin
Kawagarbo Viewed from Feilaisi
Drive from Deqin to Shangri-la (Zhongdian)
Ganden Sumtseling Monastery Dwells Your Soul
Pudacuo is an earthly paradise
Drive from Shangri-la to Daocheng
Drive from Daocheng to Yading
Yading Brings You Inner Peace
Any questions, just drop a line.