Yesterday we traveled all the way from Daocheng back to Xinduqiao (358km) via Litang (148km) and Yajiang (286km), getting over Rabbit Mountain Pass (4696m), Kazila Mountain Pass (4718m), Jianziwan Mountain Pass (4659m) and Gaoersi Mountain Pass (4412m).
Last time we entered Xinduqiao Town around 2:00pm on October 09, for the first time, driving from Kangding to Xinduqiao, and spending 2 hours photographing the bucolic landscape along the National Highway G318 in the town; two hours later we continued to get from Xinduqiao to Yajiang.
Xinduqiao Town, a mecca for camera-toting tourists
Xinduqiao has become a buzzword in the past 20 years. The big increase of photography enthusiasts around China thrusts the place into the limelight. Yesterday afternoon we saw the one-street town was peppered with camera-toting tourists looking for lights and colors.
Xinduqiao Town is recognized on the Google Map as "Xinduqiaozhen", and here "zhen" literally means "town". Xinduqiaozhen is about 80km west of Kangding and 437 km west of Chengdu, Xinduqiao (新都桥) is a town under the administration of Kangding.
The influx into the town of tourists and photography aficionados has greatly developed the local economy, especially in the hotel and catering fields. At nightfall, the hotels and restaurants colorfully lit garnished the far-flung town with a layer of  modernity.
We stay at Muya Se'e  Hotel (木雅色俄酒店). The hotel is also used as an army service station ( a guesthouse for transit servicemen). The staff at the front desk were nice and very helpful. The room is up to the 3 star standard with basic modern facilities, comfy and clean with wifi service.
Scenic Xinduqiao to Danba ( 丹巴 ) Road Trip
We leave Xinduquao Town at 9:00am and start up our long-expected self-drive trip from Xinduqiao at 3450m to Danba at 1860m.
It is a wonderful 150 km drive morphing from Muya Tibeten area (木雅藏族聚居区) to Jiarong Tibetan area (嘉绒藏族聚居区).
We are supposed to drive on the provincial level Highway S303, linking Xinduqiao to the National Highway G317 in the north and passing by Tagong (33km) and Bamei (60km); at Bameizhen ( Bamei Town), turn to the northeast direction on the S303 for Danba County (87km).
Muya (木雅) and Jiarong (嘉绒)
Muya, aka Minyak (木雅) and Jiarong, aka Gyarong (嘉绒) are two branches of the ethnic Tibetans living in Kham. Kham is one of the four Tibetan traditional regions – 1) Ngari: in the far west region of Tibet; 2) U-Tsang: in the central region of Tibet; 3) Kham in the southeast of Tibetand 4) Amdo: in the northeast of Tibet.
Muya Tibetans and Jiarong Tibetans speak the Tibetic languages which are mutually unintelligible to a large extent. The languages have no script, but the oral languages are very much alive. They both speak Mandarin Chinese when they need to communicate with outsiders.
Muya Tibetans (aka Minyak Tibetans) live in the area between Zheduo Mountain and Yajiang ( including Xinduqiao), south of Danba and north of Jiulong County, a historically regarded by Tibetans as "Muya" (or Minyak) territory. They are half farmers, and half nomads.
Jiarong Tibetans ( aka Gyarong Tibetans ) live in Danba (Rongtrak), Jinchuan, Xiaojin (Tsenlha), Heshui (Trochu), Ma'erkang (Barkham), Wenchuan (Lunggu) and Kangding (Dartsedo) in Aba Tibetan and Qiang Autonomous Prefecture and Ganzi Tibetan Autonomous Prefecture. The Jiarong area is very fertile at relatively low elevations between 1800m and 2500m. Most people work in farming thanks to the much more temperate climate than the nearby Amdo and Kham regions.
Muya Tibetans and Jiarong Tibetans are different in the aspects of clothing, housing, customs and festivals. We drive gradually from the 3450m Xinduqiao down to the 1800m Danba, detecting the smooth transition from the mixed Pastoral and settled farming to settled farming and agriculture.
Xinduqiao  – Tagong  (33km)  新都桥至塔公
Driving 7km westwards through the one street town for about 10 minutes and turn north at the first intersection on the provincial level Highway S303, we will pass by Tagong (33km), Bamei (60km) and Danba (143km).
Again it is a sightseeing asphalt avenue on a flat valley lined with golden meadows, crystal-clear streams, yellow poplar trees and Tibetan stone houses against the meandering mountains under the canopy of the blue sky and white clouds.
Yaks and horses grazing on the expansive roadside meadows on the valley between the undulating mountains.
Some local Tibetan villagers here are scattered on the mountain slopes surrounded by fields instead of being in a clustered settlement. Most of the Muya Tibetan houses are made of bricks or stones.
The stone houses have flat roofs and many windows with a compound like a castle with defensive purposes. They are cool in summer and warm in winter. The first floor is often used to store livestock and fodder; second floor for human living.
Some local Tibetan villagers live in a clustered community on the hillside.
Rural Tibetans usually live in hillside houses facing the sun and not far from brooks. The golden poplar trees, limpid stream, Tibetan village and the undulating mountains, a typical bucolic landscape.
A local Muya Tibetan is working on her pastoral fields. Yaks, horses, sheep are grazing in the tall grasses in the golden meadow.
Moving on and we see a larger Muya community skirting on the hillside surrounded by an expansive meadow. I take a photo of the Muya settlement through roadside fluttering prayer flags.
We are driving through Tagong Town (aka Lhagang ) at 3700m, a booming town developed from a small village due to the influx of more and more tourists.
Tagong Town is well-known for the same name Tagong Monastery and its surrounding Tagong Grassland that offer great views against the sacred Yala Mountain at 5820m.
Very soon the famous Tagong Monastery is in sight. "Tagong" literally means "A place favored by Buddha". The legend goes that when Princess Wencheng, the Chinese would-be bride of Tibetan king of Songtsen Gampo, was on her way to Lhasa passing by this place, the precious statue of Jowo Sakymuni Buddha on the cart suddenly refused to go further on her caravan and people found the Buddha liked the place.
Later a replica of the original statue was made on the place the Buddha liked and a temple was built around it. The original Buddha is now in Jokhang Temle in Lhasa and the replica in Tagong Temple which is often regarded as "Little Jokhang Temple".
We don't go inside Tagong Temple, driving a bit further and get off at the parking lot in Tagong Grassaland nearby. The Tagong Grassland is centered on the Muya Golden Pagoda circled by the red wall compound.
The Muya Goden Pagoda (木雅金塔) was built 1997 with the fund donated by a Living Buddha of Zhuqing Monastery, a Nyingmapa or Red Sect temple.
A close-up view of the Muya Golden Pagoda with the backdrop of Yala Snow Mountain. It is said that over 100kg pure gold was used to build the pagoda to commemorate the Living Buddha 10th Panchan.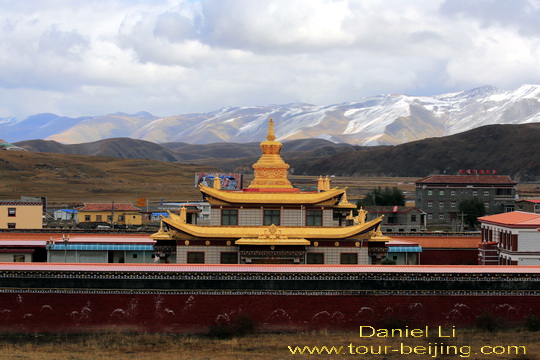 Numerous white pagodas atop the one section of the compound walls with the backdrop of Yala Mountain.
Behind Tagong Monastery there are three meadow hills that are decorated with colorful prayer flags formed in triangle or quadrangle fluttering in the wind, adding much mystery and grandness to the hills.
Tagong  – Bamei (30km) 塔公至八美
Back to our Highlander and leaving Tagong Grassland, we continue our self-drive trip along the Highway S303. At Bamei Town, the Highway S303 divides into two "303" roads – one to the north and the other to the east leading to Danba.  At Bamei we choose the east S303 going to Danba.
The view along the 30km road from Tagong to Bamei is a bit dull and monotonous unlike the bucolic countryside from Xinduqiao to Tagong. But we do see the spectacular views of huge mantra painted on the hillslope and colorful prayer flags fluttering in the wind on the mountains.
The mantra "om mani padme hum", the most mysterious and yet ubiquitous mantra of Tibet. We often see the mantra painted on pebbles, rocks, stone slabs, doors, walls and even hill slopes!
We drive by a mountain with a huge mantra painted on the slope with colorful prayer flags.
Now we are at the intersection of Bamei Town – Following our nose is the north direction passing through Bamei Town; turning right (right side) will be on the S303 leading to Danba County.
Bamei is a town under the jurisdiction of Dawu County (道孚县) in Ganzi Tibetan Autonomous Prefecture.
On the left side of the intersection is a Sichuan restaurant. If you are going from here to Danba, we suggest you have lunch here because for the next 87km from Bamei to Danba there will be restaurants on the way.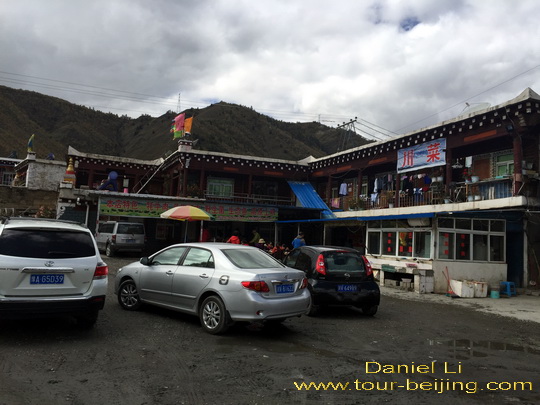 Bamei Town- Danba  (87km) 八美至丹巴
We decide to skip the sit-down lunch and continue our journey east along the S313 for Danba. We eat some snacks stored in our vehicle for lunch and agree to have a big dinner this evening when we arrive Danba.
For the 87km overland trip, there are two impressive sights – Huiyuan Monastery in Xie De Town 协德乡 ( formerly the ancient Tai Ning City ) of Dawu County (道孚县) in Ganzi Tibetan Autonomous Prefecture and the majestic Yala Snow Mountain at the elevation of 5820m.
The formerly Tai Ning City ( 泰宁城 ) was established in 1725 during Qing Dynasty ( 1644 – 1911). The well-known general – Nian Genyao led his army stationed in the city for the defense against the aggressive Junggar tribes.
In 1728, Qing government allocated the money to build a temple by the Tai Ning City. The temple was known as Huiyuan Monastery (惠远寺) used to accommodate the 7th Dalai Lama Kelzang Gyatso in order to keep him from the threat posed by Junggar tribes.
Later on with the building of Huiyuan Temple, Tai Ning City flourished with the influx of religious pilgrims, traders from Sichuan and Shanxi, which also enhaned the culture exchanges.
Khedrup Gyatso, the 11th Dalai Lama of Tibet was born in Xia Village near Tai Ning City in 1892.
Yala Mountain at 5820m is located on among the border area of Kangding, Daofu and Danba of Ganzi Zang Autonomous Prefecture.
The summit of Yala Mountain is shrouded with snow all year round. It is a famous holy mountain Kham area. There are ten gullies in Yala Mountain Range.
We get to the downtown of Danba at 3:30pm and stay at Danba Xingji Hotel (丹巴兴吉大酒店) by Dadu River.
Add-On
Drive from Hanzhong to Ya'an
Ya'an Night View
Most Beautiful Sky Road in China
Moxi Old Town ( Tips, Photos & Map)
Hailuogou Glacier Camp No.04 (Tips,Photos & Map)
Hailuogou Glacier Camp No.03 (Tips, Photos & Map)
Kangding (Tips, Photos & Map)
Drive from Kangding to Xinduqiao
Drive from Xinduqiao to Danba
Jiarong Tibetan Blockhouses
Jiarong Tibetan Ancient Watchtowers
Drive from Xinduqiao to Yajiang
Drive from Yajiang to Litang
Drive from Litang to Daocheng
Drive from Litang to Batang
Drive from Batang to Mangkang
Drive from Shangri-la to Daocheng
Drive from Daocheng to Yading
Yading Brings You Inner Peace
Hassle-free Chengdu & Sichuan Guided Tours
If you don't want to go the do-it-yourself route and prefer the hassle-free escorted tours, here are some options for Chengdu and Sichuan guided tours:
Chengdu tour
Chengdu Car Rental with Driver
Create My Chengdu Trip
Jiuzhaigou Tour
Sichuan Tour
Further Readings
---
Top 10 Attractions in Chengdu
Best Time to Visit Chengdu
Chengdu Airport
Railway stations in Chengdu
Chengdu Taxi
Chengdu Research Base of Giant Panda Breeding (Tips, Photos & Map)
How to visit Wuhou Shrine
How to visit Du Fu Thatched Cottage
How to visit Jinsha Site Museum
How to visit the tomb of Wang Jian in Chengdu
How to Visit Wangjiang Pavilion Park in Chengdu
How to visit Qingyang Palace in Chengdu (Tips, Photos & Map)
How to Visit Jinli Street
How to visit Kuan Alley and Zhai Alley
Qintai Road, Qintai Gujing Chengdu (Tips, Photos & Map)
Shaoling Road Bar Street Chengdu (Tips, Photos & Map)
Jiuyanqiao Bar Street in Chengdu (Tips, Photos & Map)
The Old Teahouse in Pengzhen Town, Chengdu
Bipenggou is a fairyland in Autumn
When is the best time to visit Jiuzhaigou?
Best Places to Visit Autumn Leaves in Sichuan
Top 10 Places to Visit in Sichuan
Ruoergai Grassland, my first trip to Ruoergai Grassland
Any questions, just drop a line.