After simple breakfast at our lodging hotel, at 7:30 am in the wet autumn day,  we leave the cozy and green city of Hanzhong (汉中), driving through the main street and Han River Bridge in patchy fog and drizzle.
Hanzhong – Guangyuan – Chengdu – Ya'an 600km Road Trip
Today we spend most of our daytime driving on route, a 600km and 7-hour long haul G5 (Jingkun Freeway ) from Hanzhong to Ya'an.
We enter Sichuan Province at Guangyuan (广元), known as the northern gate to Sichuan and further going southwest, passing by Mianyang (绵阳), Deyang (德阳) , Chengdu (成都) and getting to Ya'an (雅安), our final destination today.
The screenshot below gives you a rough idea of our traveling route today.
Shudao (Roads to Shu) 蜀道
The roads between Xian and Chengdu which we are driving past so quickly, dating back to in the Warring States (481-221 BC) period, the Qin (221-206 BC) and Han (206 BC to 220 AD) dynasties, were collectively known as Shudao "Roads to Shu" (蜀道) or "Hard Roads to Shu". Chengdu is officially abbreviated as Shu (蜀) and Shu was an ancient state in modern Sichuan.
The ancient Shudao "Roads to Shu" were built connecting both north-south sides of the mountainous barrier formed by the Qinling (秦岭).
"Shu Roads" served as a bridge linking Chang'an (长安), near present day Xi'an in the north and Shu (蜀) in the south, the present day Chengdu in the Sichuan plain. Some of the roads have been preserved and maintained, even consolidated up till today while others have faded away.
"Shu Roads" also bridged the two most important historical "Highways" in China history – the southern trade routes such as the Tea and Horse road to Tibet and northern routes such as the Silk Road to the west.
Enter Guangyuan (Sichuan Province)
When we are passing through the Qipanguan Toll Gate at Guangyuan (广元), formally entering Sichuan Province, we see the banner hanging above says "Welcome to Jianmen Shudao (literally Shu Roads ) at Mingyue Gorge Tourism Area".
People haven't forgot the Shudao (hard Shu Roads) and the local government has developed Shu Roads ecological and historical tourism routes.
In the course of driving, we are still amazed by the high-quality construction of the flat and wide freeway framed with charming Chinese traditional paintings of the clouds and mountains.
For an urban dweller, driving fast through the mountainous areas is definitley a luxury rewinding experience!
Jianmen Pass Service Stop on Route
We take a break at Jianmen Pass Service Area.  Jianmen is a county under Guangyuan City.  This county is well known for its Jianmen Pass, the strategically located pass and the endless Shudao (Shu Roads).
Here you can view the magnificent scenery, but also have the chance to look for  the traces of the historical site of the Three Kingdoms and more. But we have to say goodbye to the intriguing Jianmen Pass and Shu Roads and go on with our dream focused on the West Sichuan.
Arriving at Ya'an
When We've reached the city of Ya'an (雅安) driving all the way from Hanzhong (汉中) along the expressway G5 (Jingkun Expressway), it is getting darker. The city looks neat and bright with Qingyi River (青衣江) winding past cutting the city into two parts. Actually the city of Ya'an is built on the two sides of the valley of Qingyi River.
We are pleasantly surprised at the solemn beauty of the largest covered bridge (Langqiao) I've ever seen, which is just across our lodging hotel – ibis downtown Ya'an.
Ya'an has long been well known for its "three most famous" – Ya Fish, Ya Girls and Ya Rain. Tasting Ya fish is a must for tonight. Just forget Ya rain, as Ya'an is noted for a city of rain, the most rainy city in Sichuan Province and hopefully we'll have a sunny and bright day tomorrow. The girls in Ya'an are said to to be beautiful, so we'll see!
Ya Fish Dinner at Ya'an
Our growling stomach reminds us of the need to have dinner first upon arrival at the pretty city.  Ibis downtown Ya'an suggests us have Ya fish at the time-honored Ganlaosi Ya Fish Restaurant ( 干老四雅鱼饭店), a ten-minute drive from our hotel.
This is a chain restautant and we go to its flagship restaurant – Ganlaosi Ya Fish at Sha Wan ( tel: 035-2821584 Add: No.236, Shawan Road, Yucheng District, Ya'an 雅安市雨城区沙湾路236号).
We order a Ya fish braised in soy source with red peppers. It tastes soft, delicious and melts in our mouths. The Ya fishes live in Zhou Gong River, a branch of Qingyi River.
Ya fish caught alive and cooked freshly.
The cooked Ya fish tastes delicious and melts in our mouths.
Night Tour of Ya'an City
As a Chinese saying goes "One hundred steps of walking after dinner make you live to 99  years old", we take  a short stroll after supper,which is said to be good for health.
The walk along the river bank turns out to be a joyful experience! The walkway along the river bank is partially made of synthetic tracks and paving stones. Sporadic river bank parks are set attached to the walkways, making a stroll along the banks pleasant and comfortable.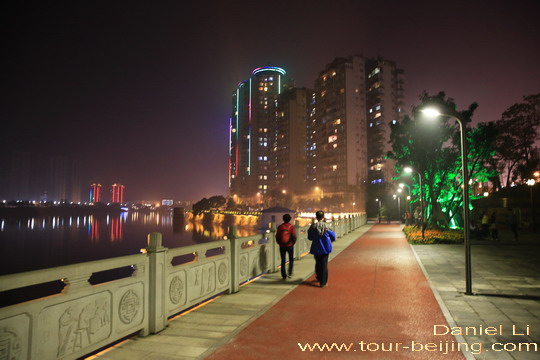 The concrete guardrails are lit outside with their reflections on the river, prettifying the river sides.
The night views of the bridges straddling Qingyi River are astonishedly beautiful with coloful lights and shades. This is Qingyi River Bridge lit brightly with a fishing boat on the river.
The largest covered bridge I've ever seen spans Qingyi River in Ya'an city, brightly lit.
Local people are seen singing and dancing leisurely and happily at the riveside park, a pleasant city for slow life and a mecca for retirees.
More bridges are built to connect the two sides of the river in Ya'an city.
If you are planning Chengdu tour,  you are highly recommended to have a side trip to Ya'an, a sharp contrast to the hustle and bustle of Chengdu.
Add-On
Drive from Hanzhong to Ya'an
Ya'an Night View
Most Beautiful Sky Road in China
Night View of Moxi Old Town
Camp No.03 at Hailuogou Glacier
Camp No.04 at Hailuogou Glacier
Night View of Kangding
Drive from Kangding to Xinduqiao
Drive from Xinduqiao to Danba
Jiarong Tibetan Blockhouses
Jiarong Tibetan Ancient Watchtowers
Drive from Xinduqiao to Yajiang
Drive from Yajiang to Litang
Drive from Litang to Daocheng
Drive from Litang to Batang
Drive from Batang to Mangkang
Drive from Shangri-la to Daocheng
Drive from Daocheng to Yading
Yading Brings You Inner Peace
Hassle-free Chengdu & Sichuan Guided Tours
If you don't want to go the do-it-yourself route and prefer the hassle-free escorted tours, here are some options for Chengdu and Sichuan guided tours:
Chengdu tour
Chengdu Car Rental with Driver
Create My Chengdu Trip
Jiuzhaigou Tour
Sichuan Tour
Further Readings
---
Top 10 Attractions in Chengdu
Best Time to Visit Chengdu
Chengdu Airport
Railway stations in Chengdu
Chengdu Taxi
Chengdu Research Base of Giant Panda Breeding (Tips, Photos & Map)
How to visit Wuhou Shrine
How to visit Du Fu Thatched Cottage
How to visit Jinsha Site Museum
How to visit the tomb of Wang Jian in Chengdu
How to Visit Wangjiang Pavilion Park in Chengdu
How to visit Qingyang Palace in Chengdu (Tips, Photos & Map)
How to Visit Jinli Street
How to visit Kuan Alley and Zhai Alley
Qintai Road, Qintai Gujing Chengdu (Tips, Photos & Map)
Shaoling Road Bar Street Chengdu (Tips, Photos & Map)
Jiuyanqiao Bar Street in Chengdu (Tips, Photos & Map)
The Old Teahouse in Pengzhen Town, Chengdu
Bipenggou is a fairyland in Autumn
When is the best time to visit Jiuzhaigou?
Best Places to Visit Autumn Leaves in Sichuan
Top 10 Places to Visit in Sichuan
Ruoergai Grassland, my first trip to Ruoergai Grassland
Any questions, just drop a line.