Walking down the rugged hill, tired, but we feel exhilarated with our lucky encounter with Kawagebo Peak. Back to our lodging hotel in Feilaisi around 11:15 am, 12 October,2015, we check out and upload our large pieces of luggage, handbags, tripods up to our Toyota Highlander SUV, ready to go to Shangri-la ( formerly Zhongdian ) along the National Highway G214 (Yunnan-Tibet Highway).
Feilaisi is a temple-turned "town", dusty and scruffy with a few unpaved lanes swarm with inn and hotels cascading the hillside. Mrs Chen Ya proposes that we should visit Feilai Temple before we start our road trip along G214 to Shangri-la ( formerly Zhongdian ).
Mr.Chen drives his white horse down to the only paved main road and stops by the roadside above the temple.
The monastery is perched on the flat land by the hillside down below the main road facing Kawagebo Peak.
We walk down the stone steps and soon see Feilai Temple just vividly standing in front of us. Originally built in 1614, the monastery is now devoted to the flying Buddha – Juewu Nanka Tashi and Kawagebo Peak.
Inside the temple, there is a monument titled "Sino-Japanese Joint Expedition Martyrdom" to remember the 17 warriors who were killed in the accident of avalanche on 04 Jan, 1991.
We don't go inside the temple, just have a look at its exterior and pray siliently in hearts and minds. Retracing the steps up to the roadside where our vehicle is parking, we get on the vehicle and Mr. Chen starts the engine and slowly drives through the two-horse town.
Very soon we find our white horse running fast down south for our destination today – Shangri-la ( formerly Zhongdian ) along the National Highway G214.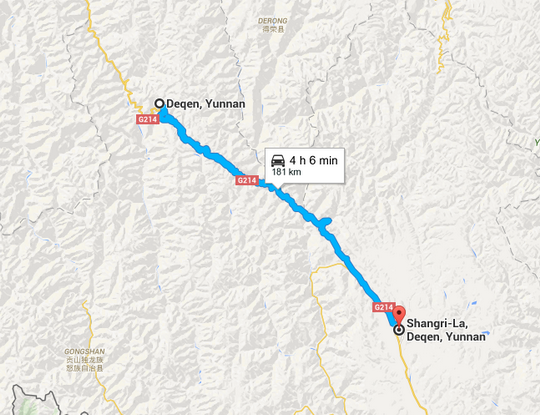 The G214 (Yunnan-Tibet Highway ) from Deqin to Shangri-la is de facto a sightseeing avenue, which cuts through the intoxicating Baimang Snow Mountain ( also known as Baima Snow Mountain 白马雪山 ). Lying in the mid-section of Hengduan Mountain, Baima Snow Mountain runs from north to south with 20 peaks over 5000 meters and its highest peak at 5430 meters.
With a relative height of over 3000 meters, Baima Snow Mountai has varied landscapes and rich flora and fauna. Over 10 species of plants under State Protection such as Circaeasteraceae (星叶草) and Pseudotsuga forrestii (澜沧黄杉) ; Over 30 species of animals under state protction include Dian Golden Moneys, Clouded Leopard and Red Panda. In 1988, Baima Snow Mountain National Nature Reserve was set up.
The G214 Highway runs almost parallel along the permanent snow-capped Baima Snow Mountain for about 100 km and ends at Benzilan Town (奔子栏镇). Located almost midway between Deqin and Shangri-la, Benzilan Town breaks the road trip up nicely where most travelers would stop for lunch and relaxation. The undulating snow line resembles a galloping horse, hence Baima Snow Mountain ( literally White Hore Snow Mountain ).
Autumn garnishes Baima Snow Mountain with a palette of colors on its relatively low elevation areas – red, yellow and green and as if you were immersed in multi-colored fairyland. Just imagine you are driving along a galloping white snow horse and a long fluttering palette!
Now follow us to drive through the magical and stupendous National Highway G214 from Deqin to Shangri-la!
Wow the autumn sky is so blue and high! Under the canopy of the clear autumn sky, we feel we are driving to the edge of the world, touching the white clouds and flying in the heaven.
The Highway G214 quietly snakes around the forested mountain slopes with colorful autumn hues and a backdrop of the undulating Baima Snow Mountain.
Baima Snow Mountain Nature Reserve is characteristic of the spatial structure of alpine trees with spectacular horizontal distribution patterns. Subalpine coniferous forests are distributed at the altitude of 2300 – 3000m meters.
Autumn has turned the forests into a sea of colors, a token of the warm hospitality of the high mountains.
We stop for several times on the way to view the multi-colored alpine trees as if the sky had accidentally kicked a huge bucket of paint into the forests.

The 20 snow peaks on Baima Snow Mountain Range escort us through the journey like a galloping horse in relay. We don't know how many times we stop our vehicle to get a glimpse of the massive and sublime snow peaks.

I use my long-range camera to zoom in the distant summit of the high snow peaks over 5000-meter altitude, scree above the treeline, a sublime scene of rocky, barren and snowcapped mountain peaks.

Baima Snow Mountain is characteristic of the spatial structure of alpine trees with spectacular horizontal distribution patterns – Subalpine fir, conifers and broadleaves, alpine coniferous forests, meadows, treeline and scree.

Around 4:00 pm, we drive through Benzilan Town lying on the west bank of Jinsha River, a border dividing line river with the east side of the river being Derong County in Sichuan. The town looks very basic and not different from the small Chinese towns. Many travelers would stop at Benzilan Town, a rest stop for lunch and relaxation. We don't stop at the town for lunch since we eat some snacks we have bought in advance to save the time on route.
But seeing the valley of Jinsha River, bleak, imposing, amazing natural grandeur, Mrs Chen Ya requests her husband to stop for a while to enjoy the panorama of Jinsha River, a major headwater of the Yangtze River.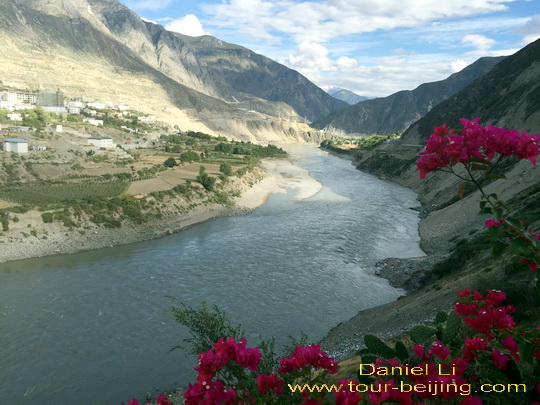 Not far further down south, we spot a hamlet on the flat high land circled by the high mountains with a spectacular view. It should be a small Tibetan village.

The drive from Benzilan Town towards Shangri-la is a bit monotonous with Baima Snow Mountain leaving us. The mountains flanking the National Highway looks rocky and bleak. But this doesn't last long.
While Mr. Chen is steadily driving his white horse, I see through the windshield using my long-rang camera, a sublime view of a glistering lake surrounded by the grassland. Mr. says this is Napa Lake Nature Reserve (纳帕海自然保护区), about 8 km northwest of Shangri-la city center.
Napa Lake Natural Reserve is the sort of wetland reserve, a tableland seasonal marsh lake. It has the largest grassland in Shangri-la. It is most well-known for its black-necked cranes coming here for winter.
It is a bucolic view – golden barley haystacks hanging on the drying racks with the expansive grassland and the lake.
Through my side window, I spot some Tibetan farmers plowing a field using manual trucks with horses and sheeps grazing by the side of golden barley drying racks.
Before we enter the city of Shangri-la, we stop for a while at the viewing platform of Napa Lake on the roadside of the National Highway G214. The sun is setting with reddish reflection on the marsh lake.
Now back to our vehicle and we are ready to enter the city of Shangri-la, formerly known as Zhongdian. The name change is largely due to the local government's desire to attract more mass tourists in the same manner of its nearby city of Lijiang. Shangri-la is a fictional land described in his novel Lost Horizon by James Hilton in 1933.
Under the sun glow, we slowly drive into the legendary city now officially named Shangri-la, a paradise on earth.
Any questions on the drive from Deqin to Shangri-la ( formerly Zhongdian), just drop a line.
Add-on
Drive from Hanzhong to Ya'an
Ya'an Night View
Most Beautiful Sky Road in China
Moxi Old Town ( Tips, Photos & Map)
Hailuogou Glacier Camp No.04 (Tips,Photos & Map)
Hailuogou Glacier Camp No.03 (Tips, Photos & Map)
Kangding (Tips, Photos & Map)
Drive from Kangding to Xinduqiao
Drive from Xinduqiao to Danba
Jiarong Tibetan Blockhouses
Jiarong Tibetan Ancient Watchtowers
Drive from Xinduqiao to Yajiang
Drive from Yajiang to Litang
Drive from Litang to Daocheng
Drive from Litang to Batang
Drive from Batang to Mangkang
Drive from Mangkang to Deqin
Kawagarbo Viewed from Feilaisi
Drive from Deqin to Shangri-la (Zhongdian)
Ganden Sumtseling Monastery Dwells Your Soul
Pudacuo is an earthly paradise
Drive from Shangri-la to Daocheng
Drive from Daocheng to Yading
Yading Brings You Inner Peace
Hassle-free Chengdu & Sichuan Guided Tours
If you don't want to go the do-it-yourself route and prefer the hassle-free escorted tours, here are some options for Chengdu and Sichuan guided tours:
Chengdu tour
Chengdu Car Rental with Driver
Create My Chengdu Trip
Jiuzhaigou Tour
Sichuan Tour
Further Readings
---
Top 10 Attractions in Chengdu
Best Time to Visit Chengdu
Chengdu Airport
Railway stations in Chengdu
Chengdu Taxi
How to visit Wuhou Shrine
How to visit Du Fu Thatched Cottage
How to visit Jinsha Site Museum
How to Visit Tomb of Wangjian
How to Visit Wangjiang Tower Park
How to Visit Qingyang Taoist Temple
How to Visit Jinli Street
How to visit Kuan Alley and Zhai Alley
How to visit Qintai Road, Qintai Street Chengdu
How to visit Shaoling Road Bar Street
How to Visit Jiuyanqiao Bar Street
The Old Teahouse in Pengzhen Town, Chengdu
Bipenggou is a fairyland in Autumn
When is the best time to visit Jiuzhaigou?
Best Places to Visit Autumn Leaves in Sichuan
Top 10 Places to Visit in Sichuan
Ruoergai Grassland, my first trip to Ruoergai Grassland