Plan your Jiuzhaigou tour? Jiuzhaigou, aka Jiuzhai Valley National Park is a nature reserve in the north of Sichuan Province, well known for colorful lakes, waterfalls, Tibetan villages & rare wildlife. It takes one and half hours' drive from Jiuzhagou to Jiuzhai Huanglong Airport, which brings you back to Chengdu for a one hour's flight.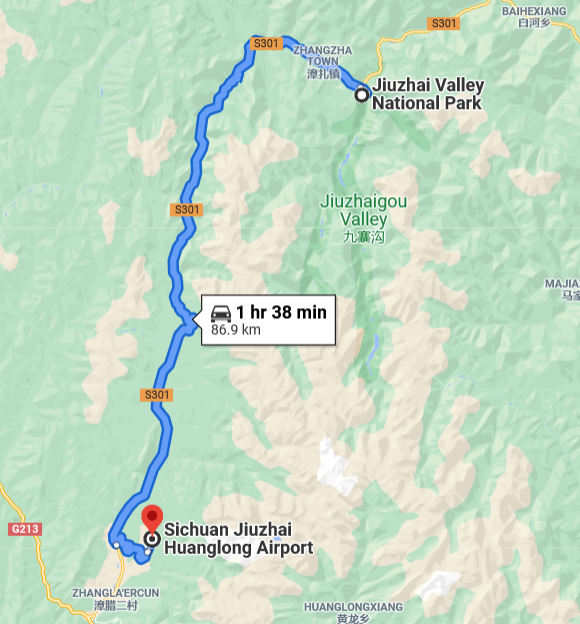 Jiuzhaigou (Jiuzhai Valley) is not only famous for its beauty but also its pleasant weather. It belongs to the moisture plateau climate. The rainfall in Jiuzhaigou is very little but concentrating. July and August are the two typical rain seasons.
When is the best time to visit Jiuzhaigou? Most people think autumn gives the most beautiful scenery of Jiuzhaigou Valley.
Best Time to Visit Jiuzhaigou
September through November is the best time to visit Jiuzhaigou.  October 15 through 30 is the golden time for viewing colorful leaves.
In fact, different seasons give Jiuzhaigou different kind of beauty. It all depends on your budget, tolerance for large crowds, your personal interests and, another time of year may suit you better.
Check out below to have some information on each season:
Jiuzhaigou in Spring ( March – May)
Jiuzhaigou spring is from March till the end of May. As spring approaches, rivers are swelling. There is strong sunlight in Jiuzhaigou because of the plateau landscape there.
Jiuzhaigou in spring has strong ultraviolet radiation. Bring your sunglasses, sunblock. Big temperature between day and night, still need to wear winter clothes in the evening.
Late March in Jiuzhaigou is still quite chilly, a big temperature difference between day and night, you still need to wear a winter jacket in the evening. Average temperature: 17 ℃(day ) and 7℃ (night).
It may rain during the day, bringing your rain jacket. Late March is not the best season to visit Jiuzhaigou, a bit cold and the trees are not very much green.
But its advantage is that you can have discounts for entrance fees and less crowded in the scenic area since it is still in low tourist season. After all, it is not bad to visit Jiuzhaigou in late March.
Jiuzhaigou in Summer (June – August)
Summer in Jiuzhaigou starts from June and ends in August. At that time every where of Jiuzhaigou is green: green mountains, green water and green trees. Jiuzhaigou is not hot in summer except those places blazed down by sun.
Summer is also the rainy season of Jiuzhaigou. There will be suddenly rain there. It will be the best time for taking photos after rains. You should not miss your sunglasses, sunbonnet, sun lotion and umbrella.
Jiuzhaigou in Autumn (September – October )
Jiuzhaigou Valley enjoys its most beautiful appearance in fall. The sky is bright and clear. The colorful leaves and tourists are reflected on the bright and clear lakes and fallen leaves are floating on the surface of water.
Your eyes are filled with the most beautiful view of the natural world. You will be surprising of the masterpiece by nature!
By the way, the difference in temperature between day and night is bigger in autumn, take a thick coat with you.
Foliage Color Coverage in Jiuzhaigou:
Class No.01 (Oct 15 – 18): Foliage color coverage 10%~35%,yellow color, a good time for viewing colorful leaves.
Class No.02(Oct 18 – 22 ): Foliage color coverage 35%~60%,yellow and orange, a very good time for fall foliage.
Class No.03(Oct 22 – Nov.02): Foliage color coverage 60%~95%,red and purple colors, the best time for leaf peeping.
So Mid or the end of October is the best time for viewing colorful leaves.
The temperature in October is average 10℃(night)and 23℃(day). I suggest you still need to bring sweaters or even winter clothes like down jackets. The weather in Jiuzhaigou is changeable and often showers since Jiuzhaigou sits at the sea-level over 3000m
Jiuzhaigou in Winter (November – February)
Jiuzhaigou Nature Park enters into winter from mid-Nov to mid March. In winter, Jiuzhaigou Nature Park is snowy from time to time. Jiuzhaigou is covered by snow and turns into a pure white world. White is the theme color in winter of Jiuzhaigou.
It is a low season to travel Jiuzhaigou, so you can save money if you go there in winter.
By the way, be aware of Altitude Sickness at Jiuzhaigou, especially Huanglong is located over 3000 meters above sea level. To avoid possible altitude sickness, you are strongly advised to be prep for the travel at high sea level.
1) Don't talk too much on the way
2) Don't take a bath on the first day
3) Don't drink alcohol
4) Ready for some altitude medicine or canisters of oxygen
Organized Jiuzhaigou and Huanglong Tour
If you don't want to plan a do-it-yourself trip, here are some options for guided tours to Jiuzhaigou and Huanglong:
3 Day Huanglong Jiuzhaigou Tour package
4 Day Chengdu Jiuzhaigou Tour
5 Day Chengdu Jiuzhaigou Huanglong Tour
Jiuzhaigou Tour
Further Readings
---
Jiuzhai Huanglong Airport
Drive from Jiuzhai Huanglong Airport to Huanglong
Huanglong Scenic Area
Drive from Huanglong to Jiuzhaigou
Jiuzhaigou Trip
Bipenggou, Bipeng Valley (Tips, Photos & Map)
Best time to visit Jiuzhaigou
Best Places to Visit Autumn Leaves in Sichuan
Top 10 Places to Visit in Sichuan
Ruoergai Grassland, my first trip to Ruoergai Grassland
Top 10 Attractions in Chengdu
Best Time to Visit Chengdu
Chengdu Airport
Railway stations in Chengdu
Chengdu Taxi
Chengdu Research Base of Giant Panda Breeding
How to visit Wuhou Shrine
How to visit Du Fu Thatched Cottage
How to visit Jinsha Site Museum
How to Visit Tomb of Wangjian
How to Visit Wangjiang Tower Park
How to Visit Qingyang Taoist Temple
How to Visit Jinli Street
How to visit Kuan Alley and Zhai Alley
How to visit Qintai Road, Qintai Street Chengdu
How to visit Shaoling Road Bar Street
How to Visit Jiuyanqiao Bar Street
The Old Teahouse in Pengzhen Town, Chengdu
Any questions, just drop a line