On the early morning of October 09,  we check out of our lodging hotel in Kangding and have a very simple breakfast at a nearby restaurant. Then again we go on with our self-drive trip west from Kangding (康定) to Xinduqiao (新都桥).
ABC of Xinduqiao (Xinduqiao Town)
Xinduqiao Town is recognized on the Google Map as "Xinduqiaozhen", and here "zhen" literally means "town". Xinduqiaozhen is about 80km west of Kangding and 437 km west of Chengdu, Xinduqiao (新都桥) is a town under the administration of Kangding.
It is a town at 3450 meters altitude comprised of just one street that is G318 passing through it. It is said that the 10km long National Highway G318 in Xinduqiao Town is regarded as "the Corridor of Photographers ".  
In autumn, the valley where Xinduqiao lies is a poetic and picturesque paradise. By the two sides of the highway and at the foot of the undulating mountains flanking it, you will see Tibetan blocks of houses, golden and yellow poplar trees, grazing horses, limpid streams, extending grasslands and magical lights ( especially at sunrise and sunset), a paradise of photographers!
The Scenic Road Trip from Kanding to Xinduqiao
The scenic drive from Kangding to Xinduqiao has been long expected, one of the highlight sections of the Sichuan-Tibetan Southern Highway (G318). The National Highway G318 is the longest national highway in China with a total length of 5476 km starting from People's Square in Shanghai and ending at the Friendship Bridge linking Nepal at Zhangmu Town in Tibet, China.
China National Highway G318, oft-lauded as Route 66 & the National Old Trails Highway in the States, completed in 1954, runs almost along the NL30 degrees, and covers multiple landscapes seldom seen elsewhere in the world, ranging from the Yangtze River Estuary to Mt. Everest; from the basins regions to the plains areas and lofty plateaus; from mounds to hills, high mountains and alpine mountains; from fresh water lakes to saline lakes; from rain forests to bushes, grasslands, and wildness. Highway G318 is also a historical and cultural passage connecting the multiple cultures from the past to the present.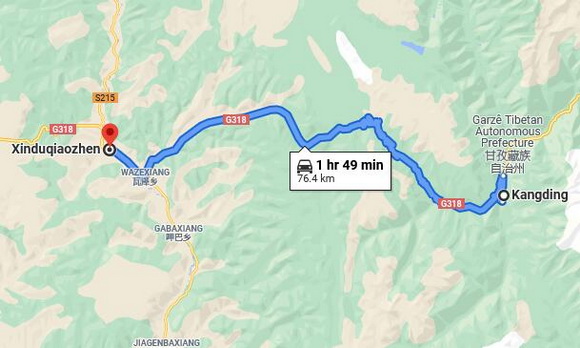 Zheduo Mountains Pass (4298 m )
Last night we got a word that there started snowing around Zheduo Mountains Pass (折多山口).  Zheduo Mountain Pass is the first pass at 4298 meters to enter the traditional "Kham" region, the typical Tibetan area in the west of Sichuan Province.
But when we are out on the Highway G318 this morning we find it is snowing everywhere around us, not just Zheduo Mountain Pass. We are carefully driving along the wide, but wet two-lane highway ( one lane for each direction) flanked by sheer cliffs or massive mountains.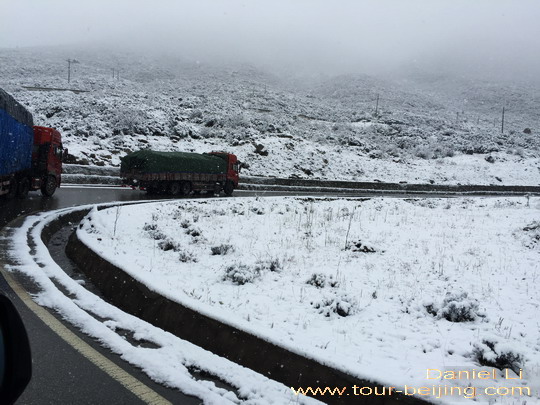 Not many vehicles on the zigzag maintain road. On the route, we pass through several service stops, very basic with simple toilets and parking lots, and you pay 5 yuan per vehicle to use the service for each stop. All the service stops are run by the local Tibetans.
Zheduo Mountain Pass is a must stop on the way from Kanging to Xinduqiao or vice versa. At 12:30am we get to the flat top of the pass, and see a huge rock monument standing there engraved with the words"First Pass to Kham – Zheduo Pass 4298 " in English, Tibetan and Chinese. Behind the sign rock is a white pagoda surrounded by colorful prayer flags.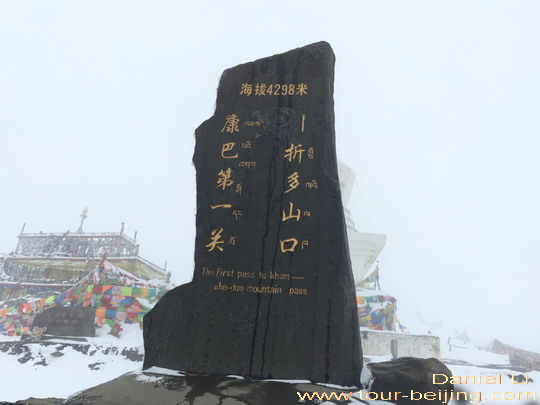 "Zheduo" 折多 in Tibet means "zigzag and bends". There are plentiful bends and curves of the highway winding through Zheduo Mountain as its name suggests. Zheduo Mountain is an important geogaphical dividing line: on the west is Qinghai-Tibetan Plateau; on the east and south is the high mountains and deep gorges; on the north is the place where Jiarong Tibetans live.
We slowly descend from the 4298-meter altitude pass, driving down along the switchback mountain roads. Soon we find the snow has stopped and it is getting brighter. This has really buoyed us up! The annoying snow has blanketed the otherwise coloful autumn hues of the mountains we have passed by. The snow has turned the autumn fairyland into a monotonous white world.
Enter Xinduqiao Town
Around 2:00pm, we've smoothly descended from the cloud and snow capped Zheduo Mountain to the sightseeing highway not far from Xinduqiao Town at the fall of about 1000 meters.
We are excited to see the green and yellow trees and grassland on both sides of the highway.  We stop by the roadside,  taking out our cameras and getting ready for shooting the picturesque scenery.
For next two hours, we are experiencing a drive scenic tour along the highway in Xinduqiao, stopping where we think there is a photogenic spot.
It is not a bright and sunny day, but we are very much satisfied with the weather – no rain with fairly good visibility. Dotted fallen snow, Tibetan houses, yellow poplar trees, grazing horses constitute a pristine and pretty picture.
With a backdrop of the undulating mountains, Tibetan houses are scattered on the valley with the unlimited golden and yellow grassland; green and yellow poplar trees; limpid streams.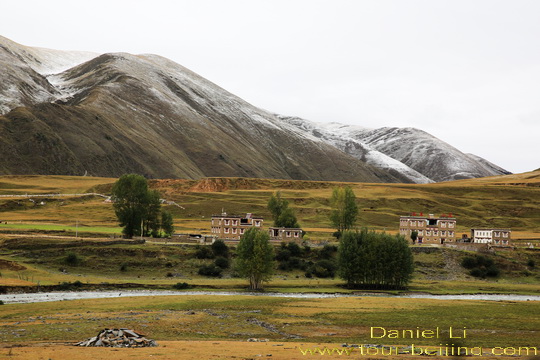 At 4:00 pm, we decide to continue driving west along G318 and stay overnight in Yajiang ( 雅江), 72km west of Xinduqiao. Our original travel plan was to stay overnight here in Xinduqiao.
Add-On
Drive from Hanzhong to Ya'an
Ya'an Night View
Most Beautiful Sky Road in China
Moxi Old Town ( Tips, Photos & Map)
Hailuogou Glacier Camp No.04 (Tips,Photos & Map)
Hailuogou Glacier Camp No.03 (Tips, Photos & Map)
Kangding (Tips, Photos & Map)
Drive from Kangding to Xinduqiao
Drive from Xinduqiao to Danba
Jiarong Tibetan Blockhouses
Jiarong Tibetan Ancient Watchtowers
Drive from Xinduqiao to Yajiang
Drive from Yajiang to Litang
Drive from Litang to Daocheng
Drive from Litang to Batang
Drive from Batang to Mangkang
Drive from Shangri-la to Daocheng
Drive from Daocheng to Yading
Yading Brings You Inner Peace
Hassle-free Chengdu & Sichuan Guided Tours
If you don't want to go the do-it-yourself route and prefer the hassle-free escorted tours, here are some options for Chengdu and Sichuan guided tours:
Chengdu tour
Chengdu Car Rental with Driver
Create My Chengdu Trip
Jiuzhaigou Tour
Sichuan Tour
Further Readings
---
Top 10 Attractions in Chengdu
Best Time to Visit Chengdu
Chengdu Airport
Railway stations in Chengdu
Chengdu Taxi
Chengdu Research Base of Giant Panda Breeding (Tips, Photos & Map)
How to visit Wuhou Shrine
How to visit Du Fu Thatched Cottage
How to visit Jinsha Site Museum
How to visit the tomb of Wang Jian in Chengdu
How to Visit Wangjiang Pavilion Park in Chengdu
How to visit Qingyang Palace in Chengdu (Tips, Photos & Map)
How to Visit Jinli Street
How to visit Kuan Alley and Zhai Alley
Qintai Road, Qintai Gujing Chengdu (Tips, Photos & Map)
Shaoling Road Bar Street Chengdu (Tips, Photos & Map)
Jiuyanqiao Bar Street in Chengdu (Tips, Photos & Map)
The Old Teahouse in Pengzhen Town, Chengdu
Bipenggou is a fairyland in Autumn
When is the best time to visit Jiuzhaigou?
Best Places to Visit Autumn Leaves in Sichuan
Top 10 Places to Visit in Sichuan
Ruoergai Grassland, my first trip to Ruoergai Grassland
Any questions, just drop a line.