by
Plan your Xi'an tour? Xi'an is one of the most visited cities in China after Shanghai and Beijing in terms of international visitors. No matter you plan to visit Xian following your trip to Beijing, or on your ongoing travel to Shanghai, Xi'an is often lingering in your mind for its enchanting Terracotta Warriors.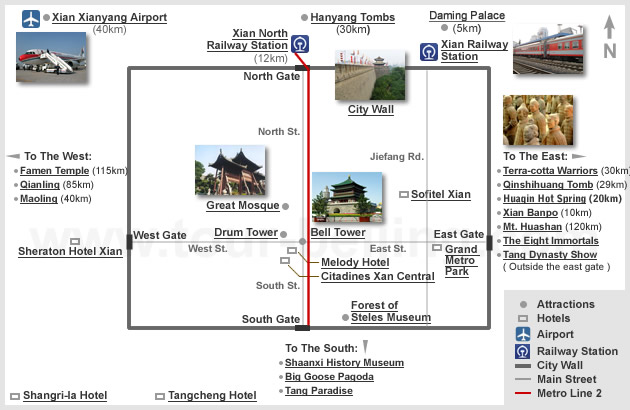 So basically how many days do you need to visit Xian? Based on my own experience, a two-day tour in Xian is a sweat spot, allowing you to catch the highlights of Xian while smoothly fitted into your ongoing trip to Beijing or Shanghai.
Day One: Xian City Tour
You are supposed to allocate one full day ( or two half days ) for your classic Xi'an Day Tour, which basically include the attractions such as:
Big Goose Pagoda
Shaanxi Provincial History Museum
Xian City Wall
Xian Bell & Drum Towers
Xi'an Muslim Quarter & Food Street
Xian Tang Dynasty Dinner Show
Big Goose Pagoda
The temple and its surrounding area are full of life, people-watch. Its north square is home to the largest musical fountain in Asia; its south square leading to the Great Tang All Day Mall, a 1500-meter sightseeing avenue where you immersed in Tang Dynasty culture while enjoying shopping, dining, entertaining, sightseeing and business travel.
Check out How to Visit Big Goose Pagoda for more travel information
The temple and the pagoda itself takes 1 or 2 hours to visit while the whole area ( squares, gardens ,etc.) takes much longer time, providing people with wonderful free leisure and entertainment.
Shaanxi Provincial History Museum
A 2-3 hour visit to Shaanxi Provincial History Museum is a good starter for your eye-popping glimpse of the Terracotta Army. A free entry ticket allows you to visit the three permanent exhibition halls (No.01 – No.03 ), which display the artifacts unearthed in Shaanxi Province.
Check out How to visit Shaanxi Provincial History Museum for more travel information.
Xian was the ancient capitals for 13 dynasties in Chinese history. Of the 13 dynasties, Tang Dynasty was the Golden Age of China, when Europe was in its Dark Ages after the fall of Rome.
Xian City Wall
Xian is home to the most complete and well-preserved ancient city wall in China and one of the largest ancient military defensive systems in the world as well.
Check out How to visit Xian City Wall for more travel information.
Xian City Wall was initially built in Tang Dynasty (618 -907), based on which, the existing wall was rebuilt in Ming Dynasty during the period between 1374 and 1378. Now the remaining Xian City Wall is 12 meters tall, 18 meters wide at the base, 12-14 meters wide on the top with a perimeter of 13.74 km in length and a deep moat surrounding it.
Xian Bell & Drum Towers
In Chinese history from Ming Dynasty, each city had a bell tower and a drum tower. The bell was sounded at dawn and the drum at dusk each day in ancient time, a means of telling time.
Check out How to Visit Xian Bell Tower for travel information.
Xian was not exception. The Bell Tower and Drum Tower of Xi'an date back to the Ming dynasty (1368-1644). The two are located in the center of the Xian city connecting the four roads from east, south, west and north within the city wall. Atop the Bell Tower you will have a panoramic view of the Xian City; atop the Drum Tower you will have a bird's eye view of the Muslim Quarters.
Xi'an Muslim Quarter & Food Street
The Terracotta Warriors Museum will be definitely a must-to-see on your Xian travel plan. But one equally important thing to do and you cannot afford to miss is to have a taste or glimpse of the exotic food on the streets in the Muslim community in Xian. These back streets are full of life with a rich strong feel of Islamic cultural vibe.
Check out How to visit Muslim Quarter in Xian for more travel information.
The Muslim Community is known as Muslim Quarter in Xian or colloquially called "Huifang (回坊)" in Chinese. It is said there are over 300 Muslim local snacks on the streets in Xian Muslim Quarter that attract a consistent flow of visitors everyday coming here to savor or just have a glimpse.
Xian Tang Dynasty Dinner Show
For most first time visitors, it is a pleasant surprise that you won't find yourselves lonely when night falls in the ancient city of Xian. The major avenues of Xi'an like Xi Dajie, Nan Dajie and Dong Dajie are brightly and beautifully lit lined with luminous neon signs stores. If you are not interested in the street evening shopping, then the Big Goose Pagoda Square and Nanhu Lake are the favorite night hangouts, where the dazzling lights and beautiful scenery will surely shock you! Is this Xian? Yes, it is!
Check out Xian Tang Dynasty Dinner Show for more information
If you prefer a night performance to kill your night time, Tang Dynasty Show is your best choice, which is on the most Xian visitors' top 10 attractions list. Tang Dynasty Music and Dance Show is an outstanding element of this ancient rich and prosperous society, giving an insight into the peaceful life style of the Tang Dynasty (618 – 907). There are two major venues to put on the performance – Shaanxi Song & Dance Theatre and Tang Dynasty Palace, which both offer two choices – performance including dinner or excluding dinner.
Day 2: Terracotta Warriors, Huaqing Hot Spring and Banpo Museum
On the second day, you have a full day east excursion to Terracotta Warriors, Huaqing Hotspring and Banpo Museum.
Terracotta Warriors & Horses
Huaqing Pool ( or Huaqing Hot Springs)
Banpo Museum
Terracotta Warriors and Horses
To visit Army of Terra Cotta Warriors is the main reason why you are here in Xian. Get up early and have a fast breakfast like the first day, then get to Terracotta Warriors and Horses.
Check out How to Visit Terracotta Warriors for more travel information.
It is 37 kilometers away from the downtown area. The museum covers an area of 16,300 square meters, divided into three sections: No. 1 Pit, No. 2 Pit, and No. 3 Pit respectively. It is the most significant archeological excavations of the 20th century.
Huaqing Pool
After lunch, you can take Y5 back to Museum Lishan Station, then walk to Huaqing Hot Springs. Huaqing Pool is located at the foot of north Lishan Hill in Lintong, leaning against Wei River in the north. Since ancient times, it has ever been a famous bathing and tourist destination.
Check out How to Visit Huaqing Hot Springs for travel information.
The favorable geographical condition and natural environment make it one of the cradles where ancient people settled and it was also a favorite place for emperors to build their palaces as a resort.
Banpo Museum
After finishing your exploration in Huaqing Pool, you can take Bus No. 307 and go to Banpo Museum. The Banpo Museum is located in a modern building some three miles to the east of Xian. As the first museum at the prehistoric site, it was built at the base of the excavations of the Banpo site.
Check out Xian Banpo Museum for more information.
The museum gives access to the excavated buildings, has a collection of artifacts from the site, and also has several reconstructed houses designed to resemble the Neolithic settlement.
Enjoy your two-day Tour in Xian!
Tip: Hassle-free Xian Guided Tours
If you don't want to go the do-it-yourself route and prefer the hassle-free escorted tours, here are some options for Xian guided tours:
Xian Tour
Xian Day Tour
Xian Tour Packages
Beijing Xian Tour
Further Readings
---
Beijing Xian High Speed Train Experience
Best Time to Visit Xian
How to Visit Xian in Two Days?
Xian Airport Transportation
Xian Railway Station Transportation
Xian Taxi: Xian Taxi Fares, Tips and Phones
Xian City Layout
Xian's Top 7 Iconic Landmarks
Where to Stay in Xian
Top 10 Attractions in Xian
Top Things to Do for Kids in Xian
How Visit Terracotta Army
How to Visit Xian on a Budget
The Starbucks in Xian
Top Markets in Xian
Top 10 Shopping Malls in Xian
Top 10 Best Restaurants in Xian
Top 10 Souvenirs in Xian
Xian Tourist Traps, Xian Tourist Scams
Tips for Visiting Muslim Quarter in Xian
Tips for Visiting Xian City Wall
The Ramparts of Quebec City and Xian City
Tips for Visiting Shaanxi History Museum
Tips for Visiting Xian Bell Tower
How to Visit Daming Palace National Heritage Park
Top 10 Photography Spots in Xian
The Night View of Great Tang All Day Mall
Tips for Visiting Hanyang Tombs Xian
The Song of Everlasting Sorrow Show in Xian
Tips for Visiting Big Wild Goose Pagoda
Yaodong Cave Dwellings in Xian
Tips for Visiting Huaqing Hot Springs in Xian
How to Visit Mount Huashan
Mt.Huashan Snow Scenes Photos
How to visit Xiyue Temple
Top 10 Hostels in Xian
Top 10 Xian Luxury & Boutique Hotels
Xi'an: An Exotic City with an Undeniable Historical Depth
Best Places to See Autumn Leaves around Xian
Muslim Streets in Muslim Quarter in Xian
Hua Jue Xiang, Huajue Lane at Xian Muslim Quarter
The Night View of Great Tang All Day Mall
Xian City Wall Night View
What to do in Xian after dark
Xian's Best Street Food
Xian Muslim Quarter Exotic Food
Xian Bar Street
Spring Festival Lantern Exhibit in Xian
Xian Terracotta Army Pictures
How to Visit Maijishan Grottoes from Xian by Train
How to Visit Hukou Waterfall
How to Visit Huangdi Mausoleum
Xian Lhasa Flight Experience (Tips, Photos & Map)
Beijing Xian Flight Experience
Datong Xian High Speed Train
Reviews on Beijing Xian Luoyang Tour
Visit Xian in January (Weather, Wear, & Tips)
Visit Xian in February
How to Visit Xian in March
Visit Xian in October
How to Visit Xian in November
Visit Xian in December
Any questions, just drop a line.
Tags: travel Xian in two days, two day sightseeing in Xian, two days in Xian