Basically each ancient city in China used to have a bell tower and a drum tower, telling the citizens the upcoming alerts and the time. The 36-meter high Xi'an Bell Tower is the largest and most well-preserved bell tower in China today.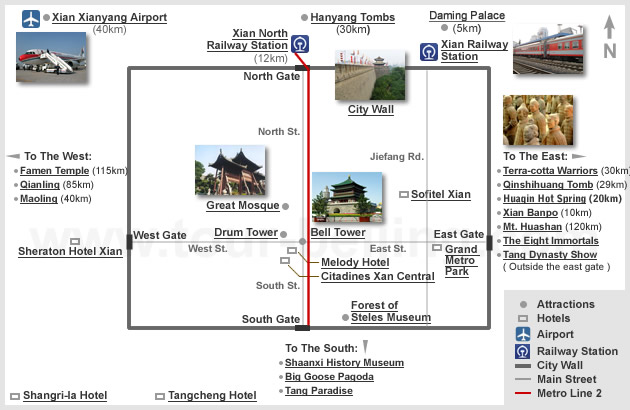 If you have a two-day visit time in Xian, it is worthwhile to ascend the centrally located tower for a glimpse. The main reason to visit the tower is two-fold: the tower itself – the charming traditional Chinese architecture and the wonderful view from the tower.
1. How to Get There
The walled city of Xian is based on a grid pattern centrally denoted by the Bell Tower, which now stands in a roundabout leading up to the four main streets – North, East, South and West. The four major streets extend to the four gates of the Xi'an city wall respectively.
Xian Bell Tower is easily accessible by subway line 2, getting off at the station of Bell Tower where an underground passage guides you up to the bell tower. Or you may take a bus or walk to the Bell Tower Subway Station for the underground tunnel leading up to the tower. Basically you are unable to cross the roundabout from the nearby streets due to the hectic traffic going around the tower.
2. Entrance Fee and Opening Hours
Entrance Fee: 35 yuan ( Bell Tower ) and 50 yuan ( A combo ticket of Drum Tower )
Ticketing Booth: at the underground Bell Tower subway tunnel
Opening Hours
Peak Season (April 01 – October 25): 08:30 -21:30 )
Low Season (October 26 – March 31 ): 08:30 -18:00)
Inquiry Tel: 029-87274580
3. Having an Outside Look
If you have limited time for your Xian tour with no intention of going up the tower, you are still encouraged to come her for an outside look at the massive bell tower. It is a three-layer and two-story wooden tower built on a square brick base.
The tower has the dark green glazed tiles on the eaves, gold-coating on the roof, a fantastic masterpiece of Ming-style architecture.
Basically Xian Museum Quarter will be on your bucket list. Walking from Museum Quarter ( just north of Drum Tower ) is just a breeze. So don't miss it.
4. Ascending the Bell Tower
Enter the underground Bell Tower Subway Station and walk up the tower. The bell tower has a brick base, a three-layer and two-story wooden tower. You need to ascend the outside stone steps up to the first floor of the tower.
Three things to do on the bell tower:
1. Have a panoramic view of the four main streets leading to the four gates of Xian city and the surrounding buildings like Drum Tower and some shopping centers, a mixed old and new world.
2. Appreciating the delicate engravings on the wooden windows on the four sides of the tower and a close look at the traditional Chinese architecture.
3. Watching and listening to a bell music performance, beautiful music and amazing costumes. The music show is included on your entry ticket. The 15-minute show is done hourly, 8 times a day.
5. Night View of the Bell Tower
Just drop by the bell tower when night falls and the tower is illuminated. The lit-up bell tower stands peacefully on a roundabout circled by the blaring traffic and mess, a wave of lights – a magnificent scene!
6. Shopping and Dining around the Tower
The visit to the bell tower allows you an easy access to the shopping – the vendors in the underground tunnel, the shopping malls like Kaiyuan department store; Starbucks, the famous dumpling restaurant and the list could be longer.
7. A Combo Tour of Drum Tower and Museum Quarter
A trip to the bell tower can be combined with your combo tour of Drum Tower and Muslim Quarter. The combo ticket of Bell Tower and Drum Tower is 50 yuan. The entry into the Muslin Quarter is free.
8. Best Angle to Take Pictures of the Bell Tower
You may to go to the second floor of the nearby Kaiyuan department store and have a wonderful photo of the bell tower from there. Bell Tower Hotel is also a perfect place to shoot a beautiful picture of the tower.
Tip: Hassle-free Xian Guided Tours
If you don't want to go the do-it-yourself route and prefer the hassle-free escorted tours, here are some options for Xian guided tours:
Xi'an Tour
Xi'an Day Tour
Xi'an Tour Packages
Beijing Xi'an Tour
Further Readings
---
Beijing Xi'an High Speed Train Experience
Best Time to Visit Xian
How to Visit Xian in Two Days?
Xian Airport Transportation
Xian Railway Station Transportation
Xian Taxi: Xian Taxi Fares, Tips and Phones
Xian City Layout
Xian's Top 7 Iconic Landmarks
Where to Stay in Xian
Top 10 Attractions in Xian
Top Things to Do for Kids in Xian
How Visit Terracotta Army
How to Visit Xian on a Budget
The Starbucks in Xian
Top Markets in Xian
Top 10 Shopping Malls in Xian
Best Local Flavour in Xi'an
Top 10 Souvenirs in Xian
Xian Tourist Traps, Xian Tourist Scams
How to visit Muslim Quarter in Xi'an
How to Visit Xi'an City Wall
The Ramparts of Quebec City and Xian City
How to Visit Shaanxi History Museum
How to Visit Xi'an Bell Tower
How to Visit Daming Palace National Heritage Park
Top 10 Photography Spots in Xian
The Night View of Great Tang All Day Mall
Tips for Visiting Hanyang Tombs Xian
The Song of Everlasting Sorrow Show in Xian
Tips for Visiting Big Wild Goose Pagoda
Yaodong Cave Dwellings in Xian
Tips for Visiting Huaqing Hot Springs in Xian
How to Visit Mount Huashan
Mt.Huashan Snow Scenes Photos
How to visit Xiyue Temple
Top 10 Hostels in Xian
Top 10 Xian Luxury & Boutique Hotels
Xi'an: An Exotic City with an Undeniable Historical Depth
Best Places to See Autumn Leaves around Xian
Muslim Streets in Muslim Quarter in Xian
Hua Jue Xiang, Huajue Lane at Xian Muslim Quarter
The Night View of Great Tang All Day Mall
Xian City Wall Night View
What to do in Xian after dark
Xian's Best Street Food
Xian Muslim Quarter Exotic Food
Xian Bar Street
Spring Festival Lantern Exhibit in Xian
Xian Terracotta Army Pictures
How to Visit Maijishan Grottoes from Xian by Train
How to Visit Hukou Waterfall
How to Visit Huangdi Mausoleum
Xian Lhasa Flight Experience (Tips, Photos & Map)
Beijing Xian Flight Experience
Datong Xian High Speed Train
Reviews on Beijing Xian Luoyang Tour
Visit Xian in January (Weather, Wear, & Tips)
Visit Xian in February
How to Visit Xian in March
Visit Xian in October
How to Visit Xian in November
Visit Xian in December
Any questions, just drop a line.