Plan your Xi'an tour? If time allows, most likely you would like to buy gifts or souvenirs from Xian. Although malls and shopping centres are becoming more popular in Xian, many Xian local residents and foreign visitors as well are happy to go shopping in markets or commercial streets.
If you are wondering where to shop in Xi'an markets or open-air commercial areas, here is a list of some top or best free markets and shopping streets.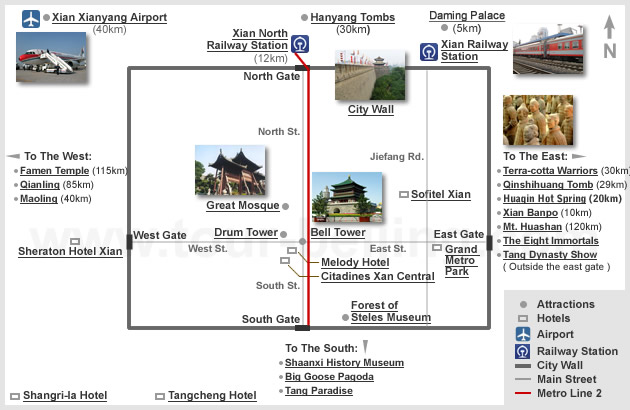 If you want to go to the fixed price large shopping malls, you visits Top Xian Shopping Malls we've rounded up for you.
Huajue Alleyway Market 化觉巷
Huajue Alleyway is a narrow covered street beside Xi'an Great Mosque (also called Huajue Xiang Great Mosque). It is now an antique street for finding nice pieces of handicrafts, and at a cute price. Of course, shoppers need to exercise your oriental patience and bargain a lot on those articles.
Check out Xian Muslim Quarter for more information on the market.
You can buy engraved chopsticks, teapots, replication of Terracotta Warriors, chiming balls and Chinese paintings there. If you bargain with the shop owners and you will buy a souvenir at a good price.
Add: To the northwest of Drum Tower, Xian, Shaanxi
Beiyuanmen Hui Snack Market ( 北院门回民小吃一条街)
Beiyuanmen is a nice place to go for local snacks, dining and souvenirs. Enter the Beiyuanmen Gate (Just north of the Drum Tower); you will see rows of Qing–style buildings with lots of small stalls selling souvenirs and local specialties. you can put them together on a leisure trip.
On the west side, the narrow antique alleyway named Huajue Alleyway ( mentioned above ) branches off from Beiyuanmen Street – the Hui Snack Street. You can put them together on a leisure trip.
Check out Xian Muslim Quarter Exotic Food for more information.
Both locals and visitors like to stroll in the street to find something interesting. Here are some of the local specialties in Beiyuan Men: Kiwi fruit, Dates, Peanut Cake, Nam, and Walnut. Like that of Chinese art street, stalls in Beiyuan Men selling souvenirs.
Add: Just north of Drum Tower
Shiyuanmen Old Culture Street 书院门古文化一条街
To the northeast of the South Gate of Xian City Wall, you can find a Chinese traditional archway, that is the entrance to the Shuyuanmen Arts Street. The Shuyuanmen old culture Street is the best preserved ancient street in Xian with a history of over 400 years.
If you walk to the east for about 700 meters, you are able to reach another important historical site – Forest of Stone Steles Museum Xian, so you can put the two attractions together schedule for your day trip in Xian.
Many of the owners know a lot about Chinese calligraphy, painting and other cultural things. Some of them are real artists.
Add: East of South Gate of Xian City, Beilin District, Xian
Xian Antique City 西安古玩城
Xi 'an Antique City is the oldest and most famous antique market in Xi 'an. It mainly deals in literary works, antiques, porcelain, jade, bronzes, calligraphy and paintings, badges, books, ancient coins and other cultural works of art.
With the change of time, Xi 'an Antique City has become the epitome of the development of Xi 'an collection, witnessing the rise and fall of Xi 'an literary and artistic market after the reform and opening up.
Add: Xingshansi W St, Yanta District, Xi'an 西安市雁塔区兴善寺西街
Tel: 86 29 85235635
Public Bus: Take bus 203
Wu Ji Antique City 西安无极古玩城
Wu Ji Antique city with 7,000 square meters and more than 600 antique stores, it is a fantastic place for foreigners to enjoy Chinese culture and buy souvenirs.
This antique city provides all kinds of antique: jewels, jade articles, calligraphy, paintings, historical relics, antiques, model clay figures of warriors and horses, and bronze cars and horses.
Add: No.5 Nan Ma Dao Lane, Lianhu District,Xian (西安市南马道巷五号)
Tel: 86-29-87638805
Xian Xiangzi Temple Street 西安湘子庙街  
Xian Xiangzi Temple is located west of South Street in Xian. It is just opposite Shuyuanmen Old Culture Street. Xian Xiangzi Temple Street is named after the same- name Temple dating back to over 1000 years. North of Xiangzi Temple Street is the famous bar & cafe street known as Defu Lane Bar Street.
The street is flanked with many exquisite tea houses of various sizes full of rich ancient culture atmosphere. There are many galleries on the streets which often display all kinds of exhibitions.
Luomashi Walking Street 骡马市步行街
Luomashi is the first market street in Xi'an. It is 612 meters long and 7 meters wide. The street is composed of five alleys. oday it still is one of busiest commercial area in Xian, just like Wangfujing Street in Beijing or Nanjing Road in Shanghai.
Add: West section of East Avenue in Xian.
Tip: Hassle-free Xian Guided Tours
If you don't want to go the do-it-yourself route and prefer the hassle-free escorted tours, here are some options for Xian guided tours:
Xian Tour
Xian Day Tour
Xian Tour Packages
Beijing Xian Tour
Further Readings
---
Beijing Xian High Speed Train Experience
Best Time to Visit Xian
How to Visit Xian in Two Days?
Xian Airport Transportation
Xian Railway Station Transportation
Xian Taxi: Xian Taxi Fares, Tips and Phones
Xian City Layout
Xian's Top 7 Iconic Landmarks
Where to Stay in Xian
Top 10 Attractions in Xian
Top Things to Do for Kids in Xian
How Visit Terracotta Army
How to Visit Xian on a Budget
The Starbucks in Xian
Top Markets in Xian
Top 10 Shopping Malls in Xian
Top 10 Best Restaurants in Xian
Top 10 Souvenirs in Xian
Xian Tourist Traps, Xian Tourist Scams
Tips for Visiting Muslim Quarter in Xian
Tips for Visiting Xian City Wall
The Ramparts of Quebec City and Xian City
Tips for Visiting Shaanxi History Museum
Tips for Visiting Xian Bell Tower
How to Visit Daming Palace National Heritage Park
Top 10 Photography Spots in Xian
The Night View of Great Tang All Day Mall
Tips for Visiting Hanyang Tombs Xian
The Song of Everlasting Sorrow Show in Xian
Tips for Visiting Big Wild Goose Pagoda
Yaodong Cave Dwellings in Xian
Tips for Visiting Huaqing Hot Springs in Xian
How to Visit Mount Huashan
Mt.Huashan Snow Scenes Photos
How to visit Xiyue Temple
Top 10 Hostels in Xian
Top 10 Xian Luxury & Boutique Hotels
Xi'an: An Exotic City with an Undeniable Historical Depth
Best Places to See Autumn Leaves around Xian
Muslim Streets in Muslim Quarter in Xian
Hua Jue Xiang, Huajue Lane at Xian Muslim Quarter
The Night View of Great Tang All Day Mall
Xian City Wall Night View
What to do in Xian after dark
Xian's Best Street Food
Xian Muslim Quarter Exotic Food
Xian Bar Street
Spring Festival Lantern Exhibit in Xian
Xian Terracotta Army Pictures
How to Visit Maijishan Grottoes from Xian by Train
How to Visit Hukou Waterfall
How to Visit Huangdi Mausoleum
Xian Lhasa Flight Experience (Tips, Photos & Map)
Beijing Xian Flight Experience
Datong Xian High Speed Train
Reviews on Beijing Xian Luoyang Tour
Visit Xian in January (Weather, Wear, & Tips)
Visit Xian in February
How to Visit Xian in March
Visit Xian in October
How to Visit Xian in November
Visit Xian in December
Any questions, just drop a line.