China's urbanization drive has produced a great number of booming towns and super cities. Urbanization has been a necessary condition for achieving sustainable development, but more and more towns and cities look alike in terms of shopping malls, public parks, buildings, etc. After traveling around, you won't have deep impression of the these towns and cities which closely resemble each other.
To curb the urban assimilation drive, in the past 30 years great efforts have been made by the local governments at different levels to have overall city construction plans and protect traditional elements especially in the tradiional old and small towns, balancing development and protection.
These exotic and charming old towns in China have still kept their own traditions and cultures, which have attracted more and more tourists home and abroad, greatly enhancing their understanding of a real China.
The top 10 most charming old small towns here are carefully hand-picked. If you want to experience a real and genuine China, the top 10 list of the most beautiful small towns in China will offer you some guidance in planning your own China tour.
1. Pingyao Old Town 平遥古城
Location: Pingyao is a small town, about 80km southwest of Taiyuan in central Shanxi Province. Pingyao has plenty of cultural relics. The city wall was first built during the Zhou Dynasty (256 B.C.) and was expanded in 1370, the third year of the reign of Ming Emperor Hongwu. In 1997, it was listed as a World Heritage Site.
Check out the following links for more information:
Pingyao Tour
Pingyao, Bring you 2700 Years Back
Where to Stay in Pingyao
How to Visit Wang Family Courtyard

Sitting on the ancient trade route between Beijing and Xi'an, Pingyao developed into a business center with the use of the nation's earliest banks. These organizations were the first in China to use checks, and business came up in the 19th Century, when the city was the financial center of the Qing government. Pingyao is the best preserved ancient town in China.
2. Old Town of Lijiang 丽江古城
Location: Lijiang old town sits in the city of Lijiang City of Yunnan Province. Now it is a UNESCO Heritage Site. The old town has more than 800 years and was once a confluence for trade along the old tea horse road.
Check out the links below for more information:
Lijiang Yunnan Tour
Top 10 Attractions in Lijiang
The best time to visit Lijiang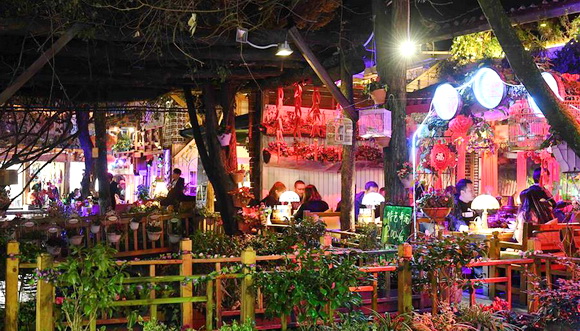 The Lijiang old town is famous for its orderly system of waterways and bridges. The old town of Lijiang is quite different from other ancient Chinese towns in architecture, history and the culture of its traditional residents the Naxi people.
3. Old Town of Shanhaiguan 山海关古城
The walled Shanhaiguan town was built in Ming Dynasty (1368 – 1644) to seal off the narrow passage leading to the northeastern Manchu. The garrison town succeeded in safeguarding the country until 1644 the Chinese rebels seized Beijing and the General Wu Shangui opened the town and let the Manchurian troops to enter the country to suppress the uprising. Later the Manchu army seized the whole country and established China's last dynasty – Qing Dynasty (1644 – 1911).
"Old Dragon's Head" in the Shanhaiguan ancient town is the eastern tip of the Great Wall of China, which was to seal off the narrow passage leading to the northeastern Manchu. Though the present town is much of a reproduction of the old , it is still a pleasant place to walk around and feel the sense of the its past histry.
Check out the following links for more information:
Beijing Beidaihe Qinhuangdao Tour
Shanhaiguan Trip
Top Attractions in Shanhaiguan
Over 10 daily bullet trains go from Beijing ( Beijing Railway Station ) to Shanhaiguan, a 2 and half hours' train ride. People may make a round trip to Shanhaiguan from Beijing or stay overnight in Shanhaiguan and return to Beijing next day.
4. Yangshuo Old Town 阳朔
Location: Yangshuo is located 65km the south of Guilin city in the northeast of Guangxi Zhuang Autonomous Region, south of China. The town has been 1400 years, famous for its picturesque mountains and rivers, a perfect place for holiday vacation where you forget time and experience the happiness of your vacation.
Check out the following links for more information:
Guilin Tour
Top 10 Things to Do in Guilin
Biking through Shili Scenery Gallery in Yangshuo
Impression Liu Sanjie Mega Performance in Yangshuo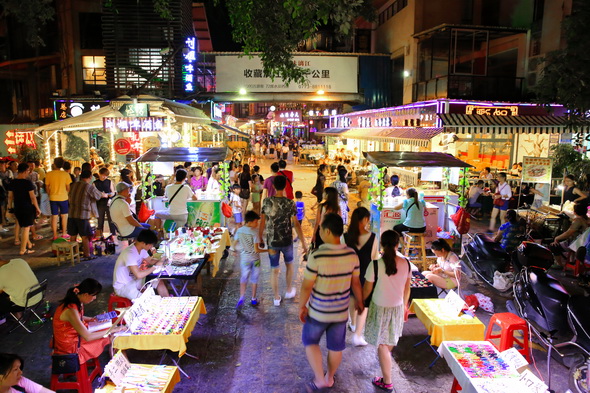 The area around Yangshou is dotted with Karst peaks and the Li river meanders its way around them. Yangshuo is the final stop on any of the cruising on Li River. You may spend a few hours here or several days to explore its neighbouring areas.
5. Zhouzhuang Water Town 周庄
Location: Zhouzhuang Water Town is located at the middle between Shanghai and Suzhou. It is an ancient town of Kunshan City, Jiangsu Province. The town abounds with rivers and lakes. Zhouzhuang boasts many cultural and historical relics.Best Travel Time: All seasons, but avoid public holidays.
Check out the following links for more information:
How to Visit Zhouzhuang
Zhouzhuang Pictures – Zhouzhuang Photo Gallery
Suzhou Tour
Shanghai Tour
Regarded as "Venice of the East", this town has the best water town preserved in China. The town has a history of over 900 years and most of houses in the town were constructed in Ming (1368-1644) or Qing Dynasties (1644-1911). The rivers and streams in Zhouzhuang pass the town and are connected by 14 stone-arch bridges constructed in Yuan (1271-1368), Ming, and Qing Dynasties.
6. Tongli Water Town 同里
Location: Tongli Town sits by the Grand Canal and the Taihu Lake, about 18 Kilometer away from Suzhou, 80 kilometer from Shanghai. It has a history of over 1000 years with very convenient transportation.
Check out the following links for more information:
How to visit Tongli Town
Suzhou Tour
Shanghai Tour
Tongli is typical of the water county of South China. There are totally 5 lakes circling Tongli from both outside and inside. The town is sectioned into 15 small islands by over 10 rivers. However, the islands are linked by over 40 stone bridges of various style which were constructed in successive dynasties. Tongli is noted for her small bridges, and clear water.
7. Huizhou Old Town of She County 歙县徽州古城
Huizhou Old Town, also known as She County Old Town since Huizhou Old Town is located in the old area of She County ( Shexian County ). Under the jurisdiction of Huangshan, She County is about 27km in the northeast of Huangshan City. The ancient town is famous for its rich culture and long history and listed as one of four best preserved ancient towns in China, along with Pingyao Old Town in Shanxi, Lijiang Old Town in Yunan and Longzhong Old Town in Sichuan.
Check out the following links for more information:
She County Photography Tour
Huangshan Tour
She County is representative of Hui Culture, the cradle of Peiking Opera. Shexian County (She County) is the original area of Hui merchants. She County is the main production area for the Ink and ink stone, the two treasures of the four treasures of the study. She County is also nicknamed "the county of Paifang". Paifang is also called "pailou', a traditional Chinese architectural archway.
8. Langzhong Old Town in Sichuan 四川阆中古城
Langzhong old town is located in the northeast of Sichuan basin, about 268 km northeast of Chengdu. Situated on the middle reach of Jialingjiang River, Langzhong old town is one of the four well preserved ancient towns in China.
Langzhou has a history of over 2300 years with well preserved flagstone streets,  black tiled roofs, temples and pavilions, and cliff carvings, constituting a unique tourist resources and culture in Langzhong.
Check out the following links for more information:
Sichuan Tour
Top 10 Places to Visit in Sichuan
Visiting Time: suggested 1-2 day
Location:  268 km northeast of Chengdu
How to Get There
Take buses or trains from Chengdu
9. Fenghuang Old Town in Hunan 凤凰古城
Location: Fenghuang literally means "Phoenix" in Chinese, a small and old city, 145 km south to Zhangjiajie City and 50 km south to Jishou City in Hunan Province, China. Fenghuang covers an area of 1700 km with a population of 370,000.
There are the minority ethnic group, such as Miaos, Tujias. Fenghuang was described as"the most beautiful ancient city in China" by the famous writer Louis from New Zealand.
Check out the following links for more information:
Top 10 Attractions in Hunan
Hunan Tour
Fenghuang has lots of relics and the sightseeing, the ancient city's mountains and Tuo river, residents and establishment, temples and pavilions and so on. How to get to Fenghuang? You may first go to Zhangjiajie and connect buses to Fenghuang or you first go to Jishou and connect the buses to Fenghuang. Beijing West Station K267 12:58 / 14:53 next day.
10. Chikan Old Town in Guangdon 赤坎古镇
Location: Chikan old town is 12km away from the city center of Kaiping City, 160km southwest of Guangzhou City in Gongdong Province. The old town was first built in Qing Dynasty with a history of over 350 years. It still retains much of her charm as a flourished market town.
Check out the following links for more information:
How to Visit Kaiping Diaolou from Guangzhou
Top 10 Attractions in Guangdong
Guangdong Tour
The Tanjiang river passes by the town with fishing boats and the western style buildings made up picturesque view for this ancient town.
---
Hassle-free China Guided Tours
If you don't want to go the do-it-yourself route and prefer the hassle-free escorted tours, here are some options for China guided tours:
Top China Private Tours
Top China Small Group Tours
Top China Train Tour
Top China Yangtze Cruise Tour
Top China Silk Road Tour
Further Readings
---
Top 10 Places to Visit in China
10 Fascinating Facts about China
How to Pack for your China Trip
Plugs and Sockets in China
China Tour Packages
Learning Useful Chinese Phrases for Travellers
How to Recognise Chinese Currency
Top 10 Travel Experiences in China
10 Most Scenic Drives in China
Top 10 Most Beautiful Mountains in China
Top 10 Most Beautiful Lakes in China
Top 10 Most Beautiful Grasslands in China
Top 10 Most Beautiful Rivers in China
Top 10 most beautiful waterfalls in China
Top 10 Places to See Autumn Leaves in China
Top 10 Most Beautiful Villages in China
Top 10 Most Beautiful old towns in China
Top 10 Most Beautiful Museums in China
Top 10 China Tourist Scams
Top 10 Souvenirs in China
Any questions, just drop a line.