Dear Travellers,
We'd like to have the following travel guide to be always updated for the benefit of new visitors Visiting Tongli Ancient Town from Suzhou. If anybody having used the piece finds necessary updates, please leave a message or feedback. Thanks!
ABC of Tongli Town
The Tongli Ancient Town has a history of over 1000 years, a typical water town in the Yangzte River area. The ancient town is scenic enough to be surrounded by waters. The town is cut into 7 islands by 15 canals which are linked by 45 bridges. It is reputed as "the Venice of the East".
In 1997 and 2000, eight of the finest gardens in Suzhou along with the ancient water town of Tongli were selected by UNESCO as a World Heritage Site to represent the art of Suzhou-style classical gardening.
Location of Tongli Ancient Town
If you plan Suzhou tour, don't miss a side trip to Tongli. Tongli Town (同里)is one of the famous ancient water towns in the Yangtze River Delta, which are specifically scattered around the large river and crisscross the triangle area of Suzhou, Huzhou, Hangzhou and Shanghai.
Under the administration of Wujiang District in Suzhou, Tongli Town is located 30km to the southeast of the downtown Suzhou, one and half hour from Hangzhou and one and half hour from Shanghai by road.
How to Get to Tongli Town
When you visit Suzhou, Shanghai or Hangzhou, you may have a side trip to Tongli Town. Of course, having an excursion from Suzhou to Tongli is the most convenient by bus, subway or by taxi.
For me, the best way to travel from Suzhou to Tongli is to take subway. You can take subway line 4 from Suzhou Railway Station and get off at the last station of Tongli ( 同里). The subway ride takes about 50 minutes.
Suzhou to Tongli Water Town
You have three choices to go from Tongli Subway Station to Tongli Town:
1) You exit from the Exit 10 where you can connect the special shuttles going to Tongli water town (Non-stop);
2) You exit from Exit 02 where you take the Bus 725 for Tongli ( 4 stops );
3) You can also take a taxi from Tongli Subway Station to Tongli Town: 5 km and about 20 yuan.
Shanghai to Tongli Town
For a long-distance bus from Shanghai to Tongli Town, you may take the bus either from Shanghai Sightseeing Bus Center (Shanghai Stadium) leaving at 9:30am or Shanghai Long-distance Bus Station (Zhongxing Road) every leaving every half hour.
Hangzhou to Tongli Ancient Town
For the public transportation from Hangzhou to Tongli Town, you should go to Hangzhou North Bus Station for an hourly bus ride to Tongli.
Entrance fee: RMB 100 (combined tickets)
Opening Hour:
07:30-17:30 (May-October)
07:30-17:15 (November-April)
Enquiry: 0512-800882990
Complaint: 0512-63321999
Emergency: 0512-63320995
Virtual Tour of Tongli Water Town
Just follow us to have a virtual tour of Tongli Ancient Town. A bunch of the ancient buildings in Ming and Qing dynasties are well-preserved and open to the public including Retreat and Refection Garden, Pearl Pagoda, Chongben Hall, Genhle Hall, Chen Qubing's former residence, Wang Shaoao's Memorial Museum and Songshiwu Garden.
The ancient water town is mainly composed of canals, roads, bridges, residences and gardens where you will be lost in the beautiful view.
You can take the clean energy vehicles at 5 yuan for an easy ride taking you to the entrance from the ticketing office.
Each ticket allows visitors to have access to the 10 major pay attractions within the Tongli Town.
If you want to learn more about the town's history and anecdotes behind, you can hire a local English-speaking tour guide rated RMB 120 per group.
I didn't use the green energy vehicle in the scenery and I loved to have the half an hour stroll to get to the main entrance to Tongli Ancient Town. On the way, you can easily spot some road signs leading you to the old town.
About half an hour walk from the ticketing office takes me to the street leading to the decorated archway entrance to the ancient town. The street is lined with shops selling local products and restaurants offering the local snacks and dishes.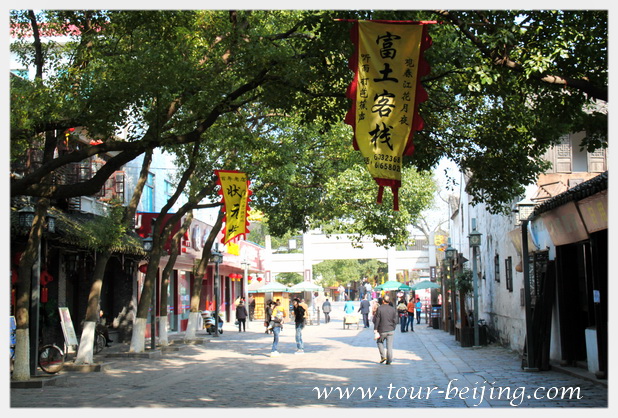 An old bridge straddles a canal with a decorated archway. The local residents live a slow life, fishing, drinking, reading and the list could be much longer.
These canal houses feature the traditional houses – white walls and black tiles.
You won't be lost since there are a slew of signboards en route reminding you of your next right direction.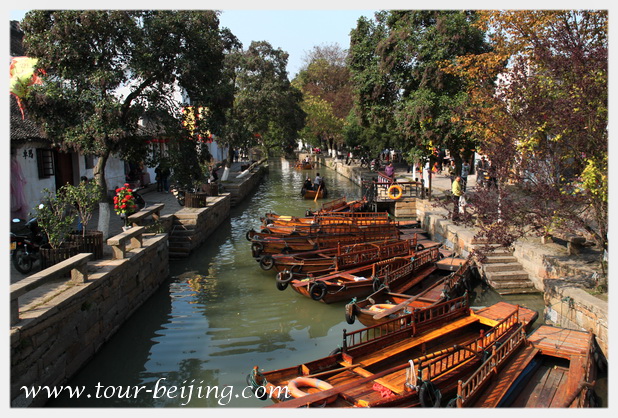 The canal cuts through the canal houses in the town.
You'll see many arch stone bridge spanning the canals in the town.
Bridges, trees, canals, boats and happy holidaymakers constitute a pretty picture of the old town.
A cup of tea keeps life pressure away. The narrow old faded lane tells you the history.
Tip: Hassle-free Jiangsu Guided Tours
If you don't want to do a self-guided tour and prefer the hassle-free escorted tours, here are some options for organized tours to Jiangsu Province:
Suzhou Tour
Nanjing Tour
Jiangsu Tour
Further Readings
Top 10 Attractions in Suzhou
How to Visit Tongli Water Town
How to Visit Zhouzhuang Water Town
How to Visit Pingjiang Road in Suzhou
How to Visit The Garden of the Master of the Nets
How to visit Humble Administrator's Garden
How to Visit Lion Grove Garden
How to Visit Canglang Pavilion
How to Visit Guanqian Street in Suzhou
4 Amazing Short Trip Ideas from Shanghai
Wuzhen Pictures – Wuzhen Photo Gallery
Zhouzhuang Pictures – Zhouzhuang Photo Gallery
Top 10 Attractions in Nanjing
How to Visit Nanjing Massacre Memorial Hall
How to Visit Nanjing Confucius Temple-The Qinhuai River Scenic Area
How to Visit Zhonghua Gate Nanjing
How to Visit Nanjing Yangtze River Bridge
How to Visit Linggu Temple Scenic Area
Sun Yat-sen Mausoleum Music Stage
How to Visit Dr. Sun Yat-sen's Mausoleum
How to Visit Ming Xiaoling Mausoleum
How to Visit Nanjing Presidential Palace
Nanjing South Railway Station
Nanjing Taxi: Nanjing Taxi Fares, Tips and Phones
Suzhou Railway Station
Suzhou Taxi: Suzhou Taxi Fares, Tips and Phones
Any questions, just drop a line.