Generally people visit a museum with the purpose to see its exhibits inside – looking at art, getting educated, having family bonding time and engaged in social network. But in the last couple of years, museum buildings themselves have become art.
There have been increasingly stunning museum architectural ventures cropping up all around China. Talented architects are competing to design and produce spectacular museums with "high face value".
These unusual museums defy gravity, look surreal with wild imagination beyond your expectation.  We've rounded up the 10 most beautiful museums around China for your reference in case you are interested in peeking at one of these exquisite museums on your China tour.
1.  Ningbo Museum

宁波博物馆
Ningbo Museum (or the Ningbo Historic Museum) is located in Yinzhou District, Ningbo, an eastern coastal city in Zhejiang Province. The museum is mainly focused on Ningbo' local history and traditional customs. It was open to the public on December 05,  2008.  The museum building is designed by Wang Shu, who later won the he Pritzker Architecture Prize in 2012.
The whole museum has a total construction area of over 30,000 square meters and its main building has three stories. With the first floor as the main base, the build starts to slant down on the second floor, allowing the whole building in a shape of a mountain and a boat, reflecting Ningbo' geographical feature and its long history of oversea commerce.
There are two kinds of the outer wall decoration of the museum building. Parts of the walls are built of old tiles and bricks collected from torn-down old buildings in the process of the reconstruction of the old city in Ningbo. Making use of the old building materials is the old way of building a house in an economical way before cement was ever produced. Some walls are built of the cement mixed with bamboo. bamboo is the typical Jiangnan plant.
The museum is home to over 60,000 exhibits on display housed in exhibition halls. They are on display according to different themes relative to Ningbo's history starting from Hemudu Culture 7000 years ago.
Opening Time: 9:00 – 17:00 ( Mon – Sun )
Tel: 0574 – 82815555
Official Web: Ningbo Museum
Add: 1000 Shounan Middle Road, Yizhou District, Ningbo
2. 5.12 Wenchuan Earthquake Memorial Museum  5.12 汶川特大地震纪念馆
5.12 Wenchuan Earthquake Memorial Museum is set to commemorate the Wenchuan earthquake, which hit Sichuan on May 12, 2008 and left over 87,000 people dead or missing. It was officially open to the public on May 9, 2013. It is
The museum is designed by the Architectural Design and Research institute of Tongji University. The whole museum takes an area of 140,230 square meters with the construction area of 14,280 square meters and exhibition space of 10,748 square meters.
The principal building is named as "Cracks", implying the museum is designed to capture the swift freeze-frames of the disaster moments and leave lasting memories for future generations. The style of the whole museum building is like a landscape using the methods of land cutting. There is a sinking plaza and walking path which extends to the placid lawn and part of the building arises from the ground, implying new birth and hope.
Add: Renjiaping Village, Qushan Town, Beichuan Qiang Autonomous County, southwest China's Sichuan Province.
Tel: 0816-4831198 四川北川羌族自治县曲山镇任家坪
3. Yungang Grottoes Museum  云冈石窟博物馆
As the second largest city in Shanxi Province, Datong is situated in the far north, near the border with Inner Mongolia, a 6-hour train ride or 5-hour drive from Beijing.
In the year of 398, Datong was set up as the capital city of Northern Wei Dynasty (386 -557). In 493, Northern Wei Dynasty moved its capital city to Luoyang. The 97-year as a Northern Wei capital has left huge cultural heritage of that time to Datong.
In a valley at Yungang, some 16km west of Datong, there are more than 45 recesses dug into the hills and filled with Buddhist statues of various sizes and shapes, 51,000 altogether, later called Yungang Grottoes ( Cloud Ridge Caves ) listed UNESCO World Heritage in 2001.
Yungang Grottoes Museum is located on the west edge of the Yungang Grottoes Scenic Area. It is designed by Dapeng Cheng Do Union Architecture. It was completed in 2011.
The whole museum covers a total construction area of 9939.46 square meters with an exhibition hall and a multi-functional performing arts center. To protect the ancient cultural heritage and the surrounding environment, a large part of the museum building ( an area of 6000 square meters ) is a most sunk underground.
The exhibition hall is a one floor long-span space, 6 meters deep underground and the highest elevation above ground is 5.8 meters. The museum building appearance above the ground is designed in an arching shape with 4 meters wide and 40 meters long. The performing arts center is built on based the former histrionic place in south edge with an underground floor as high as 3.6 meters.
Opening Hours: 8:30 – 17:30
4.  Shanghai Natural History Museum 上海自然博物馆
The new Shanghai Natural History Museum has replaced the original Natural History Museum with more exhibition space. Completed in April, 2015, it is designed by Perkins+Will's Global Design Director Ralph Johnson.
The museum is located in the Jing'an Sculpture Park in the center of downtown Shanghai. The overall appearance of the principal building is inspired by the nautilus shell, one of the most simple biological form found in nature. The wall on the east implies earth's vegetation, and the stone wall on the north signifies shifting tectonic plates and canyon walls eroded by rivers.
The museum is home to over 240,000 samples, including over 62,000 pieces of animal specimens, 135,000 plant specimens, 700 specimens of the Stone Age, and 1,700 specimens of minerals.
Opening Hours: 9:00 – 17:15 (Closed on Monday)
Enetrance fee: 30 yuan
Add: 399 Shanhaiguan, Jing'an District, Shanghai.
5. Dafen Art Museum 大芬美术馆

Da Fen is a village in Longgang District, Shenzhen City which borders Hong Kong on the south. The village has an area of 4 square km with a population of 300 native villagers. Dafen Village is dubbed as "Da Fen Oil Paintings Village".
The "Oil Painting" story went back to the year 1989, when a Hong Kong artist came and settled in Da Fen Village. He rented the local residential houses and hires arts students and artists to imitate the original and famous oil paintings to be sold on the international markets. Later Da Fen Village got world famous for its massive productions of oil paintings.
The construction of Dafen Art Museum was sponsored by the Shenzhen Municipal Government and the Longgang District Government. It has a total construction area of 16,866 square meters with three structural layers. The whole building is built with rich Chinese traditional cultural elements – the mix of Yin and Yang, black and white, and "roofed patio" often used in the ancient architeture. The museum buildings implies the spirit of the village-in-city:fusion, openness, moderation and peacefulness.
Add: Da Fen Village, Longgang District, Shenzhen City
6. Shanghai Museum of Glass 上海玻璃博物馆
Shanghai Museum of Glass is built on the former Shanghai glass manufacturing site in Baoshan District. It is designed by Logon Architecture.  Apart from its glass themed exhibition, Shanghai Museum of Glass also offers  plentiful activities and entertainment to attract people for interaction.
Walking in the factory-turned museum, visitors will feel the vivid transition between the old and the new as well as the fascinating imagination produced by the common glass creativity.
Opening Hours; 09:30 – 17:00 ( Closed on Monday)
Entrance fee: 20 yuan
Tel: 021-6618970
Official Web: Shanghai Museum of Glass
Add: 685 Changjiang West Road, Baoshan District, Shanghai
7. Gaoligong Museum of Handcraft Paper 高黎贡手工造纸博物馆
Gaoligong Museum of Handcraft Paper is located in a field next to Xinzhuang village on the west edge of the southern Gaolugong National Nature Reserve, Tengchong, Yunnan. The museum is designed by Tao  Trace Architecture Office.
Xinzhuang Village has a long history of handicraft paper making. The handicraft paper making museum is set to preserve and carry on the tradition as cultural heritage. The museum is composed of exhibition rooms, book stores, work space for interaction.
The museum is like a mini-showcase of the village while the village provides a broad view of the handcraft paper making. The museum building meshes with the nearby village and landscape. The building is creatively made with traditional Chinese wood structural system of nail-less tenon connection. Local materials are used including bamboo, and volcano stone.
8. National Museum of China 中国国家博物馆
The National Museum of China is a four-storied main building with two symmetrical wings, extending over 300 meters north and south along the eastern side of Tian'anmen Square.
The building was one of ten outstanding architectures constructed in 1959 to mark the 10th anniversary of the founding of the People's Republic.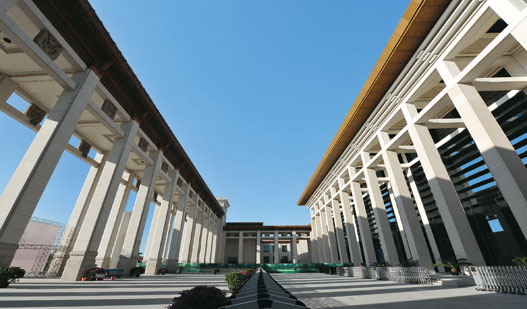 Opening hours:
9:00 – 17:00; Closed on Mondays
Tickets issued until 15:30
Last admission at 16:00
Official Web: National Museum of China
Add: 16 East Chang'an Avenue, Dongcheng District, Beijing
9. Luyeyuan Stone Sculpture Art Museum 鹿野苑石刻博物馆
The stone carving museum is located Yunqiao Village, Xinmin Town, Pi County, Chengdu, Sichuan Province. The museum is designed by Liu Jiakun (Collaborator: WANG Lun).
The whole museum take an area of 6,670 square meters with the construction area of 1.037 square meters. The museum building is constructed with reinforced concrete, shale brick, pebble, blue stone, glass and Steel.
It is a private small scale themed museum, displaying over 1000 stone sculptures ranging from Han Dynasty to Ming and Qing dynasties. The musuem is mainly focused on Han and Tang dynasties. .
Add: Yunqiao Village, Xinmin Town, Pi County, Chengdu 成都郫县新民场镇云桥村
Tel: 028 87976166
10. Lanyang Museum 兰阳博物馆
Lanyang Museum is located in Yilan County, Taiwan. It is designed by the architect – Kris Yao from Artech Architects. It is adjacent to the wetland in Toucheng Town, Yilan. The museum introduces the natural history of Yilan as well as its culture and landscape.
The museum appearance is like a huge rock rising from the water surface. The museum building is based on the local common geographical features. Its construction style is inspired by the natural Cuesta rock formation. The building is composed of interlacing solid and glass volumes. The solid volume is designed for exhibition and administrative spaces; the glass volume is set as the main lobby and the restaurant area.
Opening Hours: 9:00 – 17: 00
Tel: 03-9779700
Add: 750 Sanduan, Qingyun Road, Toucheng Town, Yilan, Taiwan 台湾宜兰县头城镇青云路三段750号
Hassle-free China Guided Tours
If you don't want to go the do-it-yourself route and prefer the hassle-free escorted tours, here are some options for China guided tours:
Top China Private Tours
Top China Small Group Tours
Top China Train Tour
Top China Yangtze Cruise Tour
Top China Silk Road Tour
Further Readings
---
Top 10 Places to Visit in China
10 Fascinating Facts about China
How to Pack for your China Trip
Plugs and Sockets in China
China Tour Packages
Learning Useful Chinese Phrases for Travellers
How to Recognise Chinese Currency
Top 10 Travel Experiences in China
10 Most Scenic Drives in China
Top 10 Most Beautiful Mountains in China
Top 10 Most Beautiful Lakes in China
Top 10 Most Beautiful Grasslands in China
Top 10 Most Beautiful Rivers in China
Top 10 most beautiful waterfalls in China
Top 10 Places to See Autumn Leaves in China
Top 10 Most Beautiful Villages in China
Top 10 Most Beautiful old towns in China
Top 10 Most Beautiful Museums in China
Top 10 China Tourist Scams
Top 10 Souvenirs in China
Any questions, just drop a line.